Almanac Footy: Jim Krakouer – the magic
They don't recognise myself and Phillip. I thought with us and Maurice Rioli, we opened the floodgates for Aboriginal players to get drafted with all of us having pretty good success. I find they don't acknowledge myself and Phillip that much.
Jim Krakouer in 2020, discussing Indigenous Round and the Dreamtime game
The fleeting meeting
I met Jim Krakouer for the first and only time at Arden Street in September 1987. Our meeting was more a tap on the back as he went past, limping due to a badly sprained ankle. 'Onya Jim,' I said, trying not to sound like a starry eyed supporter.
Amazed at how short and slight Jim was, my admiration and respect elevated. On television, and on the field, Jim didn't seem that short. He played bigger than that, through the force of his personality and his exceptional skills. He's playing against giants of the league and dominating, I thought. How does he do it?
'I was playing against men at 15 down in Mount Barker,' Jim explained of his senior debut in Western Australia. 'That may have helped. In those days I think you grew up quicker.'
Growing up
Jim was born on 13 October 1958 to Eric and Phoebe in Mt Barker, 350km south of Perth. Their surname was handed down by Theodore Krakouer, an English-Polish Jewish convict who married a Noongar woman.
As he grew, he recalls spending hours playing football, cricket and basketball with his younger brother Phil. 'Back in those days you had footy season and cricket season and basketball,' Jim said. 'I wasn't big for basketball but I had a good leap and that helped me. We just played our seasonal sports and were pretty good at them.'
After a few years of senior football at Sounness Park with North Mount Barker, Jim was recruited by Claremont Football Club in 1977 and Phil followed him in 1978. The Krakouer brothers quickly established themselves in the seniors, and dominated the Western Australian Football League (WAFL). The brothers had inherited their skills from both sides of the family.
'My dad was an excellent footballer in the country,' Jim said. 'My mum's brothers were excellent players as well. They didn't have the urge to come to Perth and try out there. All their footy was in the country.'
After several years of finals disappointment, Claremont finished on top in 1981. A 27-point win over Swan Districts in the second semi-final put them in the grand final. Their opponents, reigning premiers South Fremantle, were coached by Mal Brown and featured four indigenous stars, Maurice Rioli, Stephen Michael, Benny Vigona and Basil Campbell.
The grand final was an incendiary classic. South Fremantle led by a point at three quarter time before Claremont kicked five goals in the last quarter to win by 15-points. After the celebrations, the Krakouer brothers farewelled the WAFL.
Jim played 88 games and kicked 214 goals for Claremont. Phil stats were almost a mirror, 90 games for 192 goals.
'We thought we'd done everything we could back in Western Australia and were eager to try ourselves at the best league in the land,' Jim said.
The Victorian Football League (VFL) was the best league in the land. The VFL wasn't ready for the Krakouer brothers.
The tussle
Two clubs, North Melbourne and Geelong, wanted the Krakouer brother's signatures. Jim said there was no chance of the brothers going to different clubs. They were a package.
North's CEO, Ron Joseph, was the difference. Many contracts in that era were performance based, which meant a footballer's salary depended on how many games he played. Joseph offered the brothers a sweetener.
'The contract money was similar but theirs was guaranteed,' Jim said. 'Geelong's was match performance. Not knowing if you'd make it in the big league, you had to go with the guarantee.'
Jim recalls receiving a warm welcome at North Melbourne. He was given number 3 to wear, with Phil in number 8, and they embarked on their first VFL preseason. They quickly bonded with their new coach, Barry Cable, also a Noongar man. 'Cabes was a good coach and champion player,' Jim said.
North Melbourne had missed the finals during a tumultuous year in 1981. Their player-coach, Malcolm Blight had quit midseason, with Cable filling the void. Still, North had a strong list with a host of premiership players.
The first night at training in 1982, the Krakouer brothers ran out with Blight, David Dench, Wayne Schimmelbusch, Arnold Briedis, Stephen McCann and a host of other stars like Ross Glendinning and Gary Dempsey.
'They were all champion players for sure,' Jim said. 'But Phillip and myself had confidence in our own ability. We didn't really worry too much about that sort of stuff. We were happy to be playing with players of that calibre.'
Through Melbourne's summer, the Krakouer brother's pushed themselves hard, but Jim didn't find the preseason too different to those at Claremont.
'You had to be fit to play in either league,' Jim said. 'You've got to be fit wherever you play. I used to love my training. I used train how you play. If you train good and hard and get yourself fit, playing becomes easier because they've got the big crowds out there and that urges you on. At training, you and your teammates had to push yourself and help one another and encourage one another.'
North Melbourne would play Richmond in the opening round of the 1982 season.
The Krakouer brother's debut, opposed to Rioli
Racism was entrenched in Australia in the eighties.  Inescapable, it infiltrated society, spreading like a virus from the home, to school, to the workplace and to sport. Australia was multicultural but racism seemed a part of the culture. The abuse led to arguments and fights, which insulated the community.
I was eleven when North Melbourne played Richmond in the opening round of the 1982 season.  A beautiful autumn day, it was a historic occasion for the VFL. The MCG's electronic scoreboard was in operation for the first time, offering live action and replays.
The Krakouer brothers made their debut for North Melbourne on the same day as Maurice Rioli debuted for Richmond. They were the first Indigenous players I saw play live. There were few indigenous players in the VFL back then, so they stood out.
I'd never seen an aboriginal in the flesh before.  There were none at primary school or in the local community.  My fascination at the MCG that day had nothing to do with skin.  It was all about ability.
North led by 21-points at three quarter time and ended up losing by three goals. Jim kicked four goals from 17 possessions.  Phil picked up 21 possessions and kicked a goal.  Rioli kicked three goals from 21 disposals.
Sadly, whenever Jim, Phil or Maurice got hold of the football, the abuse flew all around.
I couldn't understand why North Melbourne supporters were racially abusing Rioli, and why Richmond fans were offering the same abuse to the Krakouer brothers. It was proof of a racist country, and vilification was the fall-back option, the most basic of insults when small minds can't manifest themselves in less offensive words at their brilliance.
'It's pretty sad to hear that,' Jim said, of North Melbourne supporters racially abusing Rioli.
Jim had heard it all before, on the field, off the field and beyond the fence. The WAFL, the VFL and Australia's governments didn't want to do anything about it.
The magic
The Krakouer brother's second game against Sydney at Arden Street sent shockwaves through the VFL. Jim had 27 disposals and kicked four goals. Phil finished with 25 disposals and three goals in a 40 point win. At various times, they found each other in a clinch with a deft tap or shooting handpass. Brother to brother.
It was magic, Indigenous style.
Journalists were effusive in their praise, writing stories about the brothers being connected by spiritual magic or extra-sensory perception. As the speculation played out, the brothers weren't too excited. They'd found each other on the field before. Jim was the quintessential rover, while Phil alternated between the centre and the forward line.
'Back in Western Australia, we were held in high regard,' Jim said. 'We knew how one another played.'
It was their ability to find each other that set them apart from everyone else who had played the game. They played as a team, within a team.
Jim stood 167cm tall and weighed 64kg. Phil was 178cm tall and weighed about 75kg.
Regardless of the physiological differences, the Krakouer brothers, after two VFL games, were setting the VFL alight.
Despite his height, Jim was courageous in his attack on the ball and skilful when he got it. He could kick long on the run, and was deadly around the goals.
Phil was mercurial, capable of the spectacular. A left-footer, he had an ungainly kicking style but his ability to out-mark taller opponents and win the ground ball against taller defenders made him a difficult match-up.
In his first five games, Jim gathered 106 possessions and kicked 15 goals. Phil gathered 108 possessions and kicked 11 goals, including a game against Collingwood where he kicked 6 points without a goal.
Their stats after five VFL games was remarkably similar, and that's how their careers would play out.
Opposition clubs tagged the brothers, because their freakish skills lifted North Melbourne and excited the crowd. 'They played really close and they were disciplined players,' Jim said. 'We used to get close attention.'
The standard of VFL football was what the brothers expected – a step up from the WAFL competition, which was of a high standard back then. 'The difference was in Western Australia you may have had four or five champions in one side,' Jim said. 'But the Victorian sides had about 15 in the one side.'
North finished fifth in 1982, and defeated Essendon by 13-points in the elimination final. Hawthorn offered a 54-point thrashing in the semi-final. At season's end, Jim had played 15 games (missing nine through injury) and kicked 27 goals. Phil played 22 games and kicked 31 goals. Despite Jim's injuries, it was a successful debut season.
The excitement continued in 1983. Cable led North Melbourne to top spot, gifting his team a week off in the finals. It didn't help. North bombed out, losing the semi-final to Hawthorn by 40-points and the preliminary final to Essendon by 86-points. Years later, Cable said North's veterans had spent everything holding on to top spot and had nothing left for the finals.
'That's a fair comment,' Jim said. 'Playing Hawthorn and Essendon, they were young and up and coming. The Kangas, we tried our best and just fell a little short at the end.'
Remarkably, Jim and Phil both kicked 44 goals for the season, and shared the club's goal-kicking award.
The tumble down – and beyond the fence
In 1984, North crashed to second last. Jim played 14 games. He was an enforcer on the field, and wouldn't back down from racial abuse or stray fists and elbows. Journalists labelled him as fiery and undisciplined.
He was reported three times and missed eight games through suspension and injury. 'Sometimes something may have been said,' Jim recalled of his suspensions. 'Other times it may have been just the heat of the game.'
Racism back then was entrenched in football at all levels, as it was in society. Jim remembers being racially abused on and off the field. The VFL ignored it. 'A few times over in Melbourne we copped it,' Jim said. 'You still had some players that may have said things. But most of it was back in WA.'
Jim took his complaints to Ron Joseph, who settled Jim down. Joseph was hamstrung, because the VFL's constitution didn't cater for racism.
It happened beyond the fence, too. Midseason 1984, Oak Park Football Club took their juniors to Arden Street to watch North Melbourne train, talk to the players and eat pies. Jim wasn't training with the main group, instead running laps with Kevin Bryant.  A kid from the under 12s munched on a pie at the fence and racially abused Jim as he jogged past.
Bryant made a step for the fence as Jim ran on impassively. The kid, with pie in hand, bolted away. Being used to racism surely couldn't have quelled the anger that Jim felt. He'd been racially vilified on the field by some opposition players.  He wouldn't have expected it at Arden Street during training.
'Racism is taught,' Jim said. 'If you put kids together they'd play with one another because they don't know any different.'
North Melbourne made no protest. Jim and Bryant probably didn't tell anyone.  It was the eighties, and it happened all the time. The VFL continued to ignore racism, on and off the field.  Indigenous footballers, as they had done for a century, played under sufferance as opponents routinely used racial abuse as gamesmanship, a tool for distraction.
A resurgence of sorts
Barry Cable quit after the 1984 season and was replaced by John Kennedy. As Jim embarked on the 1985 preseason, he looked forward to Kennedy's training methods. 'Kanga used to train us hard,' Jim said. 'He'd come from Hawthorn and he had commando training methods.'
Kennedy revitalised the veterans, and nurtured the young players. A 59-point win over Essendon in round 7 put North into the five. After round 12, North was second. By round 17, Jim hadn't missed a game and had kicked 26 goals.
Against Melbourne, his season shuddered to a halt. Field umpire Rowan Sawyers reported Jim for kicking Alan Jarrott off the ball. As Sawyers ran in to report Jim, Jarrott reportedly said did you see what he did?
Recalling the incident, Jim said he didn't kick Jarrott. 'We were both walking alongside one another and he was my tag for the day,' Jim said. 'It was like when you're at school. You stick your foot out and put your arm on their back and try to trip him.'
At the tribunal, Jarrott disputed Sawyers's evidence. 'My initial reaction was that I thought he'd tried to knee me or kick me, but on reflection I only felt a brush above the thigh,' Jarrott said.
It was Jim's fourth appearance at the tribunal. After deliberating for 16 minutes, Chairman Jack Gaffney upheld Sawyers's report and handed down a six week suspension. At the time, Jim led various newspaper awards, including the Age's Footballer of the Year award by 14 votes.
Jim is certain the incident, under today's scrutiny, wouldn't have resulted in a suspension. 'I wish the cameras would've been in then because they would've picked up that I didn't try to kick,' he said. 'I just tried to trip him.'
Joseph took the case to court, to have the verdict overturned, but it was Joseph who was overturned.
By round 17, Jim had gathered 14 Brownlow Medal votes, and was one of the favourites for the award. The school yard prank ruined any chance he had at winning the Brownlow. 'As the year progressed, I had a good season,' he said. 'I missed the last five games and one final. Up until then I guess I had a good chance.'
The final Jim missed was a classic. North finished fifth, and took an inexperienced team into the elimination final against Carlton. After trailing by 31-points at half time, they ran out winners by 19-points. Jim came back into the team for the semi-final against Footscray and kicked 3 goals from 21 possessions. North lost by five goals.
1986-87 – the award, disappointment and heartache
North Melbourne opened up the 1986 season with consecutive losses to Sydney and Hawthorn. It set the tone for the season, and North missed the finals on percentage. But Jim provided one of the great spectacles at the MCG under lights against the Hawks. A lesson in roving, he gathered 26 possessions and kicked three goals.
His last goal almost got North over the line. Jim snatched the ball from the pack and sprinted into the pocket, dobbing a goal on his left foot from 30-metres out. The goal sent the crowd and commentators wild. On Sunday, Wide World of Sport provided a short feature on Jim's game.
Jim could turn it on. He could also take retribution. In the final round, against Essendon at Windy Hill, Mark Harvey kneed Jim in the head. When Jim found his feet, he wasn't sure if Harvey kneed him deliberately. Players pushed and shoved. As Harvey mouthed off, Jim closed it with a perfect left hook to the chin.
'I didn't get reported for that,' Jim said.
He had a great year in 1986, playing 19 games and kicking 32 goals from 397 possessions. It was no surprise he won the Syd Barker Medal, as North's best and fairest.
After the season, Jim and Phil signed on for a further five years.
In 1987, Jim's hot steak continued. In his best season, he played 20 games and kicked 31 goals from 418 disposals. North were in the top five most of the year. A top three finish beckoned, if North could defeat Carlton at VFL Park in the final round.
On the expanses of Waverley, Jim turned on another exhibition, 24 disposals, and found the turf in the last quarter on a ruined ankle. 'I tore all my ligaments,' Jim said.
Carlton won by four points.
The medics encased Jim's ankle in plaster for a couple of days, then the doc assessed the injury. Jim was no chance of playing in the elimination final. North's opponents, Melbourne, had reawakened after 23 years of disappointment. They had sentiment on their side, but were rank outsiders.
Somehow, North Melbourne lost the elimination final by 118 points. Jim cannot explain the capitulation. 'Footy is a funny game,' he said. 'Things happen. It would've been good to be out there and try to help the boys out but didn't pan out that way.'
North Melbourne missed the finals in 1988 and 1989. Jim played 19 games in 1988, kicking 35 goals and receiving nine Brownlow votes. Again, he got a lot of the football, and with Phil (21 games for 27 goals) provided some highlights.
Injury and suspension restricted Jim to 11 games in 1989. It was the same for Phil, who played seven games.
Moved on
At the end of 1989, John Kennedy quit as coach. His replacement, club legend Wayne Schimmelbusch, accepted the role with much expectation.
The Krakouer brothers were three years into their five year contract. But the brothers, who had illuminated the blue and white and drawn thousands of fans to the football, were suddenly gone, Jim to St Kilda and Phil to Footscray.
'We had the preseason,' Jim said. 'He's (Schimmelbusch) a champion player and we had a few issues there and decided to move on.'
Jim remains disappointed about their exit from Arden Street. 'We didn't want to leave North,' he said. 'Our last contract would've given us 10 years at the Kangas. That's what we wanted. Would've been good to finish at one club and play 10 years. Be a life member and you regret that but things happen.'
For the first time, the brothers were on opposing sides. The brother bond was broken.
Jim was given number 3 to wear, and had a point to prove when he lined up for St Kilda in round one of the 1990 season. Turning back the clock, he gathered 36 possessions against Footscray.
His form was exemplary through five rounds, accumulating 124 possessions until soft tissue injuries, calf and hamstring tears, wrecked his season. He played 10 games in 1990, and three in 1991 before announcing his retirement.
In rehabilitation from a knee reconstruction, Phil missed the 1990 season and played just seven games (seven goals) for Footscray in 1991 before retiring.
Jim headed to Werribee in 1992, where former North Melbourne utility Donald McDonald was coaching. But soft tissue injuries had an impact. 'I played three or four games for Werribee but kept breaking down,' Jim said. 'I was 33 by then and the body had enough.'
Racial vilification laws – finally
When the VFL became the AFL in 1990, racism remained a feature of the game, on and off the field.  Not even Nicky Winmar's famous gesture in 1993, lifting his jumper and pointing to his skin at Victoria Park, motivated the AFL to change.
Winmar opted for a passive approach to highlight the racism he endured. On occasion, Jim favoured his fists.  But violence on the football field was frowned upon.  If Jim, or any Indigenous player was suspended, it was their fault for being too volatile.
According to the AFL back then, racial vilification was fine, fighting wasn't.
In 1995, Collingwood's Damien Monkhurst racially abused Essendon's Michael Long at the MCG and started a brawl.  Afterwards, Long refused to be placated.
The fallout forced the AFL to introduce the Racial and Religious Vilification Policy.  The abuse the Krakouer brothers, and every Indigenous footballer copped, was now illegal. The policy was decades too late.
Twelve years later in 2007, the AFL implemented Indigenous Round, including the Dreamtime game, to recognise the culture of Australia's First Nations Peoples. Again, it was decades too late.
Today, Aboriginal footballers are rightfully feted by the wider football community. They are free to play football without fear of vilification from opponents.
Back in 1984, as Jim Krakouer ran on after being abused by a kid at training, he knew racism is a learned response.  That kid had never seen an Aboriginal in the flesh before.  His words must've originated beyond his mind.  He just repeated them.
Awards and Hall of Fame
Jim was 23 and Phil was 21 when they debuted for North. The brothers could've come to Melbourne earlier, but Jim is happy they waited and played in a premiership with Claremont.
'Back in those days, most players it was like doing their apprenticeship outside the VFL,' he said. 'Most players played three or four years in their local league before getting an opportunity to play in the VFL.'
The Krakouer brothers won a premiership with Claremont in 1981, and never really got close with North Melbourne. 'Sad thing that it didn't happen,' Jim said. 'Every player wants to play in a premiership if they can. To get on top in 83 and lose both finals haunts you for the rest of your life.'
Jim wasn't a dirty player, but retaliated in the heat of the moment, when words were said or someone had physically lashed out. Reported 16 times and found guilty nine times, he served 25 weeks in suspension.
Those statistics, undoubtedly, are proof the VFL wasn't ready for the Krakouer brothers. Indigenous footballers should've been free to play without the abuse.
'All I can say for the Kanga players, not once did I hear them racially abuse anyone,' Jim said. 'I love and respect them for that. They must've thought pretty good of us if they didn't do that.'
Jim won North Melbourne's goal kicking award in 1983, 1986 and 1988, (shared with Phil in 1983). The Syd Barker Medal in 1986 proved his ability. Getting named in North's Team of the Century on the interchange bench is further proof.
And in 2005, Jim was named in the forward pocket in the Indigenous Team of the Century.
Simply, Jim was brilliant.
On July 1 2016, Gordon James Krakouer was invited to the stage to accept his induction into North Melbourne's Hall of Fame. With typical humility and grace, beaming a beautiful smile, he told a story about starting out in the nippers with Mount Barker.
'We'd heard about Perth but Melbourne could've been on the moon for all we knew,' he said. 'Phil, we played a lot of our footy together. Played eight years at the Kangas and four at Clermont. Phil's been a big part of my football and my life.'
Jim went on. 'I'd like to thank the North Melbourne Football Club. It's a privilege and honour for this award. I'd like to thank mum and dad. And the family. Ronnie Joseph when he recruited us from Claremont, thanks Ronnie. All the supporters, I've had a lot of good supporters from the Kangas. My brother Phil, I'd like to give a sincere thanks to him. He's part of the reason I think I did so well.'
Statistical analysis
Phil was an integral part Jim's success. Having a brother on the football field is different to having a teammate beside you. That synchronicity the brothers had when they first burst onto VFL football fields, connected by mind and body, followed them throughout their careers.
Their statistical analysis is almost identical.
Through 147 games, Jim kicked 236 goals, averaged 19 possessions and was awarded 51 Brownlow votes. Phil played 148 games for 231 goals, averaging 16 possessions and received 32 Brownlow votes.
Synchronicity. That inherent instinct to search out the brother. It seems fitting they ended their careers how they played, with their stats so close together.
'We kicked a lot of goals for the Kangas,' Jim said. 'The matches we played were pretty similar but I don't know how that happened.'
Looking back
Jim is more remembered for his time with North Melbourne. 'I didn't play many games at the Saints,' he said. 'They were a good club too and had champion players but I only played 13 games in two seasons so I'm mainly remembered as a Kanga player.'
He's still recognised wherever he goes, people saying hey you're Jimmy Krakouer. 'It makes me feel pretty proud,' Jim said. 'We retired a long time ago and if people still remember you've done something good.'
He said Cable and Kennedy were good coaches, who hated defeat and a lack of effort. 'They've all got their own different ways of coaching,' Jim said. 'I found Kennedy very good, an excellent coach, a man's man type of coach. If you'd go out and do your best he'd be happy with that. As long as you tried your best.'
The Krakouer brothers joined the VFL in an era that featured few Indigenous players. Robbie Muir was at St Kilda. Phil Egan was at Richmond. Wally Lovett at Collingwood. Les Bamblett played 11 games for Melbourne in 1983.
Up until the early eighties, VFL clubs, and the competition's hierarchy, had long overlooked Indigenous players, and weren't prepared for their arrival.
Jim said North Melbourne deserve to be recognised as one of the first clubs to take on Indigenous players. 'I think with myself, Phillip and Maurice Rioli, we were the ones that opened the gates for other clubs to chase Aboriginal players,' he said.
Indigenous players now comprise more than 11 percent of AFL lists, and that figure grows each year.
Jim's legacy lived on in the WAFL and the AFL. His son, Andrew, played 137 games and kicked 152 goals for Richmond and Collingwood, including three goals in the 2011 grand final loss to Geelong. He also played for Swan Districts, and won a host of awards in 2010, including the Sandover Medal as the WAFL's best and fairest. Nathan Krakouer, Jim's nephew, played 82 games for Port Adelaide and Gold Coast.
Now 62 years old, Jim still follows North Melbourne and watches games when he can. He's living in Belcatta in Perth and has worked at a mine since 2013. It's been almost 30 years since he last pulled on the boots.
'It all started good and finished fairly quickly,' Jim said. 'You've only got ten years in footy if you're lucky. You've gotta make the most of it if you can.'
The Krakouer brothers could run like the wind. They got the ball, kicked goals, and did what other players couldn't. They played with Dreamtime flair, an inherent sublimity that only Indigenous players have.
For more from Matt, click HERE.
The Tigers (Covid) Almanac 2020 will be published in 2021. It will have all the usual features – a game by game account of the Tigers season – and will also include some of the best Almanac writing from the Covid winter.  Pre-order HERE
To return to our Footy Almanac home page click HERE.
Our writers are independent contributors. The opinions expressed in their articles are their own. They are not the views, nor do they reflect the views, of Malarkey Publications.
Do you enjoy the Almanac concept?
And want to ensure it continues in its current form, and better? To help things keep ticking over please consider making your own contribution.
Become an Almanac (annual) member – CLICK HERE.
One-off financial contribution – CLICK HERE.
Regular financial contribution (monthly EFT) – CLICK HERE.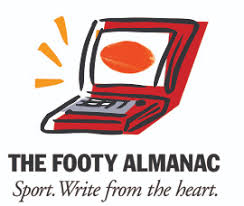 My name is Matt Watson, avid AFL, cricket and boxing fan. Since 2005 I've been employed as a journalist, but I've been writing about sport for more than a decade. In that time I've interviewed legends of sport and the unsung heroes who so often don't command the headlines. The Ramble, as you will find among the pages of this website, is an exhaustive, unbiased, non-commercial analysis of sport and life. I believe there is always more to the story. If you love sport like I do, you will love the Ramble…