Dear Almanackers,
For the past 10 years the Footy Almanac has been charmed and sometimes confounded by the words of Haiku Bob and his unique take on our game. 'Profound', 'poignant', 'striking' and 'elegiac' (yes, elegiac) are just some of the words that have been used to describe his work. His weekly haiku match reports have been a regular feature on the Almanac site and his short poems have adorned many a Footy Almanac book over the years.
HB has introduced us to the idea of taking footy one moment at a time. When haiku is done well, these moments are duly captured, creating a picture in our minds – a picture painted with words. And HB has left us with some indelible images. Enough to fill a gallery. Or maybe a clothes shop.
Clothes shop? Yes indeed! Haiku Bob, illustrator, Chris Rees, and The Footy Almanac have collaborated to produce some stunning T-shirt designs available exclusively to the Footy Almanac. Together, they have selected two haiku from HB's vast collection to mark the beginning of the 2018 footy season. The designs are striking, providing a new and fresh perspective to HB's words.
More designs are already in the pipeline for later in the season. They will soon become collector's items. So why not start your collection now!
Take a look at the designs below and click on the links under each one for purchase details.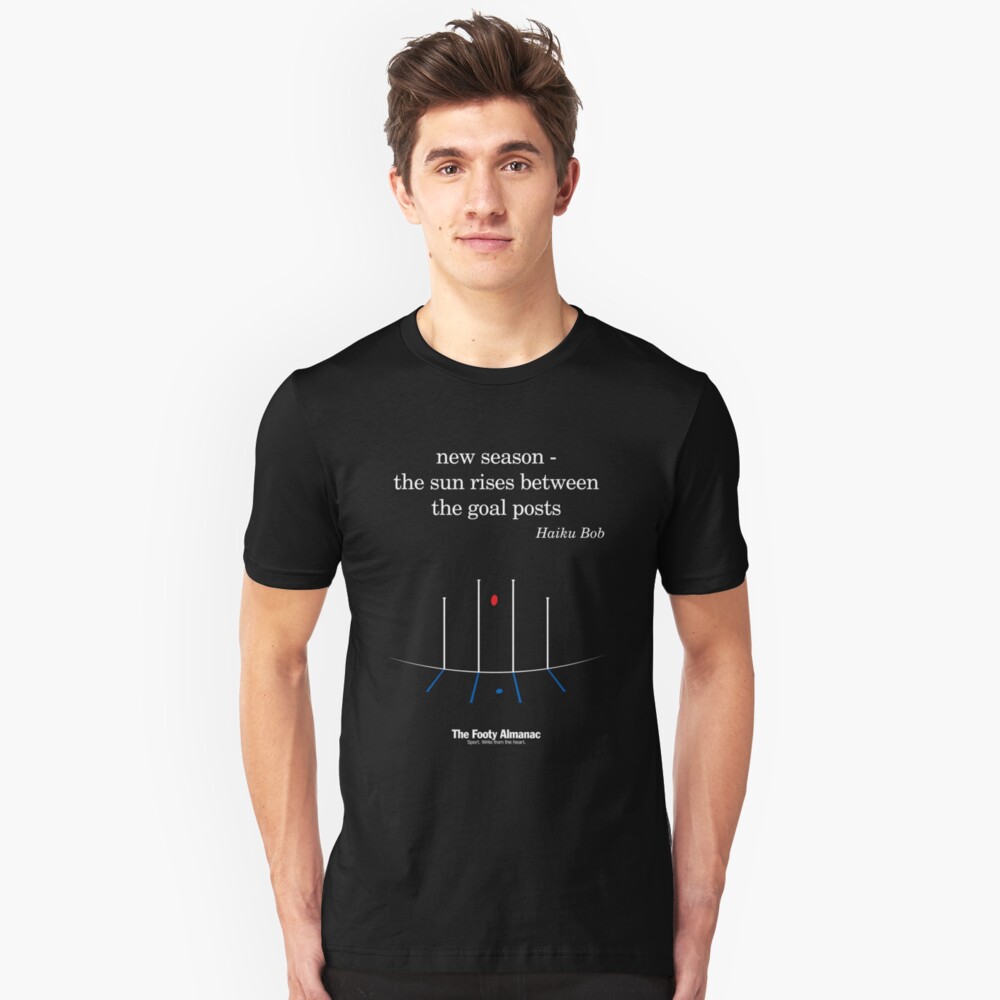 Once you click on the above links, you will see that the two designs are available in multiple colours, not just black and white. And with Red Bubble, you can also get the same designs made for hoodies, long-sleeved T-shirts, women's T-shirts and other types of apparel. For further details about how to buy the T-shirts go to our Red Bubble page.