Almanac (Family) Life: 'Hamilton' in Sydney
I used to enjoy football a lot. And cricket. I used to enjoy stories of sport, I guess. Last week my team (Collingwood) was on TV as background to a game of cards. We? They? We? were in front as the game drew to its end. But with seconds remaining, a player from the opposing team, Brisbane, marked the ball within range of goal. The siren sounded. The Brisbane player would now kick for goal to win the game AFTER the siren. If he kicked accurately, Brisbane would win. If he missed the goal, Collingwood would win. It was a magical moment. We paused with the cards. And it confirmed for me that things have changed when I found myself barracking for the goal.
Rather than Collingwood, I wanted to see the STORY win.
The player lined up and kicked the goal. Cue pandemonium.
"Are you OK, Dave?" asked my life partner with faux concern.
"He seems to be taking it well enough," said our friend.
Stories are what get us through. I feel this. As a father of teenage daughters, I feel this. As a man who lived in Melbourne, Victoria, Australia, throughout COVID-19 lockdowns, I feel this.
Maybe it is the upheaval of moving from primary school to secondary school. Maybe it is the nature of the human brain at 13, 14, 15. Maybe it is due to butterflies in the Amazon. Who really knows? But shortly after Bud Oon started high school, Hamilton the musical was upon us. Bud Oon laughs at my jokes. I laugh at hers. She is clever and compassionate and crazy and wise. Bud Oon completely *gets* the sine rule. She takes a strong lead in our home as a vegetarian. And she and I share a special handshake that ends with each of us sticking our own fist into our mouths.
So since then, Hamilton has streamed pretty constantly in our car. Not always. Sometimes the Moana soundtrack will get a spin. Or Beetlejuice. But for the past few years, we have lived in the Age Of Hamilton.
I remember reading Joe Posnanski's seminal piece on seeing Hamilton with his daughter, back in 2017 or so. Most of the scene he masterfully describes was outside of my experience at the time. But now it is ALL ENTIRELY WITHIN my experience.
Why is a musical about an obscure founding father of the United States of America on any girl's radar? Let alone one from south eastern Australia.
It could be due to the phenomenon whereby a crowd draws a crowd. But that would only explain an original awareness. It would not explain years-long devotion, purchases of t-shirts or walking around the house singing the lines of Thomas Jefferson.
No, maybe the story is the draw. A story of ambition and rivalry. A story of I-will-not-throw-away-my-shot restlessness and desperation. A story of I'm-willing-to-wait-for-it patience and cunning.
A story of lust, thwarted desire, infidelity, of human folly, shame, blackmail.
A story of hope. A story of death.
==
We live in Brunswick East, Victoria, Australia – a prohibitively long way from New York City and its Broadway theatres. It is a fair way from Sydney, too, but when the announcement is made that Hamilton will play in Sydney, Australia, we're in.
It is eye-wateringly expensive. And we soon have a global pandemic to navigate, but we're in.
So now it is April 2021 and here we are. State border restrictions have eased. We have flown here amidst a global pandemic. Gratitude washes through us.
==
We're in Sydney. Two parents and two teenage daughters.
Bud Yum started high school last year – the year of coronavirus. Most of her first high school year was spent at home. There were advantages – waking late, hanging with the dog – but there were clear disadvantages as well.
Bud Yum knows things and she knows people. Sometimes I think she knows me better than I know myself. She laughs and she cares. She is principled and humble. Bud Yum makes me laugh and she makes me think. During COVID-19 lockdown we undertook to watch The Simpsons together, starting at Series 1, Episode 1. Hamilton is a strong part of her own story.
Between these buds, there are four eyes thick with eye-liner, eight ear piercings, one head of dyed hair, one mullet, two plaits, four Doc Martens and a nose ring. It is perfect.
In Sydney we check out the observatory in The Rocks. We clamber around the headland between Manly and Freshwater beach. We catch the bus to Bondi. Everywhere we go, at every meal, I quote the same line from Hamilton: "raise a glass to the four of us." To the point that it becomes a running gag.
This trip has a sense of climax about it. The sense of a story peaking.
I enter a daily online writing competition. One entry is inspired by Roddy Doyle and is less fictional than I intended. The competition asks entrants to write a story of up to 30 words, inspired by or including, a given word-of-the-day. The word given this day was 'blossom.'
—
He looked at his daughters roaring. Laughing like drains. Nose rings, eye-liner, attitude.
How he loved it – loved to watch them #blossom.
This was living.
#WVFlashFic21
—
In Sydney we huddle together, roam free, laugh, argue and sulk. We do it all again. We look at photos of our dog, gratefully left in the care of loving friends back home.
And this morning we walk over George Street (who was this named after?) and across Cockle Bay. We stop for a late breakfast ("Are you hungry again, Dad?") and we walk on until now we're here at the Lyric Theatre, lined up with hundreds of others; familiar COVID-19 face-masks all-round.
We take photos in front of flags. We pose.
We climb the stairs. Up and up we go. And up. And excitedly we find our seats. I can't recall a sense of anticipation like this. Maybe before the 1990 semi-final between Collingwood and Essendon? Maybe in that pre-dawn stillness before Kieren Perkins dived into the pool in faraway Atlanta?
Whatever, being here affects me. The show affects me. I've seen the musical on TV many times via some streaming service. I've heard the soundtrack more times than I can count. And yet today in Grand Circle row B, tears roll freely down my cheeks.
==
Maybe the music is the draw. Overlapping melodies and songlines. Phrases of lyric, phrases of notes appearing, re-appearing. Rap, song, rap, song. Soaring harmonies.
Maybe it is the sense of story that gets me. That this is OUR story. That for this moment in time, we four are together as if inside a bubble. Who knows for how much longer, or when the bubble might change? We have this and only this.
Two days ago we're walking the track from Bondi to Bronte when Bud Oon asks me, "Dad, what's your favourite Hamilton song?" It throws me. I know no titles. I have no bearings, despite hearing the music as backdrop to my driving life since Steve Smith was captain.
"Err…"
But I know what I like. Those three-part female harmonies. Today the only song title in my mind has been from Midnight Oil's album Head Injuries. As we sat on the bus from Sydney, three guys with surfboards boarded and stood alongside us.  The only song title in my mind today has been: Section 5 (Bus to Bondi).
"Ohh… it's coming to me."
"Oh, right. Sure it is, Fuz. After all this time, don't you even have a favourite?"
Both buds call me Fuz. It's our thing. But Bud Oon is not impressed. And I get it. Hamilton the musical references a large part of her recent life – she knows every line, every scene like she knows her own mind.
"Yeah… it's that one with the ooo-ooo. With the drowning… I think it's… Helpless!"
Got it! I have triumphantly trawled the name of the song from some dark recess in my memory bank and Bud Oon is alive to it.
"Oh YEAH! Good one, Fuz! I LOVE that one!"
And together on a sunny cliff-top track overlooking beaches of the South Pacific, we burst into song. More accurately she sings (note-perfect) and I offer occasional back-up.
That was Monday. And now, today, Wednesday, as Act I plays below us, right-now-right-now the band right-now strikes up the familiar opening refrain to Helpless. In the darkness I turn to make eye contact with Bud Oon to find her already looking towards me. In the seat alongside, Bud Yum has a hold of my arm. And we all smile in recognition. Eyes smile above face masks. Before I can look away another tear squeaks free.
We all sense that we have no control "who lives, who dies, who tells your story…"
What we have right now is all there is.
And that is enough.
Raise a glass to the four of us.
To whatever will become of us.
We'll tell the story of tonight.
Thank you to the creator of Hamilton, Lin-Manuel Miranda.
Thank you to all involved in the Australian production.
Thank you for all involved in making this story possible.
The Tigers (Covid) Almanac 2020 will be published in 2021. It will have all the usual features – a game by game account of the Tigers season – and will also include some of the best Almanac writing from the Covid winter.  Pre-order HERE
To return to our Footy Almanac home page click HERE.
Our writers are independent contributors. The opinions expressed in their articles are their own. They are not the views, nor do they reflect the views, of Malarkey Publications.
Do you enjoy the Almanac concept?
And want to ensure it continues in its current form, and better? To help things keep ticking over please consider making your own contribution.
Become an Almanac (annual) member – CLICK HERE.
One-off financial contribution – CLICK HERE.
Regular financial contribution (monthly EFT) – CLICK HERE.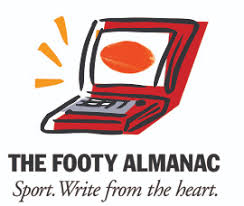 David Wilson is a writer, editor, flood forecaster and former school teacher. He writes under the name "E.regnans" at The Footy Almanac and has stories in several books. One of his stories was judged as a finalist in the Tasmanian Writers' Prize 2021. He is married and has two daughters and the four of them all live together with their dog, Pip. He finds playing the guitar a little tricky, but seems to have found a kindred instrument with the ukulele. Favourite tree: Eucalyptus regnans.