I read with interest the recent story about how the South Australian female cricket team were bowled out for 10 at the National Indigenous Cricket Championships. A cold shiver was sent up my spine as it caused me to reflect on my role in one of the great batting collapses of all time.
What is the anatomy of a batting collapse? Like a rollercoaster it starts slowly. Panic is minimal. As it gathers momentum, seemingly competent adults are rendered incapable of performing even the most basic motor skills to defend their wickets. At the end casualties are high, dressing room doors are busted and thigh-pads and broken dreams lay scattered across the floor.
Thanks to the MyCricket website – a horrible invention created by an evil genius that provides statistics for community cricket matches, hence providing indisputable facts and shattering delusions about previous averages and aggregates (I'm still not accepting 11.78 as a career batting average), I've been able to extract the scorecard of one of the great batting collapses of all time.
26 October 2002 – Ransford Oval, Parkville, Melbourne. 0/138 chasing 158… game done and dusted and beers on ice in the Royal Park Brunswick Cricket Club sheds. Sunshine United Cricket Club kicking stones and contemplating asking the 'keeper to have a trundle.
Sunshine have previously occupied 60 overs to knock up 158. A mundane and dreary Saturday afternoon spent in the sun by middle-aged men who secretly wished they were knocking back Schooners at the Retreat Hotel in Brunswick, rather than slowly developing skin cancers in the pursuit of a 156 gram ball of faded red leather.
With 18 overs left to bat, Royal Park Brunswick head out to navigate the rest of the afternoon.
An hour later we are 0/138 and I'm smiling from ear to ear, mostly because I am 70 not out. I've managed to defy several technical flaws, premature balding and a shocking (yet heavily entertaining) pre-match preparation highlighted by 13 schooners, a trip to Goldfingers and a 4.00am cab home.
Time is standing still. Everything hits the middle and the ball is moving so slowly towards me. I wish I could have stayed in that moment for more than 0.0023% of my career.
Mistake 1 – set batsman gets head of himself.
At 70 not out and 3 overs left in the day's play, I came to the perfectly logical solution that a hundred was on the cards. As I projected ahead to hooking the last ball of the day for 6 (Doug Walters Style) to bring up the ton and getting chaired of the ground, I managed to spoon one to mid-on. Despite a Tertiary education and ability to hold down a decent profession, I can honestly say the thought of simply knocking the pill around for the remained of the day and coming back next week for triple figures simply didn't occur to me.
1/138 chasing 158
Mistake 2 – choosing your job over cricket
Dunners was 68 not out and well set at the other end, yet in an incredibly selfish decision he decided to put his profession, livelihood and financial security ahead of the hopes and dreams of 10 other blokes who didn't know his surname. You see, Dunners had work commitments the next week and wouldn't be able to resume his innings, hence he was swinging like a rusty gate. Stumps went everywhere as he tried to hit one into Moonee Valley on 68.
2/139 chasing 158
Mistake 3 – Trusting the validity of the bounce on a suburban pitch
Suddenly we have two new lambs to the slaughter at the crease. 3 minutes ago they were ironing their Levis in prep for a night on the tiles; now they are out in the centre with two overs to navigate and copping a surprisingly high amount of chatter from the Sunshine United crew who have sprung to life.
Nick Hall is arguably one of the best blokes I've played cricket with and honest as the day is long. A respected School Principal who was very technically correct – an anomaly in local cricket. As I'm unstrapping my pads and basking in the glory of my teammates, I hear the confident screem of 11 men out in the middle. Hally had played back and copped a low one right in front of the pegs 3 balls before stumps.
3/141 chasing 158…. Stumps day 1
Mistake 4 – Yes….No….F—k
Bobby Edis is one of the sharpest minds working for Holden and Matty Corrigan is project managing multi-million dollar developments in Toorak, yet their total lack of communication in judging a run early on day 2 saw the first seeds of panic being sewn amongst our collective.
4/146 chasing 158
Mistake 5 – Let's just get this done quick
When the pressure builds and you are faced with the grim reality that you do not have the mental fortitude to knuckle down, be patient and wait for the loss ball (like 98.4% of cricketers), the obvious answer is to look for the big shot. A few fours and the total disappears rapidly.
Our trusty skipper Alan Didus strides to the crease in our hour of need. Not quite Alan Border, but at this stage I'm still confident Al and Matty can get us home. Big Al goes the aerial route and departs with nothing more than a hit to his dignity.
5/148 chasing 158
Years later Matty would go on to achieve his own cricketing immortality by hooking Stuart Broad for two fours. (A great yarn, if you have a spare 4 hours for him to tell it and are willing to believe that a top edge with your eyes closed was a good shot) At 10 not out and our last legitimate bat, Matty looks to put one into Park Street, yet doesn't even manage to get 22 yards and is caught and bowled.
6/153 chasing 158
Mistake 6 – not taking your smokes on the field
Tony Globan is an RPBCC legend with an '8 for' up his sleeve. As panic is sweeping the dressing room and blokes are semi-naked trying to put on thigh-pads and avoid the glare and obscenities of a parade of dismissed colleagues, Tony is eerily calm. Punching threw 24 darts in half an hour has placed him in an almost meditational state. Unfortunately Tony didn't take the darts out to the centre wicket and loses all three pegs for SFA.
7/153 chasing 158
At this stage, 11 men come to the conclusion that unless Sunshine United bowl 5 straight no balls, we are not going to win this. It is a macabre scene. Some blokes are destroying rate payers' property, others are pacing up and down like expectant fathers, some are glued to the same chair not game enough to move an inch. The momentum of extreme mediocrity is unstoppable.
Mistake 7 – Playing the game in the first place
Why would you voluntarily choose to spend your Saturday under extreme mental pressure and facing the indignity of failing in front of your teammates and 11 other blokes from the opposition who delight in vilifying you all afternoon? Why would you do this (and pay for the privilege)? I can't answer that. But we do, week after week and year after year!
Smeets has now moved to Port Fairy and mans the local post office, while still rolling down his off-cutters, I believe. In a pre-emptive move for his future career, he tried to air-mail one into the Royal Park Tennis Courts and was dismissed.
8/153 chasing 158
Maybe we should declare and make a game out of it? Cahil and his stumps left scattered.
9/155 chasing 158
A edge for two from Millsy. We are back in it. I'll take a draw at this stage. We are just another decent snick through third slip for glory…NOPE!
I can't recall who V Jassi from Sunshine United was (or what he bowled), but a quick consultation of the scorebook advises that he has taken 7-12 off 10 to rip the heart out of us.
10/157 chasing 158
Silence fills the sheds.. 10 wickets lost for 19 runs. Not even a F—ing tie! A batting collapse 101 master class from the boys at Royal Park Brunswick. As the first domino to fall, I must shoulder blame. I will not, however, throw eight of my colleagues under the bus for only getting a combined 24.2% of my individual score. Anyone who has ever played the game has been through a batting collapse. It is a rite of passage. It can't be stopped, nor can years of therapy erase the trauma.
To find out more about Almanac memberships CLICK HERE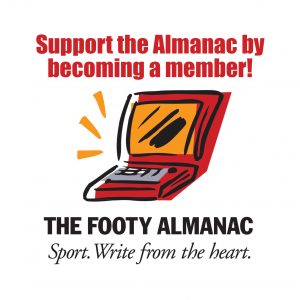 Born in the sporting mecca that is Wagga Wagga and now reside in Melbourne with my lovelly wife Sophie and son's Jack and Harry. Passionate Swans supporter and formally played cricket at a decent level and Aussie Rules at a not so decent level! Spend my days now perfecting my slice on the golf course and the owner of the worlds worst second serve on the tennis course.