Almanac Cricket (Terminology): What is the correct name for the box/protector/cup?
Yesterday, Mickey Randall posted a photo on Twitter. He has just bought one of these for a cricket comeback with a few mates in his home town, Kapunda:
It precipitated an unlikely discussion about what they are called. Abdominal guard seems somewhat far-fetched and a late-Victorian euphemism if ever I've heard one.
Where I come from this is either
A box
A Protector
However, some suggested it was a 'cup'. I think this is some South Australian term? (They didn't have convicts.)
I am interested in establishing all names of this device. Please add any term, however local and idiosyncratic, for this device. (Feel free to tell any stories of cricket balls crashing into boxes too.)
Bumble Lloyd gave the humble box more exposure than anyone in human history.
You can see him getting hit in the Jatz crackers in this YouTube clip and then telling the story in the second clip. He uses a term which I can't quite catch: a 'pink l…' Perhaps we should ask him what he likes to call the box via Twitter in due course.
I think his slow fall to the wicket is magnificent.
To find out more about Almanac memberships CLICK HERE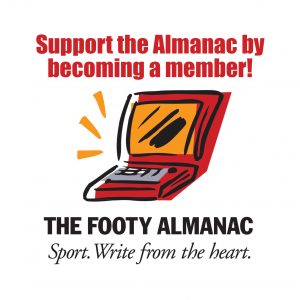 JTH is a writer, publisher, speaker, historian. He is publisher and contributing editor of The Footy Almanac and footyalmanac.com.au. He has written columns and features for numerous publications. His books include Confessions of a Thirteenth Man, Memoirs of a Mug Punter, Loose Men Everywhere, Play On, The Pearl: Steve Renouf's Story and Life As I Know It (with Michelle Payne). He appears on ABCTV's Offsiders. He can be contacted [email protected] He is married to The Handicapper and has three kids - Theo13, Anna11, Evie10. He might not be the worst putter in the world but he's in the worst three. His ambition is to lunch for Australia.