Almanac Cricket History: Ashley Mallett
A few months ago I received, from Hardie Grant publicist Kirstie Grant, a copy of Ashley Mallett's biography of Neil Harvey The Last Invincible. I immediately flicked through in the way you do when you're a bit short of time. After reading Alan Davidson's foreword, I dipped into Mallett's opening words and before I knew it I was reading the delightful personal introduction (do yourself a favour) in its entirety. It's sort of about R.N. Harvey's lone hand of 92 not out in a losing Australian chase against England in the 1954-55 Ashes series, but really about Ashley being nine years old and falling in love with cricket.
I didn't know much about that Harvey innings or many of the other innings of the great left-hander. For some reason, I don't have chapter and verse memory of Harvey's time in the Test side, nor am I aware of many anecdotes. Most of what I do know comes from another off-spinner, G.C.J.D. Haigh, from his history The Summer Game, one of his very best books I reckon.
Had I read Gideon's book as a twelve year old, I would (still) remember every detail – and, being a Haigh book, it is by definition mega-researched and full of the colour and detail that nourishes and satisfies. But alas, I was well into my fourth decade when I turned its pages.
Of Harvey, I knew he played at the Brunswick Street Oval for his home suburb, Fitzroy, and that he'd grown up in Argyle Street which runs pretty much between Nicholson Street on the Carlton border and Brunswick Street itself. For a couple of years I lived just around the corner, near the Museum, so I know where that classic boys with Neil Harvey laneway cricket photo was taken.
I've walked on those cobblestones, probably with a few Carlton draughts in me, wandering home from watching footy at The Rose. They were great nights, however occasional, but also might go part of the way to explaining the failure to recall every story.
"I must get back to this book," I thought. And put it on the pile of books next to my desk – which are just the tomes of 2021. Best intentions.
As host of the occasional lunch, during which someone far more interesting than us regulars are interviewed, I thought I'd invite the author along – to talk about everything from tweaking to writing. He would be an excellent guest. So I rang Kirstie and suggested the event. I waited for the summer, and a suitable moment to get things moving.
But then, I heard the sad news. Ashley Mallett had died at the age of 76. And in the same week, Alan Davidson. Very, very sad, and totally unexpected.
Ashley Mallett was the Australian spinner of my childhood. He was part of a squad of tweakers from whom the Chappells picked – according to the needs of the Test. The others were Terry Jenner and Kerry O'Keeffe. But Mallett was the influential one.
Not that eleven year olds like me were interested in spin bowling in the very early days. When asked what we bowled, every single one of us said, "Pace," although the more confident of junior cricketers said, "Genuine pace." We all imitated D.K. Lillee's cobra, having watched the highlights each evening from England in 1972. The super-athletes at school did their Thommo impersonations, slinging and pinging them like the lithest javelin-thrower you could imagine. We mimicked O'Keeffe's whirring rotations – but only for laughs. We tried to toss them up like TJ, flicking the compo off the end of the little finger.
But in the Under 12s around Toowoomba, no-one was doing an Ashley Mallett.
It was a time, 1974, when in the mind of the keen young primary school student, cricketers were not complex individuals. The idea that A.P. Sheahan was a little different to J.R. Thomson was not something which was part of our understanding. Cricketers were cricketers. All one type. So A.A. Mallett was lumped in with the Chappells, and Dougie, and D.K. and Bacchus and Tangles and all of the machismos who came from the tribe of the unbuttoned shirt and the dangly chain.
At that stage we didn't know that his team-mates called him Rowdy, or that he didn't represent a cigarette or beer company but was a public servant moving towards journalism and writing. We'd seen him take some sharp chances in the gully (as unlikely as that may seem) and the only anecdote we'd heard was that he was prone to stand on his own hand when bending down to field even the gentlest shot.
He didn't play every Test during that era but he featured regularly. I recall writing his figures into my ABC Cricket Book especially during 1974-75 against the touring Englishmen – a series which I do remember chapter and verse. And again against the West Indies in 1975-76.
I have a strong memory of those summers when high pressures baked the Australian continent. Salad sandwiches for lunch and watermelon, and flopping on the bean bag for the afternoon session. After the break the cricket changed. The outfield was shimmering on the TV coverage, and the pacemen were not as keen as they'd been at 11. The game would become more sedate. Less exciting. The ball would be thrown to Ashley Mallett to bowl a dozen tight overs, keeping his cards close to his chest. Guile was trumps.
It was around the time of the 1977 tour to England that some of us realised that, while the good Lord had given us certain talents, His plan was to keep most of us humble. We had to face the reality that continuing to pursue stardom as opening bowlers was going to take more than the water from Lourdes. And the penny dropped. When half-decent players were smacking me back over my head off my long run-up, I thought I might as well get smacked back over my head off a short run-up.
I was effectively a slow-medium off-spinner off an opening bowler's run-up, so I decided to reinvent myself.
I found my inspiration in A.A. Mallett.
And I'm glad I did. You can have your cobra and your huge leap into the bowling crease. I took to copying A.A. Mallett's clasps hands (in prayer?) and chicken-wing elbows, his angled run, and the arm coming over in front of the umpire's nose as he bowled to right-handers. The swivel on the front foot. The drift away. The quicker one to the left-hander.
But then A.A. Mallett disappeared from our view – for the most unlikely reason. Those of us who lived Up The Bush, beyond the broadcast-reach of metropolitan Channel 9, were automatically ABC-ACB families. The Packer Circus, as we called it, was not in our consciousness and our heroes were lost to us. Mallett was one of them.
The story goes that Mallett rang I.M. Chappell and asked to put in a good word for him with Kerry Packer. Mallett was keen to earn in half a year what he had previously earnt in half a career.
Mallett later wrote:
For two days I sweated it out, then Chappelli got back to me: "Kerry's willing to give you a contract, but only if you agree to fly to Sydney and bowl against him for one over. If you get him out twice in the six balls, he will make an offer for your services." I did not hesitate: "Chappelli, tell Mr Packer to get f*****!"
Chappell continued to do his best. Packer had the same regard for straight-breaking off-spinners as he had for the ATO. But Chappell pushed. But got the contract anyway.
At the same time Mallett was receiving an offer to play for Australia – from Don Bradman. Mallett regretted not taking it.
When the cricket world came back together, he was at the end of his career. His final Test was at Lord's in 1980 – the Centenary Test or remembered as the K.J. Hughes Test. Mallett, by then 35, snuck one through D.I. Gower, not a bad final Test wicket.
[Just beyond the 20 minute mark – but worth watching Kim Hughes while you're here]
Having started playing in Perth, he moved to South Australia, along with Terry Jenner. Mallett impressed as an accurate and thoughtful offie who could not only play a role, but could take advantage of suitable conditions and influence a game. He toured England in 1968 making his Test debut in the Test at The Oval when Deadly Derek Underwood bowled England to victory. He took a few wickets and made 43 not out (in the first innings), which was to be his highest Test score.
He built a reputation as a world-class off-spinner on the difficult tour of India in 1969-70, playing an important role in Australia's 3-1 series win. He bowled over after over in the heat. In the First Test at Mumbai (then Bombay) his wickets included legendary off-spinner Erapalli Prasanna. He took 6/64 in the Australians' loss at Delhi. Then bowled Australia to victory at Chennai with 5/91 and 5/53. He took 28 wickets at better than 20 – and was a factor in the successful series.
India was the temple of spin-bowling at that time. The gurus like Prasanna and Bedi observed and theorised, contemplated and experimented, developing their artistry and their relationship with the cricket ball. Mallett won their respect – and he maintained it.
Reflecting years later, Prasanna explained that Mallett was one of the best – because he understood the need to deceive.
Watch Prasanna on Mallett  HERE
Until Nathan Lyon, Mallett (along with Hugh Trumble) was Australia's most successful off-spinner, playing 38 Tests and taking 132 wickets. He played in many winning sides.
His career is outlined at Cricinfo:
https://www.espncricinfo.com/player/ashley-mallett-6472  (cricinfo profile)
https://www.espncricinfo.com/player/ashley-mallett-6472/bowling-batting-stats (intro to his stats)
During his time as a cricketer in Adelaide he moved into day-to-day journalism. He also began his long career as an author. A list of his books, which feature many stories of his contemporaries can be found.
https://www.bookdepository.com/author/Ashley-Mallett
Ashley Mallett influenced many cricketers, especially those who for some reason chose to bowl slow finger-spinners on hard Australian wickets. One of my first questions at lunch would have been: "Why do we do this to ourselves?"
Vale Ashley Mallett.
Read an extract from the Harvey biography and purchase the book HERE.
Read more from John Harms HERE
Read Chris Harms on the troubles of an off-spin bowler in his piece O Me Miserum: the Genesis and Revelations of an offie
Some other stuff:
Some footage of A.A. Mallett in these highlights.
Interview on 'Just Havin' a Crack'
To return to our Footy Almanac home page click HERE.
Our writers are independent contributors. The opinions expressed in their articles are their own. They are not the views, nor do they reflect the views, of Malarkey Publications.
Do you enjoy the Almanac concept?
And want to ensure it continues in its current form, and better? To help things keep ticking over please consider making your own contribution.
Become an Almanac (annual) member – CLICK HERE.
One-off financial contribution – CLICK HERE.
Regular financial contribution (monthly EFT) – CLICK HERE.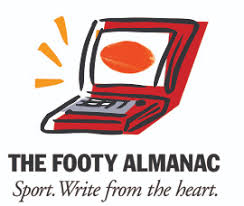 JTH is a writer, publisher, speaker, historian. He is publisher and contributing editor of The Footy Almanac and footyalmanac.com.au. He has written columns and features for numerous publications. His books include Confessions of a Thirteenth Man, Memoirs of a Mug Punter, Loose Men Everywhere, Play On, The Pearl: Steve Renouf's Story and Life As I Know It (with Michelle Payne). He appears (appeared?) on ABCTV's Offsiders. He can be contacted [email protected] He is married to The Handicapper and has three school-age kids - Theo, Anna, Evie. He might not be the worst putter in the world but he's in the worst three. His ambition was to lunch for Australia but it clashed with his other ambition - to shoot his age.