Almanac Cricket: Forget the Grammys. Introducing… the Hammys!
As the Grammy Awards were being dished out this week, it gave me an idea. My cricket club's season drew to a close this week, after our men's thirds were defeated in the Grand Final. On Sunday, our two men's Vets sides (over 40s) held a mini-presentation lunch, in which we awarded the Dave Sheehan Shield to the best player of the two teams, in honour of our mate Pubby Dave who passed away of cancer last year.
For many of us oldies, just getting onto the field is a battle; making it off the field without an injury is quite an achievement. So, in honour of those who get through a season — and those who don't — despite, or because of one old man/woman injury or another, I'd like to suggest the inauguration of the Hammy Awards.
The Hammy Awards will celebrate some of the more interesting stories of the injuries sustained by those of us on the wrong side of forty during the just completed cricket season.
We may not have the acting skills of the Grammy Award winners*, but we have an amazing ability to get injured in the most innocuous of — and often hilarious — ways.
If the Hammy Awards had existed a few years ago, my Clifton Hill teammate Harro would have been a certain winner. He was unable to return to the field after the tea break after putting his back out getting the sausage rolls and party pies out of the oven.
"Bowling right arm over…" (the hill)

Over the past two summers, I've put together a tidy collection of potential nominations on my own. In the opening game of the 2019/20 season I was fielding at square leg when what should have been a catch burst through my hands, giving me a black eye and a trip to the Austin for stitches. In the closing game of the vets season, something popped in my shoulder as I delivered the third-last ball of my spell in the Grand Final. I found out later that the 'pop' was a full thickness tear of the supraspinatus.
In between doing damage to myself in the first and last games of the season, I also managed to miss a match as a result of pulling a hammy getting out of bed on a Saturday morning.
To show last summer was no fluke, I compiled another full suite of Hammy Award nominations in 2020/21. Early in the season I somehow managed to reprise my black eye stunt of a year earlier. This time it was a skied catch to square leg. I should have caught this one, too, but again it broke through my hands and hit me in the eye. Once again, a trip to the Austin and stitches followed, as did another impressive shiner.
I managed to get another bruiser at training while bowling, courtesy of a straight drive in the adjacent net that copped me on the shin.
And then, once again in the final game of the season, once again on the third-last ball of the last over of my last spell of summer, something in my shoulder popped. The feeling and the excruciating pain was identical to 12 months earlier, but I knew it couldn't be the same injury, because I hadn't had the previous tear repaired, and 'full thickness' tears do not repair themselves.
The next day my upper arm turned purple. A few days later I had an ultrasound that confirmed a ruptured biceps, as well as a complete tear of the subscapularis.
Supraspinatus; subscapularis — if nothing else, the last two seasons have taught me some new words.
So that's my summer summary, from an injury point of view. I'm sure among then many other nominations out their for the 2020/21 Hammy Awards. Let's hear them!
*Actually some of the players I've played with and against do have great acting skills, and have become very adept at feigning an injury once they've bowled or batted so they can get someone else to field in their place.
For more from Gigs, click HERE.
To return to our Footy Almanac home page click HERE.
Our writers are independent contributors. The opinions expressed in their articles are their own. They are not the views, nor do they reflect the views, of Malarkey Publications.
Do you enjoy the Almanac concept?
And want to ensure it continues in its current form, and better? To help things keep ticking over please consider making your own contribution.
Become an Almanac (annual) member – CLICK HERE.
One-off financial contribution – CLICK HERE.
Regular financial contribution (monthly EFT) – CLICK HERE.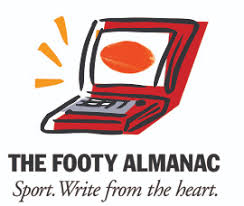 Well, here we are. The Bulldogs have won a flag. What do I do now?