Almanac Cricket (Books): We all have a book in us somewhere
Have you ever dreamt of writing a book? I did, and it simply would not have been possible without the Footy Almanac Community.
Before I joined the Almanac a decade ago I would have had a better chance at earning a Baggy Green (if Trevor Hohns had paid attention to my slashing form at the NSW Primary School State selection trials in 1988) than writing a book.
I had no background in writing and my early pieces were very rough, yet the support and encouragement of The Footy Almanac community, and John Harms in particular, saw my writing develop and my confidence grow to a point where I had the burning desire to back myself to write a book.
Does the end product hold a candle to the works of Bryce Courtenay? NO.
Does it stack up against 'Fool Forward' by Warwick Capper? I hope so, yet I'll let others be the judge.
My mate 'CAT' says it is the best (and only) book he has read since Year 10! High praise indeed.
The Book is the best attempt by an average bloke and amateur writer to simply have a crack at something that was on the bucket List.
At the end of the day I feel the book is a reflection of myself – short on polish and refinement, yet honest, humorous and with the best of intentions.
For those that don't know the back story of my Book A View of Australia From Fine Leg, in the cricket season of 2019/2020 I set out on THE ULTIMATE CRICKETING ADVENTURE. My quest to travel around Australia playing cricket and raising funds for mental health.
A lightbulb lit up in my head at 2.00am on Day 2 of the Second Test of the 2019 Ashes Series. I realised how much I missed the game and came up with an idea…
'Why don't I strap on my cricket pads again this season and play 11 games across Australia, each for a new cricket club, and then turn it into a book?'
The adventure was born!
I went through a battle with depression a decade ago and, thankfully, came out the other side. I committed myself to using the tour to raise funds for mental health as well as helping people along the way by sharing his story.
In the end I travelled over 10,000 kilometres, pulling on the whites for a diverse mix of fantastic cricket clubs. I found himself trapped by a bushfire, travelling 1600 kilometres one day just for a Golden Duck and he was given a hand by greats of the game like Greg Chappell and Darren Lehmann.
In the end we raised $10,000 for the Gotcha4Life Mental Health Charity.
I had a superb canvas to craft a book when the adventure had finished.
Getting the book published was an adventure in itself.
In the final stages of finishing the draft manuscript in early March (with the help and craftsmanship of friend of the Almanac Ian Hauser) I was approached by one of Australia's largest publishers, who wanted to take me on as a new author and publish my book. As a first-time author the prospect was exhilarating.
I had hoped that my book would get picked up, but was also realistic enough to know how competitive the book market is. My book would end up in every major bookstore in Australia and the financial and publicity impact would have been profound.
As the reality of the COVID-19 situation took hold in mid-March 2019, I was regrettably informed that given the uncertainty with the economy and the future of bookstores the publisher had now decided not to take a risk with me. As a new author I wasn't a guaranteed commercial success and as such the financial risk was deemed unacceptable.
I was devastated. I felt like giving up. I totally understood the decision made by the publisher as the times called for financially prudent decisions at the corporate level. Gee, it hurt though and I couldn't see a way forward. The entire publishing industry was tightening its belt and my chances of securing another publisher were remote at best.
After a period of kicking stones and blaming the world I dusted myself off and decided that I simply had to find a way to make the book happen. As is often the case it was Mrs D who helped pull me out of my own self-pity, take stock and navigate a way forward.
I decided to self-publish the book – essentially putting the book together myself without the involvement of an established publisher. With this option came risks – I would have to commit the financial outlay (around $7,000) and be responsible for all the marketing and sales. As also happened when I was starting this whole adventure, I was advised by quite a few people that it was too risky and told not to do it. I wrestled with the dilemma and risk versus return proposition.
As I tossed and turned at night I kept coming back to the general premise of why I started this adventure in the first place – I didn't want to end up as the bloke in his 60s who talked about the great idea he once had but never gave it a crack. When I came up with concept all those months ago at 2am while watching the Ashes I genuinely thought there was a great book to be written about the adventure. I decided to back myself to make it a success. If the book failed then at least I would go down swinging.
I got it finished in the end and have enjoyed an exhausting last 12 months trying to get the book out there as best as possible.
The generosity of spirit of the sports media community helped me no ends. I was welcomed onto most sports radio programs and even the great Gideon Haigh gave my work a shout out in The Australian – my mate, who is a nearby anonymous neighbour slipped a copy in his mailbox under the cover of darkness (I am not sure that crack PR agencies operate this way, but it got the job done).
In the end I'm a little short on financially breaking even, which is disappointing given all profits from the Book are to go to the GOTCHA4LIFE Mental Health Charity, however, I'm glad I also haven't squandered all my pennies and required my scallywags to live on Vegemite Sangers for dinner.
When I glance at the book sitting on the bookshelf, I am immensely proud. Am I 'complete' with it? No. I always think about how I could have done more to make it better. An artist friend recently told me that your work is never truly finished….You just come to a point where you put a stop to it for your own sanity.
Writing and promoting a book is equal parts exhillarating, bewildering, satisfying, frustrating, and rewarding. Once you start, you just have to see it through.
We all have a Book within us somewhere. This is mine.
The Book is a celebration of cricket and the fantastic people and clubs that help underpin it.
As members of the Footy Almanac Community I am please to offer a 30% discount on the purchase price for those of you who have read this far and would like to grab a copy and support the Gotcha4Life Mental Health Foundation. Please consider getting a copy for yourself or a cricket loving friend.
Books are available for $19 (inclusive of postage anywhere in Australia) and to secure a copy and support a great cause you can email me at [email protected]
For more from Craig, click HERE.
To return to our Footy Almanac home page click HERE.
Our writers are independent contributors. The opinions expressed in their articles are their own. They are not the views, nor do they reflect the views, of Malarkey Publications.
Do you enjoy the Almanac concept?
And want to ensure it continues in its current form, and better? To help things keep ticking over please consider making your own contribution.
Become an Almanac (annual) member – CLICK HERE.
One-off financial contribution – CLICK HERE.
Regular financial contribution (monthly EFT) – CLICK HERE.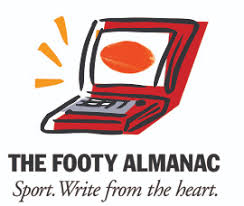 Born in the sporting mecca that is Wagga Wagga and now reside in Melbourne with my lovelly wife Sophie and son's Jack and Harry. Passionate Swans supporter and formally played cricket at a decent level and Aussie Rules at a not so decent level! Spend my days now perfecting my slice on the golf course and the owner of the worlds worst second serve on the tennis course.