Almanac Country Footy – Tanunda v Kapunda: Does this make me a Magpie?
Round 1
Tanunda v Kapunda
Saturday April 10, 2.20pm
Tanunda Oval
Saturday, midday. The opening round of the season here in the Barossa and I was boyishly excited about going to a footy match, a local footy match. It doesn't make much sense. I have no real connection to the Tanunda Football Club (yet), and only a bit of a connection to the Kapunda Football Club (I was at the celebration of their sesqui-centenary celebrations some years ago). But, I'm happy to admit, I was really looking forward to the afternoon.
Boyish excitement begot boyish attire and, without giving any consideration to the fact that I was actually in Tanundra (as Footy Almanac writer Noel McPhee once called this town), I donned the shorts. Thankfully, as I was rushing out the door, almost as an afterthought, I grabbed a jumper.
A country footy match is a grand thing. Since my days watching Lemnos at that magnificent oval along the Goulburn River in Shepparton, Princess Park, or riding my bike half a dozen kilometres to watch Aviation take on Coolaroo in Oakey (a little Queensland town where rugby league is king), I have gravitated towards country (and suburban) footy. What makes a twelve year old boy do that?
As I walked down the avenue of pine trees from the front gate, towards the ticket box, I could hear the umpy's whistle on the wind, and the guttural grunts of well-tummied seconds players bumping into each other (with intent). Four elder statesmen (two of whom may well have served at Gallipoli) guarded the entry, took my $7 and another $4 for The Barracker (put together by Footy Almanac contributor Peter Argent) and wished me a good afternoon. (Did I hear one say "Cheerio"?)
Kapunda's magoos led by a couple of goals and, as I walked the traditional lap, I got talking to a farmer ("I've got a patch of dirt at Tarlee") who remembered the big Kapunda dinner in the shed at the local trots (home of Australia's longest trotting race – about five laps of the track) for the anniversary celebration. He was interested to see how the 2021 version of the Bombers would go.
Tanunda, coming home with the breeze, fought back in the dying minutes, to the tooting of horns and the squeals of those who squeal under the duress of a nail-biting finish and, in what was a cracking contest, got over the line: 7.6.48 to 7.1.43. And this was just the seconds. The Kapunda boys looked shattered. It was the one that got away.
By this time the smell of the barbecue was too much and I quickly joined the Covid-conscious queue for something, anything, as long as it included whatever was teasing my olfactory system; a mix of onions grilling and thin steak charring and snags spitting. Or would I have the hot dog? And is it appropriate for a middle-aged man to ask for a python?
I settled in the old grandstand, rock-solid Barossan stone set against the elements, with dozens of others supporters. Down, and to my right, the bar was doing well, with old footy mates catching up (an excuse for a beer). Some hadn't seen each other since the night before.
As the seniors ran out (and the sauce ran down my forearm) I was trying to spot the one bloke I'd heard of: Sam Colquhoun. (Although I probably should have recognised former Western Bulldogs utility Christian Howard as well.) Since the days when my father went to Concordia College in Adelaide, we have been a Sturt family, and enjoyed the classy Double Blues for a few generations. Sam, I knew from watching the Grand Finals of recent times, was a handy player and one to look out for.
It was going to be a matter of getting to know the players. Our players. Because, I already had the feeling I'd become a Tanunda supporter, even though I had to find the willpower to overcome the deep-seated antipathy for black and white stripes. The call of the local should not be underestimated. (I pondered the philosophical conundrum: what would happen if I moved to Collingwood?)
Kapunda won the toss and kicked with a two-goal breeze, the players spread, the sun glistening on their oily arms, some shook hands, the ump held the ball aloft (what a great ritual), the siren sounded, and up they went. Kapunda had the better of the early exchanges with that pint-sized Number 8 (I reached for The Barracker), Tyrell Hocking (son of Eddie I believe), sending some daisy-cutters into the forward line and then soon after kicking truly from 50 for the first goal of the season. He's quick, but not as quick as his compadre Cam Matters (I'm ringing a bloke I know in Stawell; there might be a quid in young Cam) who also dobbed an early goal when he sharked a kick in. Generally though, Tanunda's defence looked solid enough and they launched plenty of attacks of their own. The Pies' Riley McFarlane et al got rolling and the forwards had some decent supply. Luke Snowden, who played deep forward early, was quick and clever on the lead, and got clear a few times to notch a couple himself, into the breeze. The trees didn't suggest a lot of wind but, when Kapunda's fullback Fraser Evans (another Sturt lad) kicked out, and the Sherrin lobbed in the centre circle (easily) I jotted down 'five-goal breeze'. Evans is a truly beautiful kick – the quintessential raking left-footer. He roosted some a decent distance into the breeze in the second quarter as well.
At quarter-time, Tanunda led by a couple of goals, despite the wind. I was tempted to wander down for an ale, but Peter Argent had set me a task (to assign best-on-ground) and, being a dutiful Lutheran, I thought I'd better watch without the wordly distraction of Cooper's Pale and lively conversation (which I was confident would come my way at the bar, as I had spotted Group 1 revellers Sam and Christina, can in hand).
Remaining in the grandstand, which affords a brilliant view (sun behind) of the spacious ground, I saw a very good football side show a level of skill and (especially) cohesion uncommon for so early in the season. Tanunda were very impressive, all over the ground. The young ruckman (I reach for The Barracker), Todd Falkenberg, was not only wearing Number 18, he actually had a bit of Darren Jolley about him. He isn't yet a lead-you-round-the-park ruckman but he has skills and he went all day. The backline was solid, especially when Kapunda's decision to put an extra man back to stem the tide left Matt Westhoff loose at the other end. Matt – who is just Justin with a razor – was left to organise and direct, which he did.
The honours for mid-field ascendancy had been shared in the opening stanza, but the Magpies put the foot down. Enter Sam Colquhoun, all class. He cruises across the ground (without using much petrol), he has quick, sure hands, and he brings others into the game. He's a master of the give and go, which is very useful in bush footy. And he can kick. He and McFarlane were in sync, combining to feed the forwards, with Isaac Feltus and mates contributing as well. Up forward, Snowden had a stint further up the ground and, when he wheeled instinctively, he looked up to find Josh Trembath in the clear, just as he expected. They make a potent duo. Trembath (Did I hear someone call him Bubbles?) is also a pure kick of the footy. Tanunda piled on the goals and the game was all over at half-time. The home side led by 50 points.
I was freezing. And, with duties as good as completed, I joined the throng at the bar, in the hope of finding some of that conversation and warmer surrounds. Experienced Tanundrans were on the port already. Sam Holmes introduced me to Jeremy Holmes ("No relation") and I was expecting the next bloke to enter the fray to be Sherlock. But it was actually Chris Harms, who popped in for the final quarter and a bit. I got talking to Simon (not Holmes) who knew his footy. Some good bush footy yarns were told, including from Simon who asked (no-one in particular, and everyone), "Do you remember that bloke who kicked the torp from in front of the bar? Right on the boundary line. Right there. Curled and went straight through. From the wrong side." I can't remember who the player was, because my teeth are quite loud when they chatter and Simon is gentle of soul and quiet of voice.
Kapunda didn't concede, but they could not sustain their challenge. Tanunda held them out – and they missed opportunities themselves. Hocking and Evans did everything they could. I kept an eye on the game, engaging in the traditional standing room sway and crane, to observe all parts of the ground. I did notice a sizey young brute from Kapunda, Wyatt Ryan, who looks a bit like Wayne Weidemann and a bit like Paul Vander Haar (which would make him pretty handy on and off the field). He just needs to insert himself into the action more often. I can see him influencing games once that happens.
Other Magpies had their moments, but not enough of them for me to change my mind on the votes. I chose Riley McFarlane as best-on-ground, because he was in the thick of it when the game was up for grabs, and was solid all day. But really it was a very even effort from the Magpies and I could have chosen four or five.
I braved the elements and, while walking back to town, I wondered what it will be like in July, and whether the boys will play as skillfully as they did on this fine Autumn day.
Wyatt Ryan and Josh Dodd tackle Tanunda coach Sam Colquhoun. Pic: Barry O'Brien (who happens to be Wyatt Ryan's grandfather)
Read more from John Harms HERE.
Tanunda
Goal Kickers:
J. Trembath 5, L. Snowden 5, S. Colquhoun 2, R. McFARLANE 2, I. Feltus 2, H. Smart, B. Biagi
Best Players: R 
L. Westhoff, L. Snowden, R. McFARLANE, I. Feltus, T. Falkenberg, M. Westhoff
Kapunda
Goal Kickers:
C. Matters 3, J. Dodd 2, T. Hocking 2
Best Players:
T. Hocking, F. Evans, C. Matters.
To return to our Footy Almanac home page click

HERE.
Our writers are independent contributors. The opinions expressed in their articles are their own. They are not the views, nor do they reflect the views, of Malarkey Publications.
Do you enjoy the Almanac concept?
And want to ensure it continues in its current form, and better? To help things keep ticking over please consider making your own contribution.
Become an Almanac (annual) member – CLICK HERE.
One-off financial contribution – CLICK HERE.
Regular financial contribution (monthly EFT) – CLICK HERE.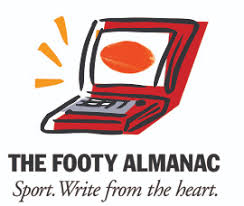 JTH is a writer, publisher, speaker, historian. He is publisher and contributing editor of The Footy Almanac and footyalmanac.com.au. He has written columns and features for numerous publications. His books include Confessions of a Thirteenth Man, Memoirs of a Mug Punter, Loose Men Everywhere, Play On, The Pearl: Steve Renouf's Story and Life As I Know It (with Michelle Payne). He appears (appeared?) on ABCTV's Offsiders. He can be contacted [email protected] He is married to The Handicapper and has three school-age kids - Theo, Anna, Evie. He might not be the worst putter in the world but he's in the worst three. His ambition was to lunch for Australia but it clashed with his other ambition - to shoot his age.