Almanac Book Review: 'The Definitive Rulebook' by Malcolm Ashwood
Is there any South Australian sportsperson of any prominence at all not in Malcolm Ashwood's phone contacts or email list? Readers of footyalmanac.com.au have long known of 'Rulebook's' passion for all things sport in his beloved state. His long form interviews with stars of a golden era of the SANFL have provided us of a purely VFL/AFL upbringing with an education of what made that league so fantastic to follow, and what has been lost with the entry of the Crows and Power into the national competition.
Malcolm bleeds the red and blue of the Norwood FC. Stories from 'The Parade' dominate the book, with his heroes such as Garry McIntosh, Michael Taylor and Roger Woodcock lovingly written about. The loyalty of McIntosh refusing repeated big money offers to cross the the VFL, drowning sorrows with Taylor after the 1980 Grand Final loss and the smooth moving Roll-Royce of left footers in Woodcock just make up part of the stories of these Redleg legends. Modern day stars of a successful Norwood era including Brady Dawe, Brett Zorzi and Kieran McGuiness also get their dues from the passionate Redleg man.
Other SANFL clubs are covered as well. Multiple Port Adelaide Magpies premiership star Tim Ginever, the 7th of 10 children ("he has 7th child syndrome, whatever the hell that is"), and of course no South Australian sporting compilation would be complete without stories on the cult hero Grenville Dietrich, his on field brilliance, often overshadowed by his off-field exploits, given due recognition.
Malcolm is a huge cricket fan and his excellent pieces on Wayne Phillips and Greg Blewett delve into the ups and downs of the international careers of the two supremely talented Redbacks. More cricket profiles would be appreciated from the dedicated Sheffield Shield follower for a sequel?
Community sport has also been a huge part of Rulebook's life and there's plenty of heart in his writing about his ultimate hero, Adelaide University FC's Fred 'Chocka' Bloch, with his enormous contribution to the culture of the self proclaimed 'World's Greatest Footy Club', a man who has obviously been a massive influence on the life of Malcolm. Adelaide Uni FC goalkicking great Darren Graetz (1402 goals) is a story of immense contribution at grassroots level while the emotional battle with MND of former Norwood player Chris Grigg is at once both sobering yet inspiring.
Whoever the subject, Malcolm has a way of flushing out the life stories, great moments and personal struggles of all interviewed in a relatable, everyman way. This book is compulsory reading for any South Australian who likes sport, yet relatable to anyone who follows Australian football and cricket anywhere in this country. There are thousands of sports stories to be told across Australia, long may Malcolm continue to honour (and harass!) the greats, the forgotten and the community achievers in his beloved South Australia.
For copies of The Definitive Rulebook, $40 inc. postage, contact Malcolm at [email protected]
For more of Rulebook's work, click HERE.
To return to our Footy Almanac home page click HERE.
Our writers are independent contributors. The opinions expressed in their articles are their own. They are not the views, nor do they reflect the views, of Malarkey Publications.
Do you enjoy the Almanac concept?
And want to ensure it continues in its current form, and better? To help things keep ticking over please consider making your own contribution.
Become an Almanac (annual) member – CLICK HERE.
One-off financial contribution – CLICK HERE.
Regular financial contribution (monthly EFT) – CLICK HERE.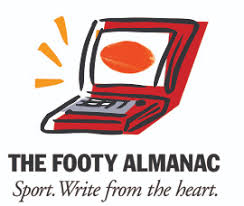 Cricket and Collingwood tragic. Twitter: @crackers134