Almanac Baseball: Among the likes of Robinson, Mays, Clemente and Flood, Henry the Brave Was All Class Right to the End
Major League Baseball great Henry Aaron died last month (January, 22nd). A much loved and respected figure not just for his on-field accomplishments, which included breaking Babe Ruth's celebrated home run record in 1974, but for the courage he displayed in confronting racism which at times produced such levels of stress and anxiety and posed a legitimate threat not only to himself but his family, that would have seen lesser people crumple under the pressure. Aaron played all but the last two of his twenty-three-year major league career with the Braves, first in Milwaukee and then with Atlanta. He was signed during the organisation's final year in their original location in Boston where Babe Ruth finished after his glory days at the New York Yankees by way of the Boston Red Sox were long behind him. Despite not playing for one of the "big" teams, "Hammerin' Hank" as Aaron was known belongs in the same category as other celebrated major league players of colour such as Jackie Robinson, Roberto Clemente, Willie Mays and Curt Flood. Aged 86 when he died, Henry Aaron outlived most of his contemporaries. He even outplayed them, just outshining Mays by two seasons. Willie Mays will turn 90 later this year. Upon his retirement in 1976, Aaron was the last major league player to have played in the now-defunct Negro Leagues. (The last one to hold a regular spot with Minnie Minoso playing two games for the Chicago White Sox in 1980.)
At the time of his passing, Aaron's deeds were recognised and lauded by many in the baseball community along with former presidents Jimmy Carter, Bill Clinton and Barack Obama. His funeral was livestreamed. Video tributes were broadcast. Prior to Covid-19, one could have expected a massive public turnout. Over two and a half thousand were present for Jackie Robinson's funeral at New York's Riverside Church with many more lining the streets as the hearse carrying his coffin made its way through Brooklyn en route to his final resting place at Cypress Hills Cemetery after his passing in 1972. Although he had a service, Roberto Clemente's body was never recovered following his death in a plane crash on New Year's Eve of that same year. His Pittsburgh Pirates teammate Manny Sanguillen was the only member of the Pirates organization not to attend. Instead, he chose to dive in to the waters of the crash site off the coast of Puerto Rico in an attempt to find Clemente. Only the pilot's body was recovered. Curt Flood lived out his final years worried that he would be forgotten. That no one would remember not only his ability as a player, starring in the St Louis Cardinals' 1964 and '67 World Series victories but also his stance against the reserve clause (part of a player's contract in which the rights to a player would be determined by their club once their contract was up and were prevented from signing with another team thus essentially bonding the player to their club for eternity. Upon signing, teams could then trade, sell or fire players on a whim) which was seen by Flood and many others as a violation of the 13th Amendment (the ruling against slavery) and ultimately served to cut his playing career short after he chose to go to court to fight to become a free agent after being traded to the Philadelphia Phillies against his will following the 1969 season. The reserve clause would remain in place until December, 1975.
Throughout their careers, all of these players were on the receiving end of racial abuse to varying degrees, none of it warranted. There is no denying it continues today across all sporting codes albeit on different platforms. With the advent of social media, another avenue for people to tout their views with the added luxury of a wall of anonymity, it seems there is no escape from criticism no matter how harsh. This is what our AFL players have to face today with one of the more notable examples being West Coast's Liam Ryan following an Instagram post of Ryan with his daughter in 2019. The abuse was loathsome and despicable. The response from West Coast was all class. In the year that Jackie Robinson who, for a time was bound to an agreement to suffer in silence, would have turned 100 years old, this was but one example to show just how long there is to go if we are to defeat racism in our lifetime. It could be easy to suggest that athletes of colour from an earlier time didn't have to face such scrutiny as that levelled at Ryan or Adam Goodes, Eddie Betts or Héretier Lumumba as there was no Instagram or Facebook in their time. Tell that to Syd Jackson or Doug Nichols. The loudest noise in the opening quarter of the 1970 grand final were boos reserved for Jackson[1]. He received death threats in the week leading up to the match. Nichols not only copped it from the outer but was ostracised from where he should have been able to seek sanctuary within the walls of the Carlton Football Club where the trainers refused to rub him because apparently, they didn't like the way he smelled. He was received better at Fitzroy. Over half a century after Jackson, players such as Héretier Lumumba have had the courage to speak out and take on the formidable foe that is Collingwood's PR machine. The club threw the kitchen sink at him trying to discredit his story and it is Lumumba that has emerged vindicated. Even after the "Do Better" report, Collingwood's response still shows they don't get it. They don't get it any more than the lingering few (and they are just that, a lingering few) who continue to assert that the bile levelled at Adam Goodes was self-inflicted still don't get it despite all evidence to the contrary.
Never underestimate the power of willful ignorance.
Jackie Robinson carried a load the likes of which you would not wish upon your worst enemy. Prior to breaking the major league colour line with the Brooklyn Dodgers in 1947, he was obliged under an agreement reached with Dodgers manager Branch Rickey that he was not allowed to talk or fight back for the first three years of his major league career, no matter what was said or done against him. If Robinson fought back, Rickey's grand "experiment" wouldn't work. Robinson would be seen as yet another uppity so-and-so only serving to affirm the belief that integration was never going to work. Several of his own teammates tried to organise a petition to have him removed from the club which ultimately failed. Team-manager Leo Durocher was quoted as saying, "I don't care if the guy is yellow or black, or if he has stripes like a fucking zebra. I'm the manager of this team and I say he plays."[2] Robinson ultimately won the respect of his teammates and he remained with Brooklyn long enough to be a part of the Dodgers' one and only World Series championship while the club was based in Brooklyn. Yet the taunts remained. Rickey was eventually hustled out of his share of the Dodgers' ownership by Walter O'Malley, thought to be the one responsible for moving the Dodgers to Los Angeles (try Robert Moses). O'Malley was less than impressed with the increasing numbers of African-Americans who had once attended Negro League matches now making their way to Ebbets Field to see the likes of Robinson, Don Newcombe and Roy Campanella.
Once the agreed-upon sanction was lifted ahead of the 1950 season, Jackie Robinson fought back with the type of gusto that one would expect of a temperament as short as Robinson's was but after three years of silence the pent-up anger was buried too deep to ever let it all out and it ultimately killed him. By the time of this death, he was already long hampered by heart disease, diabetes and blindness but the strain of the load he was made to carry throughout his playing career exacerbated his already precarious heath. Robinson was 52 going on 92 when he died.
For a time in the early 1950s, the Dodgers had an international free agent by the name of Roberto Clemente. After 1954, he was let go and was signed to the Pittsburgh Pirates. Who got Clemente to Pittsburgh? Former Brooklyn general manager Branch Rickey who took up the same position with the Pirates in 1950.
If the taunts levelled at Henry Aaron bothered him, he made no public display. He was too busy putting in consistent at-bats for the Braves and being modest about his achievements. He was never one to display the level of flair and showmanship that had become part and parcel of the likes of Willie Mays to whom he was often compared. In just his third season with the Braves he batted .328 and from there it was all consistency. In a twenty-year league career, it is nigh on impossible to pick which season was his best. He was 26 at the beginning of the 1960s and he had already amassed 170 home runs. By the middle of the decade, Aaron had 398 homers, was batting .320, had stolen 149 bases, was caught 45 times, hit 391 doubles, 81 triples and notched up 2200 hits. He was already a guaranteed Hall-of-Famer yet few seemed to notice. If Henry Aaron had a bad year it was a sensational one by any other player's standards. For the longest time many considered Willie Mays to be the one destined to break Babe Ruth's home run record. He would have been a worthy candidate too but one can't help but think because he was also a showman and played for big market clubs in New York and San Francisco that people naturally would have taken more notice of Mays. With this in mind, no one could really be blamed for Aaron being as underrated as he was in his era. It certainly didn't seem to bother him. Despite ranking low in MVP ratings (again the bane of playing for a small market team), he continued to produce like clockwork.
Aaron was more than just a slugger. In 1963, Hank Aaron was the third person to be a part of the 30-30 club – that is, those who have hit in excess of 30 home runs and stolen 30 bases in a single season. Before him, there was only Ken Williams (1922) and Willie Mays (1956-7). The next player to become part of this illustrious group was Mays' San Francisco teammate Bobby Bonds in 1969. Both he and his son Barry would achieve this feat five times throughout their career. It could have been more for Aaron with seven seasons in which he stole in excess of 20 bases. Henry Aaron and Bobby Bonds would compete against each other on many occasions but he would later cross paths with Barry in more controversial circumstances.
Henry Aaron never forgot the poverty of his youth. He never forgot the hatred and bigotry either. Yet his experiences put him in good stead for what was to come. Growing up in segregated Mobile, Alabama with his seven brothers and sisters in a house built by his father Herbert, he often hid under the bed from the Ku Klux Klan as they would march by and burn a cross outside. In 1948, Jackie Robinson came to Mobile to speak about segregation and how to confront it. Aaron skipped school that day to hear Robinson. He would later go on to break the colour line in the South Atlantic ("Sally") League in 1953. He did this with the Jacksonville Braves, an affiliate of the major league Boston Braves. During the Braves' tenure in Milwaukee, Aaron had as much respite as an athlete of colour could expect far from the Jim Crow south in the 1950s to the mid '60s. Yet the team began to stagnate as they approached the mid '60s, no longer seen as a challenger to the National League pennant. Attendance began to wane and owner William Bartholomay was determined to move the team to where there was a larger market for television. A growing and more tv-friendly city was seen in the form of Atlanta, Georgia. That was great news for the Braves, terrifying for Henry Aaron.
When the franchise moved to Atlanta in 1966, he was reluctant to follow the team to the deep south having grown up there.  Aaron was already well versed in the mannerisms of Jim Crow when playing for the Negro League's Indianapolis Clowns. He recalled to Lonnie Wheeler, who collaborated on Aaron's autobiography[3], one occasion when the Clowns were playing in Washington DC:
"We had breakfast while we were waiting for the rain to stop, and I can still envision sitting with the Clowns in a restaurant behind Griffith Stadium and hearing them break all the plates in the kitchen after we finished eating," Aaron once said.
"What a horrible sound. Even as a kid, the irony of it hit me: here we were in the capital in the land of freedom and equality, and they had to destroy the plates that had touched the forks that had been in the mouths of black men. If dogs had eaten off those plates, they'd have washed them."
Still, all throughout this time he continued to hit. In time though, the vitriol would become too loud to ignore.
Curt Flood was no stranger to the worst the deep south had to offer. Early on in his career, Flood played for the Cincinnati Redlegs and in 1957 was playing for their Savannah, Georgia farm team in the South Atlantic League. Unable to eat or lodge with his white teammates, most of whom didn't speak to him anyway and when they did it was rarely pleasant, one could hardly begin to imagine just how lonely an existence that must have been. One of the worst incidents during Flood's time in the deep south was in between a double-header. He watched as his teammates, who had already been giving him no end of abuse that day, threw their uniforms in a pile to be laundered. Like everybody else, Flood threw his uniform in the same pile only to have a steward run over in horror and very carefully gather Flood's uniform using a long wooden pole with a nail fixed to the end and placed in another pile, the one destined for the "coloured" laundry on the other side of town. Flood sat naked in the changerooms while the second game commenced, his uniform not yet returned. When it finally came back, Flood returned to the field only to face his teammates who picked up where they left off calling Flood "everything but a child of god."[4]
Flood was traded to the St Louis Cardinals at the end of 1957 where he became a star in centre field. Yet his troubles were far from over.
Jim Crow would rear its head in the most unlikely of places. While California is often considered to be fairly liberal when compared to the southern states, housing covenants restricted African-Americans from purchasing property in certain districts. The 1948 US Supreme Court Case Shelley v. Kraemer should have put an end to this but white residents and homeowners' associations continued to collude and if anything, the level of hostility was worse than before.[5]
Curt Flood had been living in Oakland prior to the 1964 World Series where his Cardinals defeated the New York Yankees four games to three. He decided to move his growing family to a bigger house in the Tri-Valley area in Alamo. After coming to terms with the agent in which Flood had to pay higher than market value rental terms, the agent went to the house only to be confronted by the owner who was brandishing a shotgun only having just found out the Floods weren't white. It was alleged he threatened to shoot them if they dare to integrate Tri-Valley. Flood sued the owner and he and his family were able to move in following a temporary injunction. Yet they had to be accompanied by armed guards. The incident was caught on local and national television. During a press conference Flood said, "How can they do this? Not because I'm a professional athlete or even a Black man even, but I am a human being regardless of what I am. I think that if I can afford this place, then I think I oughta have it."[6] His children remember the burning crosses on their front lawn and getting in to fights at school on a near daily basis.
Willie Mays experienced similar discrimination when the New York Giants departed the Polo Grounds and headed west with their crosstown rivals the Brooklyn Dodgers at the end of 1957. People loved his talent and his good nature. Things such as these they must have figured wouldn't hurt their property values as much as having him as a next door neighbour. Ultimately, the incident and the public outcry that followed was an embarrassment for the city of San Francisco and Mays and his family got to move in to their home in Miraloma Park. [7]
When Aaron passed it was in the same house he purchased in Atlanta when he first moved there.
In terms of his activism, Curt Flood was more vocal than Aaron, Mays or Ernie Banks. He was steadfastly against the antiquated reserve clause which bound players to their respective teams for life. When he was to be traded to the Philadelphia Phillies at the end of the 1969 season along with three of his St Louis teammates, Flood wrote to League Commissioner Bowie Kuhn, insisting that he be made a free agent.[8] Following Kuhn's denial of his request, Flood filed suit against Kuhn and Major League Baseball. He fully expected his teammates to support him in his case in which he likened the reserve clause to slavery. But they were by and large silent. The only players to speak in his defense were Hank Greenberg and Jackie Robinson. No active players spoke in support of Flood. Not even Bob Gibson, an African-American pitcher, one of the most feared in Major League Baseball and at times more outspoken than his teammate Flood. But Gibson was fearful of reprisal. It was potentially career-killing.
Flood was supported by the executive director of the Major League Baseball Players Association, Marvin Miller who thought Flood's case was an impossible one. He lost but only just on a 5-3 decision when it was finally handed down in 1972.[9] During this time, Flood sat out the 1970 season and played 13 more games for the Washington Senators in 1971 before retiring. Judge Lewiss Powell who was thought to have been in support of Flood withdrew due to a conflict of interest as he owned stock in Anheuser-Busch whose owner, Augie Busch, also owned the St Louis Cardinals.[10] Chief Justice Warren Berger switched to support the MLB's case at the last minute. He was devastatingly close to winning his case.
Throughout this period, Flood was blackballed and received hate mail but nowhere near to the degree that Aaron would later receive.
Roberto Clemente fought injustice throughout his playing career and died doing just the same. The poverty he experienced growing up in Puerto Rico was not dissimilar to that of Henry Aaron's but it wasn't until he came to the States that he was confronted by the racism that offended him so. After being let go by the Dodgers, Clemente played his entire major league career in the steel town of Pittsburgh where he was ostracised by the white community who saw him as black and he struggled to connect with the African-American public who saw him as an immigrant. Journalists picked on him repeatedly by mocking his Latino accent.[11] In spite of this, he continued to hit with power and was a star in right field, helping the Pirates to two World Series championships in 1960 and 1971.
Clemente was an admirer of Martin Luther King Jr who, on one visit to Clemente's native Puerto Rico, spent an afternoon with the champion Pirate on his farm. When attending spring training in the deep south earlier in his career, he took umbrage at having to remain on the team bus along with his fellow black players and wait until they were brought food by their teammates who ate in restaurants that only served whites. Not caring to suffer further indignity, he demanded the Pirates organisation provide a station wagon for the black players so they could drive to restaurants that would serve them.
A proud humanitarian and champion of the downtrodden, Clemente would immerse himself in charity work during the off-season and it just so happened that he was in Nicaragua as part of an amateur baseball tournament when an earthquake struck the Nicaraguan capital, Managua on 23rd December, 1972, a mere couple of months after he had registered his 3000th hit. He organised relief flights raising thousands of dollars and shipped over 25 tons of aid in the form of medicine, food and clothing. But he was soon to discover that the aid packages had been seized by the corrupt regime of General Somoza and thus never reaching survivors. Clemente made the decision to personally oversee the next relief flight in an effort to ensure the aid got to the survivors as intended. The overloaded Douglas DC-7 plane had barely taken off before it crashed into the Atlantic Ocean not far from Isla Verde on New Year's Eve, 1972. Clemente's body was never found.
Never one to take a backward step in the face of either racism at home or corruption abroad, Clemente died as he lived – by following through.
In the season following Roberto Clemente's tragic passing, more and more people began to take notice of Henry Aaron. So quiet was he about his accomplishments and the no-frills way he approached the game, that the public, almost understandably so, focused on those who displayed more flair a la Willie Mays. But that's not to say others hadn't known all along. The Braves organisation certainly did hence his longevity at the club, not to mention the many adoring fans of "Hammerin' Hank". The opposition pitching staff were no less wary of them. In Ken Burns' epic documentary Baseball columnist George Will recounts a tale from the Los Angeles Dodgers' spring training during the 1960s where the Dodgers pitching staff (featuring the likes of Don Drysdale, Sandy Koufax to name a few) are discussing strategies to get the top National League batters out. Deathly silence meets the room when someone mentions the name Henry Aaron until finally someone says, "Make sure no one's on (base) when he hits it out."[12]
It was only a matter of time before Aaron began to zero in on Babe Ruth's cherished home run record of 714. As Aaron once said, "I kind of snuck up on them a little bit. They didn't see me coming around the back door . . . And, you know, I was not the big glamour boy . . . from New York City. So my record, the hate mail that I got was not so much [a reaction] to the threat of what I was accomplishing, it was the threat of me being black and also not being a New York player."[13]
All through the 1973 season and the off-season leading up to 1974 as Babe Ruth's title as the home run king looked ever more precarious, Aaron would receive massive amounts of letters. Up to 3000 per day on occasion. A few of them were supportive but most of them weren't. The majority of those that weren't were also unsigned. As we see today, there's that wall of anonymity the coward hides behind. Still the mail kept coming, as did the phone calls, the death threats, the kidnap plots against his children. It's fair enough to assume a fair number of these threats could well have come from people who were not yet born by the time Babe Ruth died in 1948. Speaking to journalist William C Rhoden on the lead-up to the 20th anniversary of Aaron's breaking of Ruth's record Aaron said, "It really made me see for the first time a clear picture of what this country is about. My kids had to live like they were in prison because of kidnap threats, and I had to live like a pig in a slaughter camp. I had to duck. I had to go out the back door of the ball parks. I had to have a police escort with me all the time. I was getting threatening letters every single day. All of these things have put a bad taste in my mouth, and it won't go away. They carved a piece of my heart away."[14]
Aaron would receive a plaque from the United States Postal Service upon receiving more mail (in excess of 930, 000 letters) than any person barring US Presidents.[15]
When the Braves were in Cincinnati playing the Reds at the opening of that fateful season in 1974, Aaron requested a moment of silence prior to the game as it was the sixth anniversary of Dr King's death. He tied Ruth's record that day scoring one homer. He'd break the record four days later in Atlanta. MLB Commissioner Bowie Kuhn was not in attendance. Aaron hit the record breaker in the fourth inning at home in Atlanta to a crowd of 53, 775 (a record attendance for the Braves) on 8th April, 1974. The game was against the Dodgers (now long since based in Los Angeles), Al Downing threw the pitch. Outfielder Bill Buckner tried to launch himself over the outfield fence to catch it. Buckner would experience worse luck twelve years later letting a ground ball literally slip past his legs in game 6 of the 1986 World Series. Braves announcer Milo Hamilton called it as follows:
"Henry Aaron, in the second inning walked and scored. He's sittin' on 714. Here's the pitch by Downing. Swinging. There's a drive into left-center field. That ball is gonna be-eee … Outta here! It's gone! It's 715! There's a new home run champion of all time, and it's Henry Aaron! The fireworks are going. Henry Aaron is coming around third. His teammates are at home plate. And listen to this crowd!"[16]
Dodgers caller Vin Scully addressed the moment also:
"What a marvellous moment for baseball; what a marvellous moment for Atlanta and the state of Georgia; what a marvellous moment for the country and the world. A black man is getting a standing ovation in the Deep South for breaking a record of an all-time baseball idol. And it is a great moment for all of us, and particularly for Henry Aaron … And for the first time in a long time, that poker face in Aaron shows the tremendous strain and relief of what it must have been like to live with for the past several months."[17]
It was a marvellous moment. The home run was met with thunderous applause. No boos, no gunshots. Hope for the world yet. Bigots never back up their threats. They just send letters. With a backdrop like that, not to mention at the age of 40, it was incredible that Henry Aaron was able to endure, beat back the worst that was levelled at him and continue to excel. Aaron had flaws and internally he raged at the abuse he was made to shoulder despite any outward evidence that he "didn't whinge and just got on with it" as is the common refrain when referring to the less outspoken Australian athletes of colour who you can be certain are carrying a justifiable rage of their own. But he was a hero to many and that's not a term used lightly when speaking of Henry Aaron.
Aaron has spoken before about how it should have been a glorious moment for him but for the abuse he received leading up to the moment. This is not an uncommon feeling among athletes of colour. Even long before the incidences of Colin Kaepernick taking a knee, Robinson would echo the same sentiments when he made his World Series debut. Bearing in mind he had to keep his mouth shut for three years. He had to do well. He always had to do well.
Taken from his 1972 autobiography I Never Had It Made:
"There I was, the black grandson of a slave, the son of a black sharecropper, part of a historic occasion, a symbolic hero to my people. The air was sparkling. The sunlight was warm. The band struck up the national anthem. The flag billowed in the wind. It should have been a glorious moment for me as the stirring words of the national anthem poured from the stands. Perhaps, it was, but then again, perhaps, the anthem could be called the theme song for a drama called The Noble Experiment. Today, as I look back on that opening game of my first world series, I must tell you that it was Mr. Rickey's drama and that I was only a principal actor. As I write this twenty years later, I cannot stand and sing the anthem. I cannot salute the flag; I know that I am a black man in a white world. In 1972, in 1947, at my birth in 1919, I know that I never had it made."[18]
Henry Aaron continued to carry himself with dignity and modesty for his remaining years. Even when he was to suffer one final indignity when a steroid inflated Barry Bonds overtook his home run record in 2007. In a moment when most of us would have been happy just to vomit in our own lap had our achievements been surpassed by a supplement-addled, narcissistic egotist, Aaron was all class right to the end. When entertaining the idea of being invited to the White House when Donald Trump was President if he was part of a winning championship team in this day and age, Aaron said, "There's nobody there I want to see."[19]
Henry Louis Aaron (5th February, 1934 – 22nd January, 2021)
[1] Martin Flanagan, "1970" in The Last Quarter (One Day Hill, 2008), p. 53.
[2] Gerald Eshkenazi, The Lip (New York: Quill, 1993), p. 248.
[3] Hank Aaron with Lonnie Wheeler, I Had A Hammer: The Hank Aaron Story (Harper Collins, 2007)
[4] "Curt Flood:Racism in Baseball" YouTube video, 1:50, "Georgeweismeyer", 18th January, 2015, https://www.youtube.com/watch?v=D2lnIHRIuy8
[5] Natasha Frost, "City of Segregation: Housing Discrimination in Los Angeles", Quartz, 19th September, 2018. https://qz.com/1394245/city-of-segregation-housing-discrimination-in-los-angeles/
[6] Jon Becker, "Game Changers: Curt Flood's little-known fight against MLB's indentured servitude policy", Daily Democrat, 22nd September, 2020. https://www.dailydemocrat.com/2020/09/22/curt-flood-fought-for-free-agency-and-against-racism-but-who-remembers/
[7] Harold Friend, "Willie Mays Faced Bias When He Wanted to Buy A House", Bleacher Report, 8th April, 2009. https://bleacherreport.com/articles/152866-willie-mays-faced-bias-when-he-wanted-to-buy-a-house
[8] Gabe Lacques, "50 Years after his letter changed baseball forever, Curt Flood's sacrifice still resonates", USA Today, 24th December, 2019. https://www.usatoday.com/story/sports/mlb/2019/12/24/curt-flood-letter-mlb-free-agency-bowie-kuhn/2722291001/
[9] Author unknown, "Baseball wins in high court", Pittsburgh Press, UPI, 19th June, 1972, p. 1. https://news.google.com/newspapers?id=mm4jAAAAIBAJ&pg=6832%2C1474021
[10] David Pietrusza, Matthew Silverman, Michael Gershman, Baseball: The Biographical Encyclopedia, (New York: Total Sports), pp. 364-366.
[11] Chaz Firestone, "Pulitzer-winner Maraniss shares Roberto Clemente's mythology", The Brown Daily Herald, 25th April, 2007. https://www.browndailyherald.com/2007/04/25/pulitzerwinner-maraniss-shares-roberto-clementes-mythology/#:~:text=Maraniss%20captured%20Clemente's%20struggle%20against,heet%E2%80%9D%20for%20%E2%80%9Cheat.%E2%80%9D
[12] George Will quoted in Zach Baker "Remembering Hank Aaron, one of the greats", Review Times, 23rd January, 2021. https://reviewtimes.com/news/300118/remembering-hank-aaron-one-of-the-greats/
[13] Sara Germano, "Hank Aaron, US baseball and civil rights hero, 1934-2021", Financial Times, 23rd January, 2021. https://www.ft.com/content/156dc5b9-3c10-4026-bc9b-728f18e604ac
[14] Jerry Brewer, "Racism carved away a piece of Hank Aaron's heart. What remained was still a gift", Washington Post, 23rd January, 2021. https://www.washingtonpost.com/sports/2021/01/23/hank-aaron-racism-home-runs/
[15] Alan Schwarz; John Thorn, "From Babe to Mel – The Top 100 People in Baseball History". Hank Aaron. Total Baseball" The Ultimate Baseball Encyclopedia, (Wilmington, Delaware: Sport Media Publishing Inc.) pp. 818-820.
[16] "Milo Hamilton calls Hank Aaron's historic 715th homer" YouTube video, 0:46, "MLB", 14th November, 2014, https://www.youtube.com/watch?v=BNZl6HN5c-0
[17] "Vin Scully calls Hank Aaron's historic 715th home run" YouTube video, 4:38, "MLB", 14th November, 2014, https://www.youtube.com/watch?v=QjqYThEVoSQ
[18] Jackie Robinson & Alfred Duckett, I Never Had It Made, (Harper Collins, 2003).
[19] Tom Schad, "Hank Aaron on whether he would visit White House: 'There's nobody there I want to see'", USA Today, 23rd June, 2018. https://www.usatoday.com/story/sports/mlb/2018/06/23/hank-aaron-mlb-trump-white-house-nobody-want-see/728051002/
For more from Adam, click HERE.
To return to our Footy Almanac home page click HERE.
Our writers are independent contributors. The opinions expressed in their articles are their own. They are not the views, nor do they reflect the views, of Malarkey Publications.
Do you enjoy the Almanac concept?
And want to ensure it continues in its current form, and better? To help things keep ticking over please consider making your own contribution.
Become an Almanac (annual) member – CLICK HERE.
One-off financial contribution – CLICK HERE.
Regular financial contribution (monthly EFT) – CLICK HERE.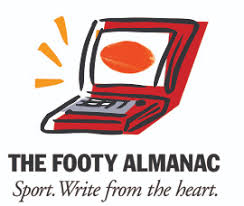 Perth-based DJ, radio presenter (hosting and coordinating Soulsides on RTR-FM 92.1), writer, serial procrastinator, plate-licker, leftist, Geelong supporter with a very soft spot for Fitzroy and Richmond. I play late '50s to early '70s r&b/soul/mod 45s both on air and about town. I completed my BA Honours by submitting a thesis on Frank Zappa. I love the history of the VFL/AFL, especially the old suburban grounds and am obsessed with the 1989 Grand Final (especially the ABC-3LO call). My passions are footy, 45s, my cats (RIP Althea & Cliodhna), my wife and young son Matteo and the city of Melbourne which I visit as often as possible. I also like long walks on the beach and long necks of Melbourne Bitter.