Almanac Athletics: Track Scars
"You weren't supposed to qualify for the semis," Sophie, my wife of thirteen months, says.
I shoot her back a look of insincere apology. "I'll have to make it worthwhile then," I reply.
We're sitting under the light tower at the Sydney Olympic Park Athletic Centre on the Thursday night of the 2021 Australian Track & Field Championships. The competition doubles as the Olympic Trials and it's my last competition of the season. I'd just run a strategic fifth and snatched an auto-Q for the following night's race. "Two laps to go for the season," I told myself. Unless of course, I sneak into the final.
We flew in on Wednesday and had planned to catch the early train from Sydney to Canberra on Friday. The in-laws were going to the War Memorial for the last post ceremony honouring Private James Clarence Johnson – killed in action on 8 May 1915 at Gallipoli.
"I'll have to hire a car in that case," I say. With all other train bookings taken it's our only option.
Coach Dave chimes in to offer his assistance. He says he's willing to drive us to the Bradman Museum in Bowral on Saturday morning. Soph's dad says he can pick us up from there and drive back southward. I'm thankful, not unaware of the sacrifices those close to me make that allow me the opportunity to run around in circles.
My legs recover well the next morning. Not fatigued but not rusty either. The long season takes it's toll and I've had a healthy taper leading into the championships. I've always been very good at tapering.
My race at Homebush is at 6:40pm – plenty of time to overanalyse it throughout the day. I get an email notification. An office-wide email circulates with the live stream link – I'd rather it didn't.
We make our way to the track via two trains. Did they have to do this in 2000, I wonder? It's much cooler than yesterday and the galahs are less vocal. I set out for my warm-up in the long shadows of Stadium Australia. The emptiness of the sprawling concrete concourse is eerie and makes me feel small. My race is but a blip on the sporting history of the precinct.
On the warm-up track, Luke says hi as we pass. He's by himself too. Pete has his big headphones on, mentally in the zone as he probably was in Rio. I'm not intimidated by his run-throughs – although I probably should be.
My preparation is done, and there's nothing left but 110 seconds of pain ahead. Dave and Soph wish me well. "Break a leg" doesn't translate well in a sporting context.
"You're welcome to qualify for the final if you want," Soph quips.
I nod and step into the call room. Jack looks like he's seen a ghost. I've never seen someone that nervous. He shouldn't be – he could very well challenge Pete in the final. He's only 19. I try my best to lighten the room, for his sake and mine. I explain how they set the bar up 20m past the finish line at my request. "Straight from the finish line to the schooners," I only half-joke.
We head down the tunnel and the white lights of the arena hit me. They've even got those pyrotechnic flame throwers. I find lane 2. Silence. "On your marks". They don't say set. Go! My arms and legs pump in frenzied unison.
Coming up the back straight, the field mostly settles in front of me. I'm further back than I had planned. I search for the rail, but Gras shoves his way in.
Passing 200m and in the blink of an eye, a hole appears in front of me. As if it were in slow motion, Geordie hits the deck. Gras falls over top. Ben sneaks through on the inside. Tom sidesteps unharmed into lane 2. I half step before over-rotating. I leap to clear the carnage but my left heel lands unevenly on Gras' shoulder – who was scrambling to his feet. He lets out a gut-wrenching scream. Have I spiked him in the head? My mind's racing.
I stay upright – just – and wobble left, taking a couple of trepid steps on the infield before jumping back to the track and turning my head. I see Gras recover only a couple of strides behind me, but I can't see Geordie. Do I turn back? I'm not dead yet – the group is only 15 metres away. How did Landy do it?
I see Jared's spike flick high in the air and fly past me. Dazed, I overwork my way back to within five metres of the pack, but my ankle's hurting. As I hear the bell I realise all my rhythm has dissipated – I'm shot. I roll through the second lap and jog over the line. Gras follows me in and I immediately grab him to apologise. I don't think he's processed what's happened yet. His shoulders not bleeding either. I let out a sigh of relief – and exhaustion.
Luke bows out in the other semi. He's had an interrupted campaign. Even a four-time Australian champ gets no favours. Tokyo ambitions aren't off the table, but it'll be a hard road from here.
The final is run the following night. Jack puts up an almighty fight but it's Pete who ultimately salutes. Not surprising – he's a jet. He's practically booked his plane ticket to Tokyo.
After my race, I hobble under the grandstand and through the exit, back to the light tower. Soph and Dave share their condolences. "That's racing," I say.
I bump into Gras. He's okay thankfully. "I'll see you next year," says the South Australian.
I duck back down the stairs to the first-aid tent for some ice on my increasingly painful ankle. I find Geordie there. Disappointed but not angry. He looks like a Tour de France rider who's hit the bitumen at full speed. I pull up a chair next to him.
"I can't tell what's the track and what's my skin," he says.
"Well, the track's blue," I reply.
The conversation pauses. Under the fluorescent lights next to the messy pile of first-aid kits, we reflect.
"Sorry mate."
"I'm sorry too."
I see in his eyes that he's thankful. Sombre, but consoled.
There are no crowds under the grandstand. No cameras, no media, no coaches or wives.
We didn't have that Landy moment on the track, but we still shared one together. The spirit of sportsmanship alive and well, under the grandstand at Olympic Park.
For more from Cobba, click HERE.
The Tigers (Covid) Almanac 2020 will be published in 2021. It will have all the usual features – a game by game account of the Tigers season – and will also include some of the best Almanac writing from the Covid winter.  Pre-order HERE
To return to our Footy Almanac home page click HERE.
Our writers are independent contributors. The opinions expressed in their articles are their own. They are not the views, nor do they reflect the views, of Malarkey Publications.
Do you enjoy the Almanac concept?
And want to ensure it continues in its current form, and better? To help things keep ticking over please consider making your own contribution.
Become an Almanac (annual) member – CLICK HERE.
One-off financial contribution – CLICK HERE.
Regular financial contribution (monthly EFT) – CLICK HERE.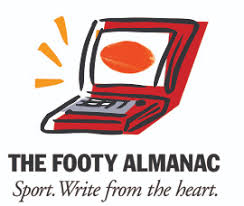 Cobba Stevens works in sports social media and content. A keen middle-distance runner in both the ammos and the pros, he's also one of the youngest 'old bloods' supporters in Melbourne.