AFLW Round 7 – Melbourne v Adelaide: This is finals (Almost).
By Caspar McLeod.
Melbourne Demons v Adelaide Crows.
16th March 2019.
Casey Fields.
This is crucial. This is pressure. This is finals. Well, almost. And for the two teams playing in this match, might as well consider it a final. It's just as important. Especially for Melbourne. Because if they loose, due to the conference system and the close loss to North, they will be sitting out of the AFLW finals. Again.
Adelaide kicks the first behind through Erin Phillips, who is already running around everywhere. On a day where Melbourne needs the points more, they fumble the most early. Adelaide look in control. Considine parts a sea of Demons to find the middle, resulting in the first goal. The Crows look formidable. They look like they did in 2017. They are proving that 2018 was just a blip on the radar. And Considine is proving to be a headache for the red and blue, as she kicks her, and Adelaide's, second. She narrowly missing her, and their, third. Adelaide do eventually get their third, and Melbourne are panicking. They go scoreless in the first. Adelaide unlucky not to lead by more than 21 at the first.
Adelaide pile on the pain in the second, and suddenly the lead is out to 34. Melbourne are still scoreless. Adelaide remarkably are trailing in possession. And inside 50s are even across the last twenty minutes or so. A minute and a half to go, Melbourne still hasn't troubled the scoreboard. Fifty seconds to go, they still haven't scored. Twenty seconds to go, they still haven't. Siren sounds. They are still scoreless. Good news for them is that Adelaide only lead by 34, which speaks to their dominance that I have use the word "only" to describe a 34-0 lead.
It increases by 7 early in the third. Finally, Melbourne hit the scoreboard… with a behind. Adelaide match that effort with one of their own. Crows by 41. A fifty metre penalty extends their lead by another 6 points by Foley who extends her own influence on this match. A point makes it 48-1. They soon reach and surpass the half-century. Melbourne are goaless, still.
They break their duck in the final quarter. It does little to stop the avalanche of Adelaide goals. Lee-Thompson kicks a brilliant goal mid-way through to make the scoreline 67-7. A behind extends the lead by a little before Melbourne match it. These points matter little. Siren sounds. Adelaide look scary. Melbourne trudge off the field, another season without finals footy.
To find out more about Almanac memberships CLICK HERE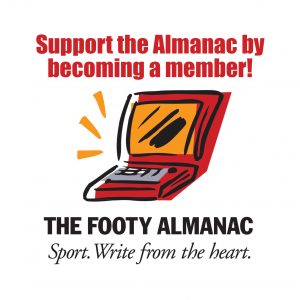 Third Culture Kid at Heart. Grew up in Asia, discovered footy at age 9. AFL has since been my burning passion. Ask me who were the winners all the grand finals between 1938 and last year's decider, and I'll be happy to tell you. I'm a footy nut with a passion for writing and acting. All though I love writing and acting, during the footy season, AFL is my true passion. Waiting ever so patiently for the day when Essendon Next win the flag.