AFLW Round 4 – Collingwood v GWS: Destination Morwell
When the AFLW3 fixtures were released I recklessly resolved to attend every GWS Giants game. Home and away. I live in Sydney. But, accompanied by someone I will henceforth call "my footy friend", I am on course to do this. After a trip to Brisbane and frankly soul-crushing visits to Drummoyne and Blacktown, it was time f0r Morwell.
It was to be done in a day. Work didn't allow for more than that, and neither, no doubt, would my wife. (Love you babe ;-) ).
The most striking thing about the Morwell Recreation Reserve is that at least half of it is surrounded by bitumen, marked with lines for car parking. Now, this may be typical of country Victorian grounds, I don't know, but I found it rather intriguing. How good would it be to watch my son's games in winter, snug in our car, beeping the horn when goals are scored? It's like the drive-in, but for football!
But it wasn't winter and this wasn't my son's match. It was Round 4 in the national women's Australian Football League and there were very few places to sit that didn't involve parking your backside on hard ground between white lines. A single line of narrow metal benches surrounded the fence, but they were in high demand and exposed to the sun.
For those who may not know: this game was crucial for both teams. Neither had won a game this season and even though they are playing in the notoriously 'easy' group B, a loss would surely signal the end. They would be playing for pride after this.
Within a minute Tait Mackrill had dribbled one through.
The Giants didn't get first use out of the first bounce but it mattered not. Nicola Barr cleaned up just behind centre, got it to Alicia Eva who fired a neat pass to Elle Bennetts. She popped it over inside 50 and the bounce deceived the Collingwood defender. Christina Bernardi and Jacinda Barclay sandwiched another Pies defender in pursuit of the ball which spilled out to Tait Mackrill, who said thank you very much. A few steps and she placed a gorgeous dribble, with the outside of the boot, at the feet of the goal umpire.
A nice early, settling goal. This is good.
Collingwood, of course, were not going to turn over after one goal. Britt Bonicci was plugging away industriously while Cecilia McIntosh was making her presence felt. But then Lambert fumbled a mark that should have really been held. That's what we'd been seeing this season from the Giants. I felt for the Pies fans. I knew this frustration.
Then before we could even start to dream, Iilish Ross was dealt a pass that bobbled in front of her. Cora Staunton had read the flight of the ball and saw that it was going to be hard to handle. She bore down on Ross, seeming to lower her centre of gravity even more than usual. Staunton pounced, Ross ducking her head but not drawing the free. She spilled it, Staunton picked it up and had enough strength to get a hand ball away. The umpire blew his whistle for a sling. Louise Stephenson scooped up the ball, ran just inside fifty and clunked one from her left foot. Its arc was a thing of beauty. Even from the other end where we sat, it never looked like missing.
I was becoming a little overwhelmed. Two goals in just over 5 minutes and they were both debut goals. It's always good to see unusual suspects hit the scoreboard.
Within a minute I was positively flushed. Alyce Parker got a free kick from the centre bounce. She used the wind to pump one long, Yvonne Bonner did enough to knock it to Jess Dal Pos and out came that gorgeous left foot.
Collingwood 0.0 Giants 3.1.
After some slick hand passing, something we'd missed in the first three games, Pepa Randall was the next to make use of the wind, putting one high into the 50. Staunton used her hips to knock Nicole Hildebrand from under the football to take a mark.
Collingwood 0 Giants 4.1.
Collingwood continued to drop marks. They made a couple of drives forward but they didn't get anything for their efforts. Kicking against the breeze was proving difficult. They did settle though and the Giants couldn't put anything else past them for the quarter.
The Pies started the second quarter brightly and it was immediately obvious the wind was going to play a larger part than I first realised.
After 5 minutes Sharni Layton's height was too much for Ingrid Nielsen in the ruck. She tapped it to Sarah Dargan who attacked the outside of the ruck at speed, whipped the ball onto her boot and put it through. That was rather pleasing. For the Pies fans. (Hi Andy!).
The wind was blowing away from our end. When the ball was kicked our way you could see it hang and wobble in the air, horizontal movement making it difficult to read.
Fridge was playing deeper in defence than usual and her intercept marking was impressive. The entire backline seemed tighter, managing clean ball by hand. Sometimes it's the small things that bring satisfaction, like strings of three, four, five hand passes across the backline and out through the pocket.
Layton set up the second Pies goal too. She decided to attack the ball in the ruck, snatching it out of the air and hacking it onto her right foot high into the goal square. Jordan Membery snaffled it and put through the set shot. Layton was pumping both her fists.
Fair call.
With less than a minute to go in the quarter someone finally had a shot at goal at the other end. Staunton won a free kick but the wind took the ball to the right and it was a point.
2.1 to 4.3 at half time. Conceding only two goals in that quarter was a win.
At half time I found the portaloos and when I returned to my bench on the fence, the woman holding the double-sided handmade Go Giants/Go Alicia sign had been supplanted by an elderly man. He was talking to my footy friend. I heard my friend say "This is good". The old dude snapped back "Is it? What's good about it?".
He kept talking.
"Can't teach someone with no skills".
Eventually he walked around us and sat at the other end of the bench, two Pies fans between us.
"Are you enjoying this?" he asked another old man who had brought his own folding chair. He was leaning back, his cap pulled down. I wondered how he could see over the fence.
I didn't hear his reply.
Old mate went on.
Yvonne Bonner chased a ball into the pocket, wearing Stacey Livingstone on her back. She gathered and spun, still wearing Livingstone, and sliced the ball through for a goal from her left foot.
"No skill" said old mate.
Breathe, said my footy friend.
In the last minute of the quarter the Giants got a scare when Randall's switch went awry. Maddy Shevlin collected and took off down the wing but messed up the bounce. Tanya Hetherington was able to tackle her, Dal Pos cleaning up and getting the ball down field.
Three quarter time and the Giants were still 23 points ahead. Pies would have the breeze coming home.
The wind seemed to enforce its presence even more in the last quarter. The ball continually found the boundary on one side, the ball rarely getting out of the far pocket.
Again the Pies ruck, this time Eliza Hynes, snatched the ball from a throw in, well inside the 50. This time Haneen Zreika wasn't allowing her to skip around the outside. She felled her with a tackle that would have befitted Kieran Jack. (Rugby League does have its uses).
After 5 minutes Collingwood were given a free kick right in front and Membrey did the rest. 17 point lead, over 9 minutes to go and a relentless breeze. I started to shift in my seat.
Staunton got our hopes up when she reacted theatrically – and rightfully so, the free was there – to an arm around her neck. The breeze took her kick to the left, Bonner collected it and got it to Eva. She hooked it towards goal and the Giants fans down the other end thought it went in. It was marked on the line by Sophie Casey.
That was probably our chance.
With just over three minutes to go, the Giants backline couldn't clear cleanly, the ball falling to Shevlin. She picked up, ran a few steps and fired a shot in, the wind clearly steering it significantly back to the right and goalward.
Pies 4.2 GWS 5.6.
I started to think about a draw. I've been at two. Surely. Not. Again.
Staunton got it on the wing. I found myself standing up, pumping my arm like I was at a horse race yelling GO CORA GO CORA GO CORA.
She passed to Taylah Davies, who sent it down on to Bernardi. Her kick was smothered and the attack was snuffed.
Then the ball was sent back down the other end on the breeze and it was becoming all a bit unbearable. It flicked around, the wind threatening to send wayward kicks through the goals.
The Giants worked the ball out through Gum, to Beeson then Ellie Brush in the back pocket. She straightened, changed direction, sent two Pies the wrong way and kicked it as far as she could down the line.
Surely that would do it.
Final score:  Collingwood 4.3.27 were defeated by GWS 5.6.36
Postscript:
Thank you to Alicia Eva, who upon finding out we had flown down for the game, invited my friend and I into the sheds. Day, nay year, made.
To find out more about Almanac memberships CLICK HERE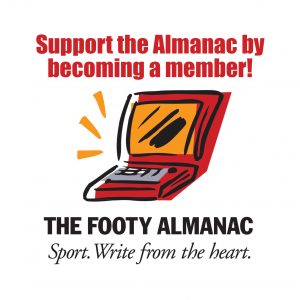 About
A Swans AFL member and a GWS AFLW member, quickly developing conflicting allegiances. Trying to finish a PhD but footy keeps getting in the way. Mother to a teenage half-forward who sometimes plays at half-back.