The Jets slip, a Franjic screamer literally echoes around an empty ANZ Stadium and Sydney FC do what they do.
ADELAIDE UNITED 0 SYDNEY FC 1 (Bobo 45)
The anticipated re-match between Adelaide United and Sydney FC following their 'ballboy-gate' FFA Cup Final was a damp squib with the champions squeezing out a typically Sydney FC 1-0 win. United were the spritelier of the two sides in the first half in front of a poor Hindmarsh crowd (will get to that later). Like much of the season United had no end product with many attacks breaking down in the final third. Foreign imports Matmour and Mileusnic both should have done better with chances afforded to them.
Great teams make you pay of course and veteran former Socceroo Luke Wilkshire did a perfect cut back catching United defender Gulum off guard and allowing Bobo to finish easily for Sydney. Wilkinson and Bujis were again fantastic at the back for Sydney FC as United had the run over the midfield with the visitors still missing their talisman Milos Ninkovic. Adelaide seem to be switched on in most areas now but finishing is their biggest issue. Reds fans would be hoping that the rumours of Bruce Djite returning are true as he would take most chances put on a plate for him that have been squandered by Blackwood and others.
For Sydney FC another scratchy performance but great teams find a way and they continue to top the league.
WESTERN SYDNEY WANDERERS 0 BRISBANE ROAR 2 (Maccarone 45 Franjic 66)
The Wanderers transition to the ways of Josep Gombau is still a rocky path after losing at home to a surprisingly decent Brisbane Roar 2-0. With the game being played at the Olympic Stadium in front of a very sparse crowd (I'll get to that later) Wanderers were on the back foot very early with two first half injuries to the red hot striker Oriol Riera and then Sotorio meant a big reshuffle and the much maligned Roar took advantage.
Right on half time the veteran Italian striker Massimo Maccarone managed to find some space and get a shot past the Wanderers keeper. Then halfway through the second half a now fit again prodigal son Ivan Francij gave us one of the highlights of the round. The Socceroos full back sent a curling shot in to the back of the net to put the game beyond doubt with his first goal since returning to the club he flourished under in the Postecoglou days.
A welcomed rare win away from home for Roar while the Wanderer's season stagnates thanks to coaching changes, injuries and the issues with their temporary home grounds that has them wandering the streets like a group of red and black striped hobos.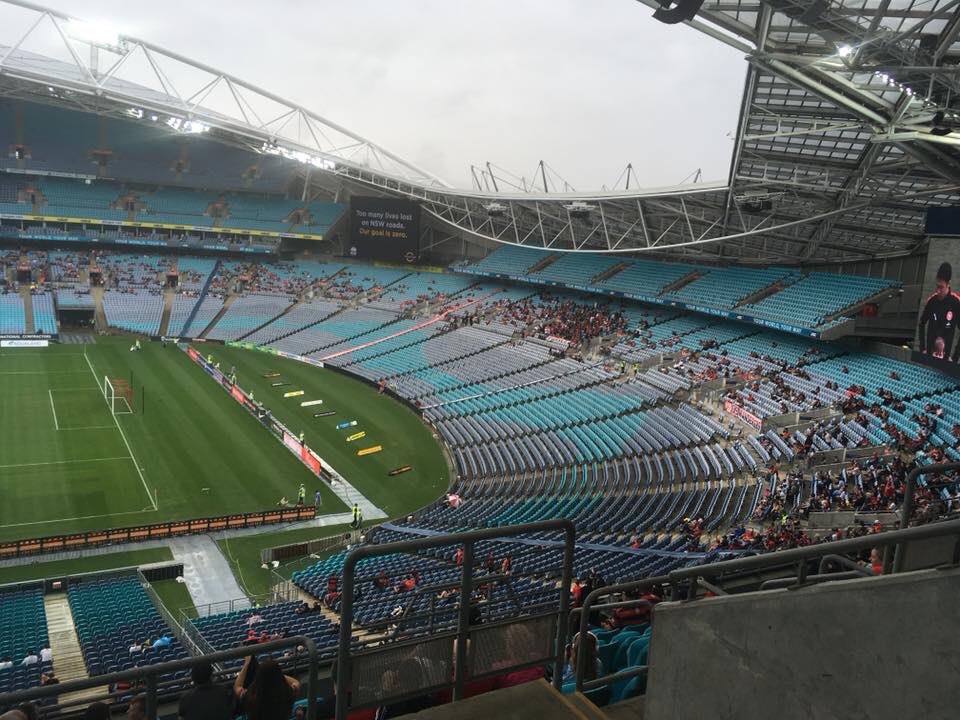 "The game of Football in Australia has never been in a better position than it has today." Stephen Lowy 30/11/17. (Picture courtesy of Athan Stylos)
NEWCASTLE JETS 1 (Nabbout 32) MELBOURNE CITY 2 (McCormack 40 Muscat 86)
Melbourne City answered some critics with a last gasp victory in Newcastle against the high flying Jets.
With only one point out of 12 and rumours of coach Warren Joyce losing the cliquey dressing room they withstood a dominant first half by the Jets who were still missing Roy O'Donovan to put the finish on some great lead up play. City were also helped along by fill in City keeper Dean Bouzanis making some great saves. Still, the Jets were ahead on 32 minutes when Nabbout scored again taking advantage of a defensive error, his fifth goal in 10 games. With five minutes to go before half time City had an undeserved equaliser when the chunkiest Scot to play professional sport since Colin Montgomery, Ross McCormack, scored again with another converted penalty.
The second half was more tense with the Jets wilting after having all the ball in the first half but failing to do anything with it being their undoing. Bruce Makau was introduced to the game as a sub and his pace on the wing had the Jets second guessing as Luke Brattan put in a decent shift in the middle of the park for the visitors.
Kamau should have had a penalty when thrown in to the turf by Topor-Stanley and then a corner to the Jets was missed before a loose ball in the area for City was smashed home by Manny Muscat before the Jets defenders could scramble it away. A draw was probably a fairer result but really the Jets should have had the game won by half time. A lesson learned for them hopefully rather than the bubble bursting.
Even with their coach seemingly putting everyone offside and seeing Tim Cahill leave the club City get a good win to make up for the past month of disappointment.
WELLINGTON PHOENIX 2 (Kaluderovic 29, 32) MELBOURNE VICTORY 3 (Berisha 54 Paracki OG 57 Troisi 87)
The game of the round was definitely the early Sunday game in Wellington. Both sides had had terrible starts to the season so anything could happen in this clash and kind of did. In front of another poor crowd (I'll get to that later) VAR got involved ruling off a perfectly fine Berisha goal with former Phoenix player Barbarouses apparently inches offside.
Then the bean poll Serb Andrija Kaluderovic used his great height to score a brace with that gargantuan head of his in the space of a few minutes to have the Phoenix 2-0 up at half time. More despair for Victory and Kaluderovic with seven goals for the season so far thanks to the work of the hard-working full backs.
Then in the second half Victory realised who they were and went up a level without even using the bench to change things around meaning perhaps Kevin Muscat applied the blowtorch in the sheds during the break. Within 10 minutes of the restart Berisha smashed in a rebound from a Barbarouses shot. Then minutes later the Croatian Goran Paracki put one in to this own net to have Victory level.
With time ticking away it seemed that the Phoenix had stemmed the flow and would escape with a draw after another capitulation but their defence knows no bounds when it comes to rock bottom. With no pressure on Berisha running through the middle the Albanian star's throughball was lovely for James Troisi and the Socceroo finished to take the points for Victory.
A noble comeback but still not all there for Angry Kev and his team. The Phoenix odds on for the spoon even this early in the season.
CENTRAL COAST MARINERS 1 (Powell 78) PERTH GLORY 0
A yawn inducing final game of the round saw the Mariners take the points in their usual win over the Glory in Gosford. In front of very strong local crowd (I'll get to that later) the injury hit Glory were well in the game but the Mariners had what chances there were with Pain and Appiah having chances blocked by the burly and brilliant defensive Glory duo of Lowry and Grant.
In the second half the Mariners continued to press through the master (Da Silva) and blaster (Brama) as Glory played the long game having a distinct lack of power up front with the holy trinity of Keogh, Castro and Taggart all missing through injury. With 12 minutes of a painful 90 to go the sub Blake Powell sent Danny Da Silva down the left with a ball that left the Glory defence flat footed. Da Silva cut to the byline and squared the ball back to Powell who rocketed home from close range to put the Mariners up 1-0, a lead they kept until full time with only Mitch Nicholls coming close to Glory, his shot blocked.
Another handy win for the Mariners albeit against a taped together side but you can't help but admire what Paul Okon is putting together there with the limited resources he has with a team that had its commendable culture eroded away over a few years.
TABLE
Sydney FC                                                   +7        22 pts
Newcastle Jets                                            +10     17 pts
Melbourne City                                          +2        16 pts
Central Coast Mariners                            0          12 pts
Adelaide United                                         -1         11 pts
Melbourne Victory                                    -2         10 pts
Perth Glory                                                 -5         10 pts
Brisbane Roar                                           -2           9 pts
Western Sydney Wanderers                   -3           8 pts
Wellington Phoenix                                 -6            5 pts
SACRED COW OF THE ROUND-Danny DaSilva
The former Perth Glory starlet has been a phenomenal addition to the Mariners so far this season. The then 18 year old left Glory for a big fee to Italian giants AS Roma (who didn't end up paying) and then to Roda JC in Holland where we stagnated.
Returning to Australia with no career momentum and a new sleeve tatt he has driven the Mariners forward this season creating and scoring goals and bringing back some heart to the side from Gosford and restarting his career. If he keeps this up it's hard to see him staying in Australia and is a chance to gatecrash the Socceroos World Cup Squad.
ARSECLOWN(S) OF THE ROUND-The crowds
Only an average of 7,445 attended each of the five games in the league in this round. A little bit alarming when it the same weekend as a Wanderers home game with may Wanderers fans staying away without their usual home at Parramatta Stadium unavailable. Only Round 19 last season dipped below 8000 in recent times in the A-League.
Granted, it was a poor match up of fixtures this round with the exception of United v Sydney FC but the ineptitude/arrogance of the current bosses, lack of continued expansion, VAR and bizarre kick off times are contributing. The sooner the civil war ends and the league starts to get in to gear again building on their foundations the better. The product isn't awful, it's a very competitive league with the skill level increasing every season. It was refreshing to see the Mariners have a healthy crowd on a Sunday night but a lot of that was down to promotional tickets being given away in the community as they push to get rid of the bad feelings from when there was an attempt to move the side to the Northern beaches of Sydney.
TOTAL GOALS FOR THE ROUND-12 (Season Total 117. Av 2.93 goals a game)
WHAT TO LOOK FORWARD TO NEXT WEEK
After a meh bunch of games in Round 9 next weekend will see a heap of excellent match ups.
Melbourne Victory host their arch enemies Adelaide United on the Friday night in what will be a big one. The Sydney derby is on again with Wanderers hosting the champions which will be live on FTA. After a disappointing loss the Jets will be heading to Perth hoping they can repeat their rare win over in the West from last season against a Glory side that are desperate to get some key players back.
With Tim Cahill and his rather large ego now out the door it will be interesting to see what City will do hosting the Mariners and a flock of seagulls at AAMI Park in Melbourne.
RTR FM presenter and Glory Guerrillas pod co-host. Cat, Cardie, Glory Bhoy and Socceroo by pain of death. Seen too many Geelong and Socceroos disasters to mention and worships the holy trinity of Larsson, Mifka and Senna.