MELBOURNE CITY 0 SYDNEY FC 1 (Wilkshire 59)
Melbourne City have shown everyone they may now possess testicles and some resolve which is a nice change from their chocolate soldier past. Yet where they were at would be very much shown in a clash with defending champions Sydney FC at AAMI Park.
City have pretty much copied the Sydney model so far defending deep, two defensive midfielders and making chances count, the 2-0 win in Adelaide last weekend being prime example. The game was never going to be a goal fest and was all very prod and poke between the two sides with goal opportunities at a minimum. Sydney had nine shots at goal, City two has the defences kept respective strikers Ross McCormack and Bobo as passengers starved of chances.
City were the ones who maybe should have been at least 1-0 up by half time when Fitzgerald had a brilliant run with his shot tipped over the bar magnificently by the usually much maligned Andrew Redmayne. Fitzgerald then made another lovely move to set up McCormack but the chunky Scot somehow fluffed the chance.
The difference would be down to one of the last 2006 Socceroos playing and new Sydney FC signing Luke Wilkshire. The 36 year old nudged home a lovely cross from Zullo to score his first goal in many years and showing what a wonderfully shrewd fill-in signing he has been for the Sky Blues.
City went down showing maybe they have ways to go yet while Sydney FC keep on rolling taking advantage of any lapse in concentration by the opposition and not even playing at 100% but the post-match discussion was all about the ankle of a key Socceroo and another 2006 legend.
In the 22nd minute Tim Cahill tweaked an ankle after landing awkwardly following a challenge for the ball. After trying to play on Cahill went to the rooms with Fox Sports Commentator Brendan Speed the voice of doom and gloom with tone like Cahill had injured the ankle dodging the bullet that shot JFK whilst on the deck of the titanic that was sinking because it had been crashed in to by the Hindenburg. A big blow for the Australian national side in the lead up to the huge play off against Honduras for a spot in the World Cup, a pivotal pair of games that may map out the direction of the game in Australia in the next few years.

The injury that stops a nation.
NEWCASTLE JETS 3 (O'Donovan 37, 44 Nabout 55) WELLINGTON PHOENIX 0
The undefeated Jets continue to soar following another belting, this time against a struggling Phoenix side.
It did take a horrendous backpass for Newcastle to lead when near half time striker Roy O'Donovan took advantage of Goran Paracki's blunder to score at the second attempt and then had a brace right on half time when he tapped home a typical poachers goal thanks to former Victory benchwarmer Andrew Nabbout. It was then the impressive Nabout's turn to score and put the game to bed in the 55th minute.
Archie Thompson on Fox Sports made an excellent point saying that Merrick likes the front attack third of his teams just to go free range and use their skill and be lite on the instructions which worked with aplomb at Victory and seems to be doing the same for the Jets after a blip at the Phoenix. 13 goals in 5 games and the highest scoring team in the league. O'Donovan now also has seven goals in five games. A wonderful signing so far.
For the Phoenix their continued fiddling with the defensive structure is costing them goals and lots of them currently, being the worst defensively in the league. Roy Krishna has a deadly looking hair cut though..that's something.
PERTH GLORY 1 (Keogh 82) ADELAIDE UNITED 0
Perth Glory made two wins from two at home so far this season but left it late knocking off an injury depleted Adelaide United 1-0.
Kenny Lowe tinkered with his line up again shifting around his defence and having star Spaniard Diego Castro play a more central number 10 role and it seemed to work initially Keogh being wrestled to the ground for a penalty in the opening minutes. Thankfully for the Reds WA ex-pat Paul Izzo made an excellent save to deny Castro from the spot. Izzo was again called upon to make two more saves as the Glory laid siege on to the Reds goal as they soaked up the pressure.
As the half went on though the Reds changed things around and got back in to the game working out Glory's set up and having their own chances but lacking a killer instinct up front or saw their shot blocked or headed away by the monstrous Shane Lowry.
In the second half a brilliant free kick was saved by Glory keeper Liam Reddy and Izzo was called upon again to somehow get a fingertip to a spectacular Adam Taggart shot as the minutes  melted away and a draw looked likely. The changes made by Kenny Lowe seemed to work though when Mitch Malia (on for an ineffective and seemingly disinterested Chris Harold) used his blistering pace to dart to the goalline and sent in a perfect looping cross to Andy Keogh who headed home, the Glory captain finally doing something right on a night where he seemed to have lead in his boots.
Glory up to fifth, United with two losses in a row and hoping they get a couple of their 6 missing players from their best line up back before hosting the Jets in the next round.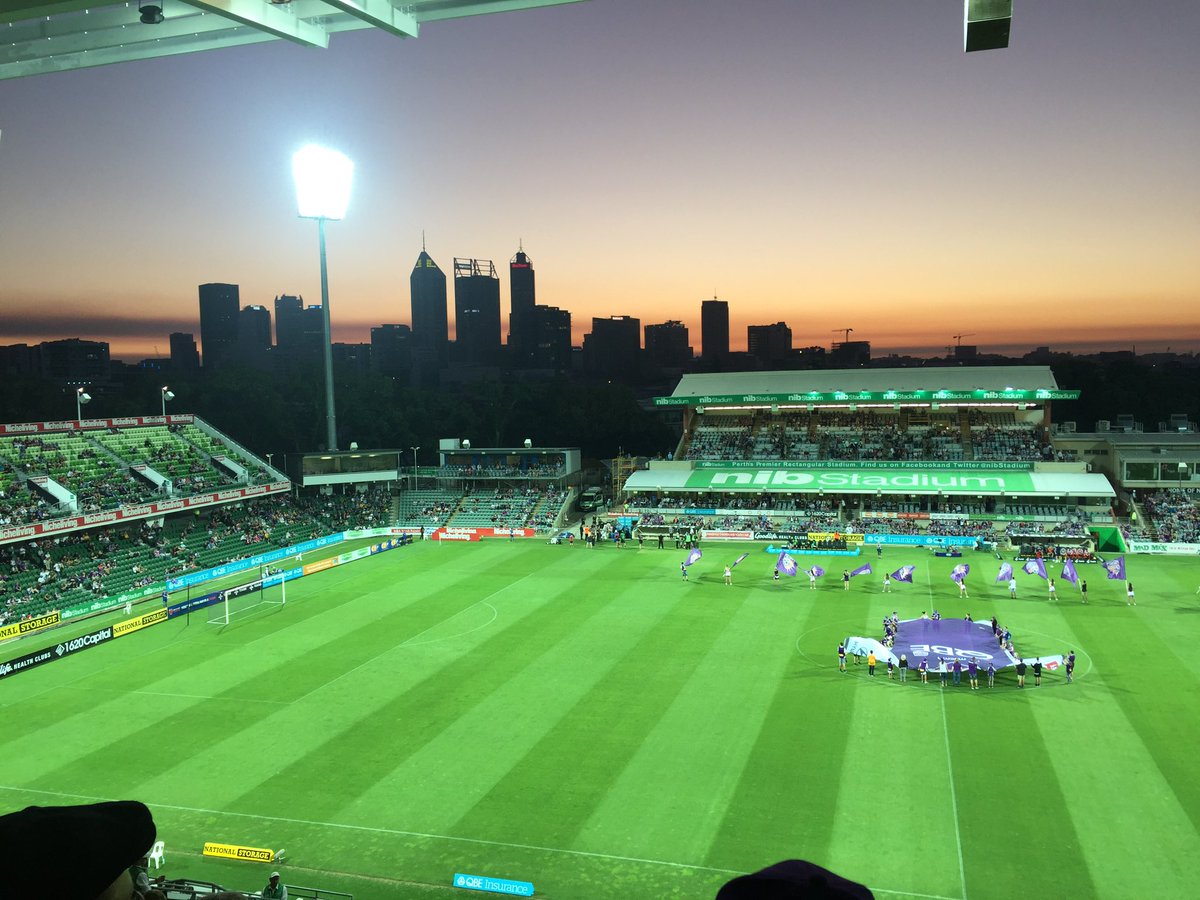 Those scenic Saturday nights back in Perth for another season.
BRISBANE ROAR 0 CENTRAL COAST MARINERS 0
We knew a 0-0 draw would come eventually this season after plenty of goals in the opening rounds and it happened at Lang Park between two teams currently woefully out of touch.
Both Roar and the Mariners are winless and this dull display saw hardly any goalmouth action anchoring the sides to the bottom of the table. At least fellow cellar dwellars Wellington Phoenix and their suicidal defence offer some action and leak goals.
Any chance either side did have was snuffed out by some good saves by Young for the Roar and Kennedy for the Mariners in what was his debut. Da Silva was again a livewire for the Mariners impressing again with his two chances the only ones for the Mariners.
The Roar coach john Aloisi could have been sent to the stands after abusing the fourth official and Massimo Maccarone had a flying forearm almost take someone's head off but that was about all that happened in a sorry game. Aloisi had gone apoplectic at the fourth official because of an incorrect offside call. VAR couldn't determine if the offside should be reversed of course.
Corey Gremerio made his first appearance in two years after three knee reconstructions. That was one of the positives of a 94 minutes of football you'll never get back.
MELBOURNE VICTORY 1 (Deng) WESTERN SYDNEY WANDERERS 1 (Riera 32)
The most uninspiring round of the season so far at least finished on a typically A-League note: Poor decision making, shambolic defending, frustrating refereeing but bloody entertaining to watch.
The winless Victory hosted the undefeated Wanderers with the new Western Sydney coach Josep Gombau up in the stands keeping an eye on what he had just inherited off Tony Popovic. In front of a large and vocal cup eve crowd at Etihad with the roof open it was an entertaining end to end first half. Mitch Austin had been dangerous in the early exchanges but without Berisha to finish off his handy work the goal wasn't coming.
The usual Victory indiscipline kicked in when Austin saw red on 23 minutes for a second yellow that he can only blame himself for deliberately slowing the restart of the game after a free kick. It was a soft second yellow but part of the rules after his first booking came from a savage tackle early in the game with Victory trying to mark their territory.
Some 9 minutes later it was the Victory defence that was undisciplined when it let the star striker Riera put the Wanderers in front after a superb cross from his fellow Spaniard Llorente. Llorente has been brilliant at left back so far this season with a look resembling 51% the Garage Attendant from Ferris Bueller's Day Off and 49% Pablo Montoya from the Princess Bride. Wanderers then applied the pressure on a wilting Victory who were forced in to mistakes, Socceroo Mark Milligan pulling back a Wanderers player and receiving a yellow.
Then in the shadows half time Rhys Williams put in one of his usual rash tackles catching the trailing leg of the Japanese winger Kusukami and a penalty (and yellow card) were given. Then VAR stuck its oar in delaying the game, checking the replay and still awarding the penalty while also bizarrely giving Williams another yellow but not sending him off. Was it the same yellow? Was there a point looking at the replay? VAR is harder to predict than the Melbourne Cup.
With the few minutes checking the replay, Riera had to wait before taking the penalty, a minor wait to some but you could argue it does put the penalty taker off. Reira's penalty was hit with venom but saved by Lawrence Thomas bringing the crowd to life once again.
Victory barely stayed alive but after the penalty save and half time they came roaring back in to contention with Thomas Deng scoring his first ever A-League goal heading in a free kick from George, the second week in a row they had equalised from a stoppage. The crowd were now fervent and believing this was their patch and even with a man down they weren't getting beat. The rest of the match was a very even Victory fighting for every inch and the Wanderers' final ball when in good positions just lacking clarity.
An entertaining 1-1 draw when it could have got very ugly in the second half for the home side. Wanderers again showed a lack of mongrel killing teams off when in control much like against Sydney FC in the derby and the Jets game last week. Josep will have to sort that out and give them some new vigor. Victory still without a win but will get Berisha back next week then their international players the week after.
A save to kickstart Victory's season.
SACRED COW OF THE WEEK – Roy O'Donovan
Seven goals in four games so far. The move up the road to the Jets seems to be working a treat for the former Sunderland and Cork City striker. The first goal was gifted to him but his ability to be in the right time in the right place for the second shows his cunning and experience this week. A golden boot is coming his way if he continues in this form and doesn't elbow anyone in the face like last season.

Screaming so loud they could here him back in Gosford.
ARSECLOWN OF THE ROUND – The Phoenix defence.
The tinkering with the back four at the Phoenix is damaging their season to a point of no return. With captain (and renounced Aussie) Andrew Durante off to Peru with the All Whites they'll have to shift things around again.
TOTAL GOALS FOR THE ROUND – 7 (Season Total 69. Av 2.76 goals a game)
WHAT TO LOOK FORWARD TO NEXT ROUND – With the World Cup playoffs on and involving both Australia and New Zealand the focus will mainly be on there instead of the league showing up the FFA for not giving the league a break during international weeks.
The Jets visit to United will be a good one as well as the Wanderers having to go back to Melbourne again to take on City. The atmosphere will be very decent for that game if the visitors bring their army of fans.
RTR FM presenter and Glory Guerrillas pod co-host. Cat, Cardie, Glory Bhoy and Socceroo by pain of death. Seen too many Geelong and Socceroos disasters to mention and worships the holy trinity of Larsson, Mifka and Senna.