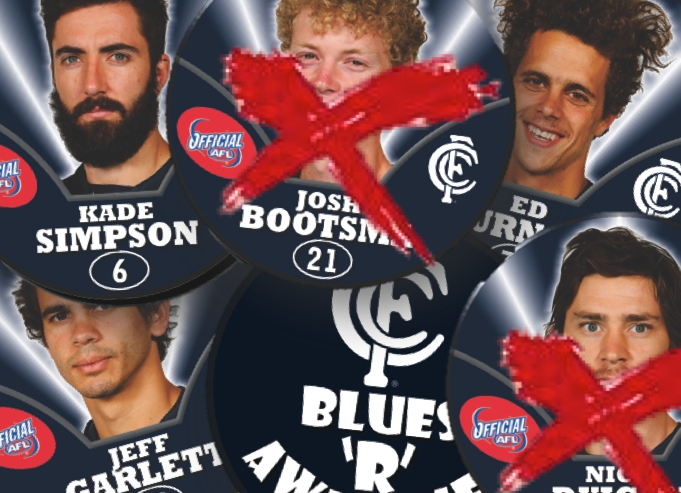 One in, one out
"You have five friends and the rest is landscape"
Old Portuguese saying
According to a University of Oxford study, if you make a new best friend, you have to make space for them by getting rid of an existing friend, lest you overwhelm your social network1.
I have something of a rule that I will only 'emotionally invest' in five players on Carlton's list2. Any more than that would be too exhausting.
Of the five I invested in 2013, three remain, two do not — meaning I am now auditioning for places.
Before we get to that, here are the three who held their place in 'The Five', and the two who didn't.
You can stay… 
6. Kade Simpson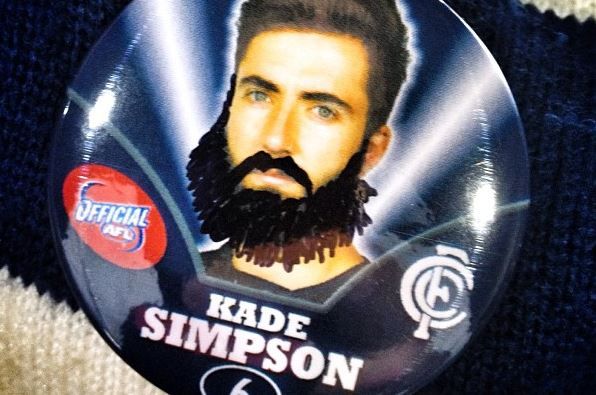 My Kade Simpson 'with 20 per cent more beard' badge.
If you want to know how black things got for Carlton in the post-Matt Clape era3, the number 6 jumper is a good place to start.
Murray Vance is a good place to start.
Taken with Carlton's first pick at number 6 in the 1998 draft, Vance was to be the template for Carlton's drafting strategy for the next 10 years – that is a half-back flanker not tall enough to play key position and not quick enough for the midfield.
He played five games. Four off the bench.
Four years later, Simpson was also Carlton's first draft pick – albeit at 45 – a legacy of a lethal combination of ambition, stupidity, footballing vainglory, and handing ourselves over to the reign of morons.
200 games on he is our reigning Best & Fairest winner and is (what I wish I had another term for) our "spiritual leader".
The beard, the courage, the left foot. The beard.
Next year, Simpson is a free agent.
If you want to know how seriously I take this "emotionally invested" thing, Andrew McKay, if he walks, I walk.
35. Ed Curnow
You could make any number of arguments about Ed's place on this list.
Admiration for sticking at it after a rookie stint at Adelaide, a run with the Box Hill Hawks and then another crack on the rookie list at Carlton; his 'off the charts' endurance; a breakout season in 2013 where he became the best tagger in the game behind Ryan Crowley.
But to be honest, it's just about the hair.
38. Jeff Garlett
Jeff Garlett has one of the most remarkable back stories in the AFL, one that could be effortlessly optioned into a book deal, a movie and if I had my way, a musical4.
Here's a scene from about an hour into The Fast and the Victorious: The Jeff Garlett Story.5
 CUT TO –
 INT: MELBOURNE AIRPORT
 Carlton recruiter Shane Rogers meets Jeff as he walks
 through arrivals and shakes his hand.
SHANE ROGERS
Welcome to Carlton, Jeff
 CUT TO –
 INTERIOR: BAGGAGE CLAIM
 Shane helps Jeff with his bags, noticing the kid is
 skinnier than he remembered.
SHANE ROGERS
Now you understand that it's going to take some time Jeff,
you're going to have to knuckle down…
 CUT TO –
 INTERIOR: SHANE ROGER'S CAR
SHANE ROGERS
 … you're going to have to bide your time before you
make it to the senior list.
 JEFF GARLETT
 Oh no, I'll play round one.
 CUT TO –
 EXTERIOR: A PACKED MCG UNDER LIGHTS

 CUT TO –
 GAME FOOTAGE OF GARLETT KICKING A GOAL WITH HIS
 FIRST KICK
There's a ton of stuff that follows, including his 60-metre run and goal in last year's Elimination Final, as well as this effort against the Gold Coast Suns in 2011…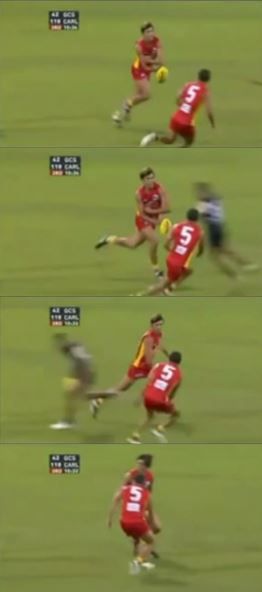 Moving on…
34. Nick Duigan
"There's a bit of Ken Hunter in Duigan"
Robert Walls
I harbor little love for any uptight dickhead who dares besmirch Nick Duigan's canon.
Here is a 26-year-old guy with a Masters degree in psychology who was about to board a plane to Sudan to do volunteer work, before unexpectedly being chosen by Carlton at pick 70.
What was not to like?
Robert Wall's nailed the reason he became an instant favourite, but  it was Duigan's work off the field that saw him maintain it.
Here's a guy that truly understands the term 'role model'.
Last year I waged what appeared to be a one-man campaign for him to be named captain.
I regret nothing.
Nick, you will be missed, but we'll always have this…
21. Josh Bootsma
"Booooooots!"
It had been a long time since a debut has been met with as much enthusiasm as for Josh Bootsma in Round 6 of 2012.
I was all over it – the mop of curly hair, the stick thin frame, the surname – it shouted CULT FIGURE!
Given his frame, it was always going to take time for Boooooots! to establish himself. As I've written here before, it requires the patience that cannot be provided by the use of a Mexican drug to treat muscular dystrophy from a doctor now struck off the medical register.
This pre-season however, it is clear that Josh is a little more capacious. The curly locks have gone and a not inconspicuous piece of ink has found its way to his forearm.
Sorry, Josh, I just can't come at that.
So that's two out. Who comes in?
Coming soon: Part II — Andrew Walker to Robert Warnock.
1. The exception here is women who work in PR. Seriously, if you have such a friend on Facebook, check them out. I guarantee you they have something like 1,800 friends.
2. During the 'Great Unpleasantness' (2000-2006) I'd be hard up to come at five. Simpson, Wiggins… Setanta?
3. Two years after Matt Clape retired, the rot set in. Coincidence? No.
4. It could not be any worse than a re-run of Greasewith Rob Mills (or, God forbid, Dirty Dancing the Musical with Kym Valentine)… am I right?
5. A working title, and yes, it's awful. I seriously welcome alternative suggestions in the comments below.
I'm just trying to make a difference in people's lives - get off my sack.