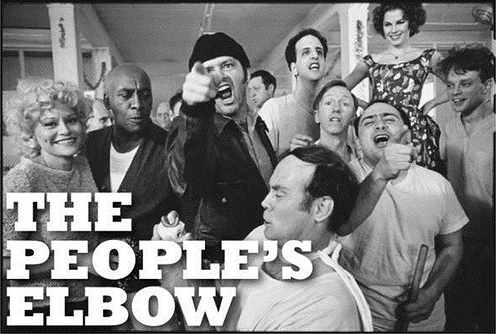 You will endure; yes, they will all grow old like a garment; like a cloak You will change them, and they will be changed. But You are the same, and Your years will have no end. – Psalms 102:25-27
After two weeks of watching proper process throw up on its shoes, Stephen Kernahan stood on the pile of tears I cried over Carlton's 2012 season and announced Michael Malthouse has signed a three-year deal to coach the club.
Moments after telling the assembled journalists and Tony Jones the "great sense of honour to be given the opportunity to coach this famous club," Malthouse proclaimed one of his first priorities as coach will be to attract Travis Cloke to the club, saying he will "absolutely" make a big play for him.
Absolutely.
This was the moment that would have sent Eddie McGuire fifty shades of puce: for I have little doubt that McGuire would rather be sodomised with a broomhandle in a 3 x 3 cell, than be beaten by a Carlton team with Travis Cloke at Centre-Half-Forward and Mick Malthouse in the coach's box.
Listening to Malthouse's tone throughout the presser, all I could think was "he better grab his nuts as he walks off stage"1.
So commanding was his performance, the only way he could have topped it would be to conclude by saying "Oh, and one more thing" before revealing the iPhone 5.
There's no doubting Malthouse is getting on – he would have made a good love interest for Blanche on Golden Girls – but it is evident the "fire" is still there.
Here's hoping he puts a rocket under Bryce Gibbs2, much in the way he has up the Collingwood bottomfeeders, sending them into social media apoplexy.
Welcome to Carlton, Mick – and in the immortal words of Brendan Behan, fuck the begrudgers!
1. He didn't. This was disappointing.
2. Who by the end of the season was bringing Not-Giving-a-Fuck to an almost operatic level
My heroes are all dead white males, mostly because that seems really attainable for me.