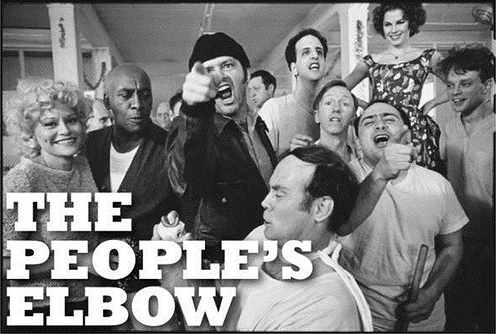 To paraphrase Socrates "By all means, follow a club. If you get a good club, you'll become happy; if you get a bad one, you'll become a philosopher."
Socrates of course taught Plato, who taught Aristotle, who taught Parkin, who taught Ratten.
Socrates, Plato and Aristotle all thought you'd fall off the end of the world shortly past the Pillars of Hercules. Ratten knows you fall of the end of the world shortly after the first flight out of the Gold Coast.
"Sometimes they got to get rid of something. That's the way it goes." Andrew Dice Clay
Rightly or wrongly, Ratten is gone. Saturday night's effort (or lack thereof) was the worst Carlton performance I've ever seen. I'll re-type this as it bears repeating:
The worst Carlton performance I've ever seen.
Although, it must be said in many ways, Saturday night was simply a microcosm of our entire year – pure dogshit when it truly counts.
This game was lost the minute Ratten announced Carlton as a finals threat. If I've learned one thing about Carlton this year is that it takes a week of media scrutiny for the players to give a rusty fuck. The reverse is also true, in that a week of positive press will be followed by insipid dicktitude.
Jesus H. Casboult, if there was ever a group of players who drank their own bathwater1, this is it!
But here is where Ratten's culpability on Saturday night ended.
The Carlton playing group appears to abide by the wisdom of the comic Louis C. K who said:
"Fuck it. That's the attitude that keeps families going. Not that 'I love you' crap. Fuck it."
Fifteen minutes into a game that had Carlton's season and Brett Ratten's neck on the line, the players simply ran in circles and said "fuck it"2.
Which leaves me and many other supporters, not angrily baring pitchforks, but simply responding to the players unrepentant dickdom with a "fuck it" of our own.
So do what you will Carlton, I no longer care3 my season is done. For as Socrates said, "the unexamined life is not worth living".
Fuck it.
1. On this, I hope the players were quick to hit the Carrara showers to wash off the stink and shame of such a putrid performance.
2. The exceptions here are Brock McLean and Chris Judd, the latter seemingly mouthing "fuck me!" in the rooms after the match.
3. Another exception: John Barker should be sacked for his unique ability to convert a vibrant forward line to an unworkable mess. On that, if Brett Ratten's looking for someone to kick him while he's down, Levi Casboult's your man.
My heroes are all dead white males, mostly because that seems really attainable for me.