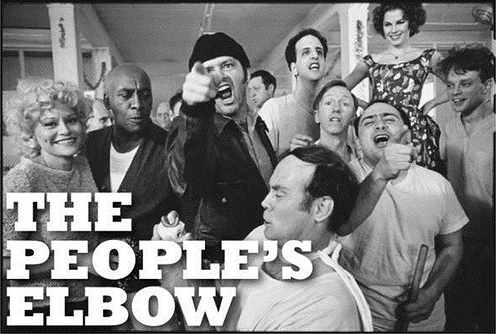 SO THIS HAPPENED last night…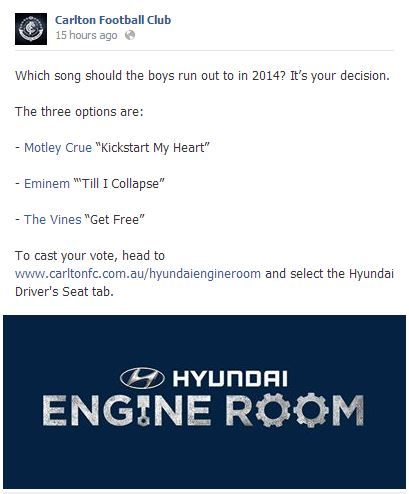 The cool kidz at AFL House are bored.
How else to explain the need for clubs to choose a song — other than a perfectly good theme song — to run out to?
How else other than the AFL is never one to miss an opportunity to prove that being a dick is the fundamental philosophical underpinning of modern football administrative thought.
If the AFL wants us to be entertained before the teams run out, let us throw rubbish at James Sherry… or car batteries at Pete Lazer.
How did we come to this?
How can we look at the great legacy of our indigenous game and then hand ourselves over to the reign of morons?
The dumbassery of this decision aside, here's a question for Carlton.
How the fk did you arrive at this shortlist?
The Vines?
The one Australian option you have is a band that was famous-slash-relevant for all of 15 minutes back in 2001 (probably the last time we were any good… up until Koutoufides did his knee)?
And please, explain to me the context in which 'Get Free' is relevant1.
Get Free of what exactly?
Expectations of competence? Midfield accountability? The teat of wealthy benefactors?
Or is it just that the song is two minutes of fury that leaves you feeling not a hell of a lot at the end of it — not unlike our performance against Port Adelaide last week.
Speaking of poor performances last week, it would be safe to say Mitch Robinson chose Eminem.
While this may charm the New Era cap set (of which Mitch is one),  there may be more than a few six-year olds who ask their parents for a translation of  "for sizzle my whizzle this is the plot listen up you bizzles forgot slizzle does not give a fuck."
And then there is Mötley Crüe's 'Kickstart My Heart' — for those who were of a legal drinking age the last time Carlton was relevant — because nothing says football like skydiving naked from an aeroplane or a lady with a body from outerspace.
Fking spare me.
The sad true hell of it though is that despite my get of the lawn churl, the circus has well and truly come to town.
Anyone with any sense hopes this doesn't happen. Which leaves out the nest of otherwise unemployables working at Demetriou's Mausoleum.
1. In the context of Michael Malthouse's game plan, it is more relevant, however, than 'Highly Evolved'.
I'm just trying to make a difference in people's lives - get off my sack.