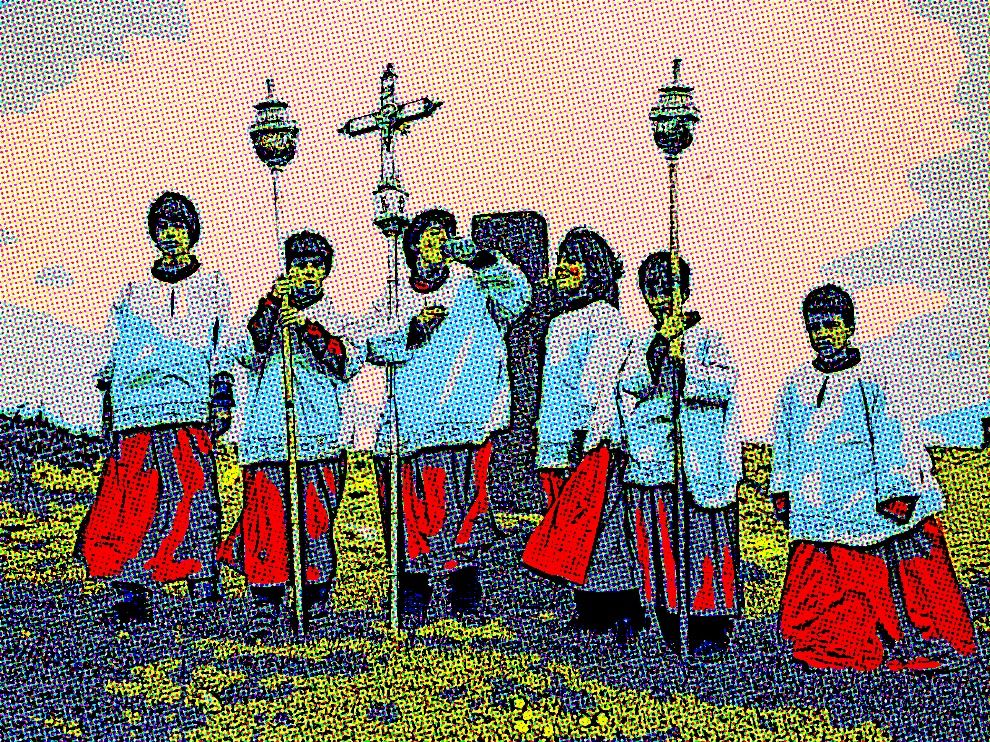 "The more dangerous life is, the better. Scary equals important, right?"


The Dangerous Lives of Altar Boys
Christian Brothers College Chapel, February 1985
"OKAY BOYS, I want you to relax, pray to God and thank Him for our penises.1"
At $50 a term, Christian Brothers2 College in Warrnambool was the cheapest private school in Victoria. For that we got a free sausage roll and small Big M on Edmund Rice's Feast Day and the most interesting religious education this side of a lawsuit.
The Penis Prayer is a true story – I've at least a dozen classmates who'll back me without calling for the quote. It requires the barest of prompting.
"Remember that time at the chape…"
PENISES!
The Brother who delivered this dick devotion3, a soft-spoken, bespectacled study in browns, had a well-thumbed Bible with dog-eared Old Testament passages such as Genesis 38:9, which he would read to us, apropos of nothing.
But Onan knew that the child would not be his; so whenever he slept with his brother's wife, he spilled his seed on the ground to keep from providing offspring for his brother4.
Such readings provided little more than a cheap laugh (and a retrospective shudder). Had we been looking for context and instruction, the logical inference would've been Catholic dogma condoning condoms5. A lesson lost on me, as at just 13 years of age I wasn't into the accessories and appliances of the act just then. All I knew was that an erection was something you got whenever you watched Madonna's Like A Virgin video6 (and I had no way of getting in touch with Madonna to ask her what to do about it)7.
Christian Brothers Raquetball Courts, March 1985
A ladder 13 foot long leans against the wall. The bottom of the ladder is five foot from the wall. How much would the lower end of the ladder have to be pulled away so that the top end would be pulled down by two foot?
I've no fucking idea!
That's because there were at least three, possibly five, Year 8 Maths classes where a Christian Brother was honing his game on the outdoor raquetball court instead of in the classroom8.
This was illustrative of the educational philosophy of Christian Brothers College, a school that took its sport seriously.
Classes were also missed through compulsory cross-country training taken by a Canadian agriculture teacher referred to as 'Mate'9. CBC's long-held dominance of the inter-school cross-country title was of great import — it was perhaps the only education in geography many of us received.
But the school's greatest contribution to sport was not found in a muddy Timboon paddock10, it was found just off Bromfield Street, across the road from the Warrnambool Botanical Gardens.
It was…
MATBALL!
Christian Brothers

Basketball

Matball Court, March 1985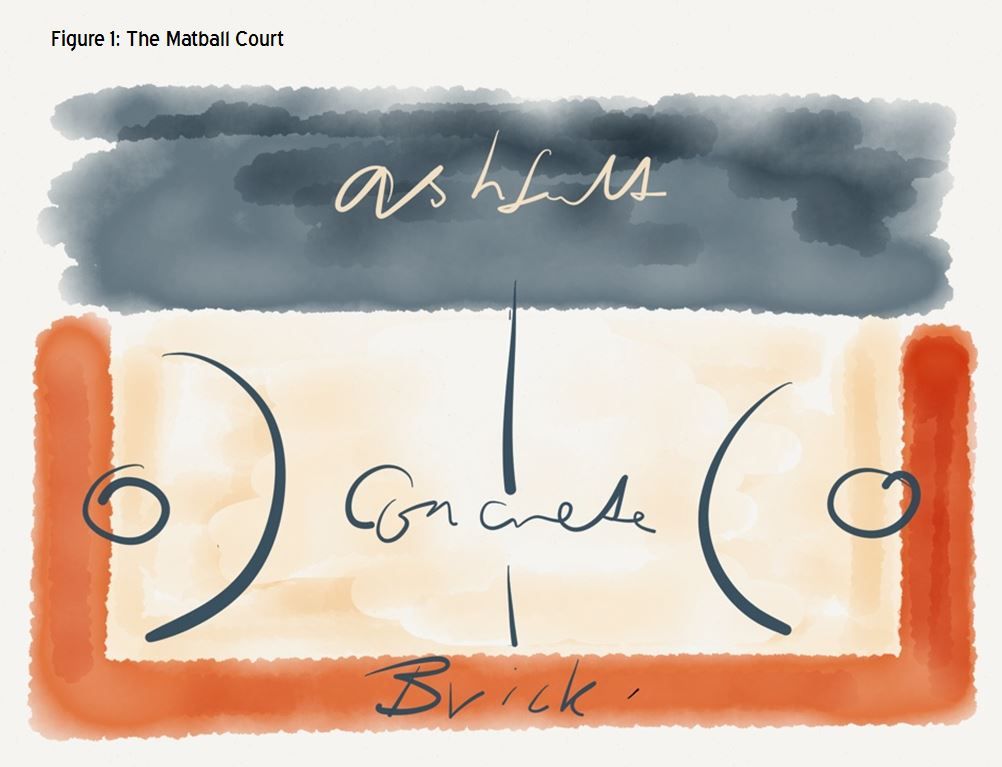 Matball was a game that deserved a bigger stage, but lamentably never found it.
It was too violent.
Essentially, Matball was a hybrid of basketball, rugby and a back bar brawl. The only rules were State and Federal (for example, you could not bring a shotgun to a Matball game — this bears noting as I went to school with more than one farmer's kid who knew his way around a double-barrel). A basket was a goal — the team with the most goals over an indeterminate period of time won.
Teams were of indiscriminate number, not necessarily even and often pliable . That is to say the composition of teams would often change mid-match to allow for:
a) a more competitive game
b) a more equitable distribution of violence
c) a little from column a) and a little from column b)
Adding to the sport's hit-and-miss attitude vis-à-vis organisation was the vague dimensions of the playing field.
The main arena for Matball was the length of a basketball court and situated below the corridor that ran outside the Year 7 classrooms. The iron railing along the corridor provided an ideal spectating platform for the hoards to watch the anarchism below, barking for somebody, anybody, to get hurt11. Seriously hurt. We were still four months away from the release of Mad Max Beyond Thunderdome, so had nothing to compare it to.
The walls below the railing and directly behind each basket were brick-hard brick. This meant that Matball shared some of the characteristics of ice hockey, although the brick didn't appear to have as much give as perspex, and after just one game the tensile strength of this wall was never questioned. The other side of the court was wide open. The playing surface was concrete that gave way to Betadine®-sponsored asphalt.
Only those with the strongest of wills, the weakest resistance to peer pressure or the lowest of IQs took part. Amid the spontaneity, scrums were not broken with a reset, but with a kidney punch, an elbow to the side of the head or a knee to the groin (maybe those penis prayers came in handy after all…?). Sometimes it would be broken with a stacks-on, the scrum and more than a few knees collapsing.
Baskets were sporadic, broken bones were not.  Blocks that would be recognised as flagrant fouls in basketball were de rigueur. This lead to a brief period of piggy-backing and ally-oops — a practice ended by dragging the piggy-backee to the concrete, or more precisely, a practice ended as a result of numerous concussions.
It was pure sport, exceptionally unscientific and unaffected by empty-handed notions of trendiness, fashion and zeitgeist12… and player welfare.
It was the most dangerous thing at a school where a Brother's routine play was Biblical tales of sex, sodomy (Leviticus 18:22) and self pleasure (Corinthians 6:9).
It was the greatest game never known.
1. The thanksgiving for the plural penises always bothered me. I was uncomfortable enough with my own cock communion, but the collective (I'm not even going near Googling 'collective noun' + 'penis') is the coup de grâce of fucked up.
2. Had the Brothers been of a Jesuit persuasion, I'd have likely had a better education and would've known that the lyric 'Kýrie, eléison' from Mr Mister's Kyrie means 'Lord Have Mercy', and therefore would have avoided been surreptitiously sold God Rock.
3. I was thinking of running with cock and balls benediction here. That's last cute dick turn-of-phrase, I swear, in fear this piece will turn into a Judd Apatow monologue.
4. At $50 a term you're getting the Standard International Version, not the King James.
5. We never got further than an explanation that 'seed' equals 'semen'. Had the Brother read on he would've got to the 'what he did was wicked in the Lord's sight; so the Lord put him to death also' line, thereby clearing up any ambiguity around the sleeping with your brother's wife bit.
6. This was my cultural reference point when I visited Venice years later as an adult, not Shakespeare's Merchant of Venice or Othello, Madonna.
7. 18 months later, Madonna's Open Your Heart clip really messed me up.
8. This may not have been altogether bad. Having the Brother's take out their frustration on the raquetball court is preferable to expanding their energy of at the other end of a two-inch thick leather strap named 'Bill'. This form of punishment was in its dying days and as much as anything signaled the end of many a Brother's teaching career (it was after all one of the few things they were competent at).
9. 'Mate' deserves more than a footnote. He taught me how to kill a chicken, ride a pig, use a chainsaw and hitch a trailer. I don't know what the fees were at Scotch College, but I've got CBC Warrnambool 4-0 up already. It should also be noted that CBC's 'farm', a small lot strewn with throw-able rocks at the top end of Ardlie Street, was unfortunately located next to a Home for Wayward Boys. This goes some way to explaining why so many cricketers at CBC-South Warrnambool had good arms.
10. The venue for the Warrnambool & District inter-school cross-country titles. The first section of the course where you went 'cross country' so to speak was a 45-degree muddy decline pockmarked with rabbit warrens, ending at a rocky creek. It was a barbed-wire fence away from being a mid-80s teenage Tough Mudder.
11. This included a couple of lay teachers who watched without intervening. The only reason a serious injury would have upset them would be through the paperwork involved.
12. Unlike today's AFL and Twenty20 cricket which are quickly being reduced to the absurdities of the music industry.