"Nickleback walks into a bar… there's no punchline because ruining music isn't funny"
-Dave Grohl
Richmond supporters haven't had a lot to laugh about this year for twenty years.
And it gets worse.
Today Richmond posted this on the intertubes…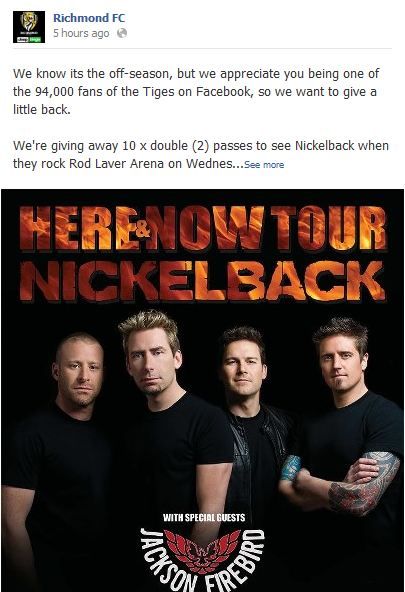 At this point I should probably disclose that I'd rather hit my dick with a hammer than go to a Nickleback concert, but judging from the comments on Richmond's Facebook page, it would appear the offer to appease Tiger's fans for another season of disappointment has fallen flat.
But here I must give credit where credit is due, you don't spend 20 years aspiring for mediocrity without developing a sense of humour.
Here's just a few of the responses Richmond supporters left the club…
This is the worst thing to happen to the Richmond football club since jarrad oakley-nicholls was drafted and that was pretty bad.
After 32 years without a flag, playing in only 2 finals series in 20 years, countless draft mistakes, THIS is still the worst decision I've seen the club make.
The jokes from my friends about Tambling were getting a bit old so I'm glad you're giving them new material.
Good lord you even draw the short straw with prizes as a Tigers supporter.
My heroes are all dead white males, mostly because that seems really attainable for me.