"Guys, why the long faces? You're sitting on a gold mine." – Saul Goodman
On Monday, Breaking Bad ended a five season run with an episode that was – let me consider how I can write this in a way that does not require a [SPOILER ALERT] – unexpectedly conventional. And given that, unexpectedly satisfying.
As with the end of any television series that enters the zeitgeist, its scope and importance, if not its reverence, tend to get, well… a little extravagant. The Economist recently compared the five seasons of Breaking Bad to a Harvard MBA, despite the article's author appearing to have an understanding of the show well below any post-graduate level1. The London Review of Books described the show's protagonist (and antagonist), Walter White as "an exemplar of the Nietzschean superfluos man". Again, a little extravagant.
So instead of breaking down Breaking Bad as "a searing explanation of a mid-life crisis, a potent illustration of existential freedom in the choices of a man who sees options and opportunities for greatness where most would refuse to go" 2, I am going to break it down to pick some winners at Royal Randwick and Flemington this weekend. Or to paraphrase Jesse Pinkman…
Yeah, bitch! The horses.
Now let's make some money3.
Royal Randwick, Race 1, Epsom Handicap (1600m)
7 Riva De Lago ($10 each-way)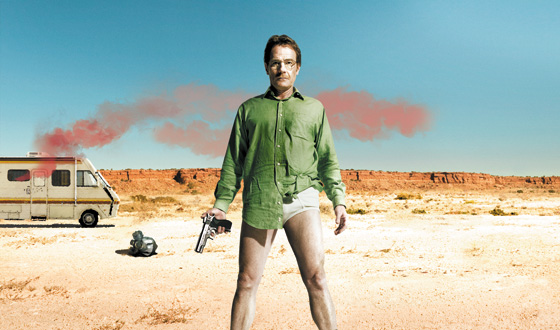 Okay, this one's a bit of a stretch. 'Riva' is as close as you're likely to get at Royal Randwick to 'RV' – and it sounds a little like something you could find on the menu at Los Pollos Hermanos, which gets it over the line.
The RV – a 1986 Fleetwood Bounder – is prominent in the first three seasons of Breaking Bad and serves as a mobile lab for Walt and Jesse. 
I was really holding out for Our Desert Warrior to make the Epsom field as the desert surrounding Albuquerque played a critical role (or perhaps 'element' is the more appropriate term) in the show's visuals, right from the very first episode. And don't tell me a middle-aged high-school chemistry teacher with a gun tucked into the back of in his tighty-whiteys, driving the aforementioned RV with a dead body in the back (and a near-dead Krazy-8), through the wilds of New Mexico isn't a desert warrior.
Royal Randwick, Race 2. Metropoltan Handicap (2400m)
4 Kingdoms ($10 each-way)
"You asked me if I was in the meth business or the money business. Neither. I'm in the empire business." – Walter White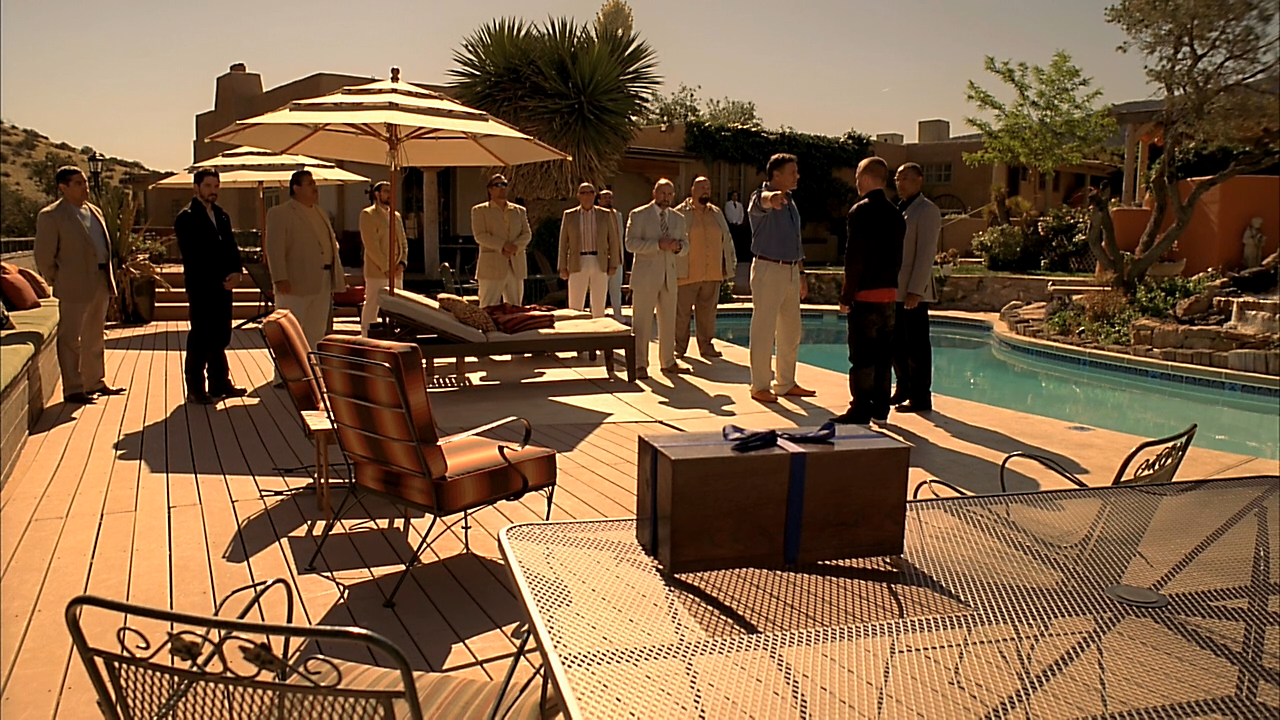 "Nobody moves crystal in the South Valley but me, bitch!" – Tuco Salamanca
Every business needs a distributor. First it was Tuco Salamanca (and later, by extension the Juárez Cartel) and then Gustavo Fring (who also had an initial affiliation with the Juárez Cartel), who as owner of 14 Los Pollos Hermanos outlets, had something of a fried-chicken-slash-methamphetamine kingdom. But Walt's history with Gray Matter Technologies was never far from the surface, and given Walt had already once lost control of his life's narrative, it was always difficult to see him playing a bit part in another outfit. Walt wanted a kingdom all his own. 

Flemington, Race 8. Turnbull Stakes (2000m)
15 Jet Away ($10 each-way)
The season finale for Season 2 saw a distraught and distracted Donald Margolis (played by John de Lancie – Eugene Bradford in Days of Our Lives)  at Albuquerque's Air Route Traffic Control Center. Donald, whose daughter Jane had recently died from an overdose, corrects himself after identifying a jet as "Jane Mike Two One" instead of "Juliet Mike Two One". Clearly under distress, Donald keeps talking — trying to correct his error — but his radar screens shows two jets on a collision course.
The resultant crash in the skies of Albuquerque fulfilled the flash-forward from previous episodes ("Seven Thirty Seven", "Down" and 'Over") where items were collected by members of the National Transport Safety Board from Walter White's pool, including the pink teddy bear.  

On that note, I'm not super keen on this selection, as my initial pick for the Turnbull was Foreteller — who through the prism of Breaking Bad was my bet of the day (along with Our Desert Warrior).
The creator of Breaking Bad, Vince Gilligan, is adept at the literary technique referred to as "Chekov's Gun". Basically, it's the technique whereby an element that's meaning is not immediately evident is introduced early in a story and its significance becomes clear later on – the pink teddy bear; the green box-cutter in the opening episode of Season 4 that cuts Victor's throat; the rug that trips Ted in episode 11 of the same season; and to a more obvious extent [SPOILER ALERT] the machine gun and the ricin that featured in the series finale ("Felina"4) were both foretold back in the opening episode of the season.
In the hands of a lesser writer, it's a technique that can come across a little too obvious and detract from the final act. But as Grantland's Andy Greenwald said:
Breaking Bad, at its best, was a magician who shows you how the trick is done and dazzles you anyway because the real-life dexterity involved is much more impressive than any hocus-pocus could ever be.
Flemington, Race 1. Maribyrnong Trial Stakes (1000m)
10 Say My Name ($5 each-way)
"Shut the fuck up, and let me die in peace." -Mike
"Say My Name" is the seventh episode of the fifth season of Breaking Bad. So if you're catching up and have not reached this far, I suggest you stop reading for a bit.

The growing confidence (read, arrogance) of Walter White is evident in the sensational opening scene of this episode, where Walt convinces Mike's buddy Declan to go into business with him, and channeling Muhammad Ali, demands Declan announce him as Heisenberg.
But this episode belongs to Mike Ehrmantraut, brilliantly played (or importantly, underplayed) by Jonathan Banks. The death of Mike is a devastating scene. Consistent with his character throughout the show, Mike said as little as he had to, and that made every word he did say, so much more powerful.
Flemington, Race 2, UCI Stakes (1800m)
13 Cafe Scientific ($10 the win)
"Oh my God. Oh my God, that's the best coffee I've ever tasted… why the hell are we making meth?" – Walter White
Early in their collaboration, Gale Boetticher impressed Walt with his coffee brewing vacuum reflux/distillation apparatus. That's as probably as good as it got for Gale.
Flemington, Race 3, Yellowglen Vintage Stakes (1400m)
2 Champollion and 3 Paximadia ($10 quinella)
Jesus Christ, Marie, just pick a horse!
When in doubt, go the jockeys in purple.
Flemington, Race 9, Gilgai Stakes (1200m)
5 Platalet ($10 the win)
Because when I see a jockey wearing all yellow, I can't help but think of this…
1.  The author says "He (Walter White) spots talent in a former pupil turned drug-dealer, Jesse Pinkman." My take on it is that Walt was late to the party in recognising Jesse's talent. If anything, it was fate that brought them together, rather than a discerning choice of business partner by Walt.
2. "Buy the RV, We Start Tomorrow": The A.V Club's Guide to Breaking Bad
3. To be fair, it's unlikely you'll make enough to buy a car wash, but to paraphrase Saul Goodman, you may just make enough to leave your family a second-hand Subaru.
4. As pointed out in various corners of the internet, "Felina" can be read as the chemical symbols for iron, lithium and sodium (aka "blood, meth and tears").
I'm just trying to make a difference in people's lives - get off my sack.