Okay, so we got a nice collect on Black Cash, so let's not stray too far from Nashville… in fact, let's start there.
Race 7. Emirates Stakes (1600m)
8. Nashville ($20 each-way)
Kenny Rogers with someone who appears to be a member of the Boston Red Sox
Around the time Black Cash was winning the Subzero Challenge, Kenny Rogers was being honoured with the Willy Nelson Lifetime Achievement Award at the Country Music Awards in Nashville.
Here's eleven things I learned while researching Kenny Rogers:
"Islands in the Stream" was written by the Bee Gees (and Barry and Maurice play on the recording, with Barry providing backing vocals)
In 2008, the song was played continuously for several days on end by Indiana radio station WZOW to draw attention to the station's changing format (from alternative rock to adult contemporary)
The Bee Gees wrote another song for Kenny and Dolly – their 1985 single, "Real Love". The song was originally written for Marvin Gaye, but he was shot in April 1984 by his father (using the shotgun he gave Marvin for Christmas).1
People magazine2 said Marvin Gaye's "Sexual Healing" was "America's hottest musical turn on" since our own Olivia Newton John demanded we get "Physical".
The provocative lyrics of "Physical" (really?) saw the song banned by two radio stations in Utah.
Prior to this, Olivia was no stranger to country music herself, with 1973's "Let Me Be There" won her a Grammy for Best Female Country Vocalist.
Olivia was the first person to record the John Rostill-penned tune, which was later performed by Elvis and appears on Elvis Recorded Live on Stage in Memphis.
Elvis Recorded Live on Stage in Memphis was the last album to be released in his lifetime.
That album features "How Great Thou Art" which won a Grammy for Best Inspirational Performance3
Former Young Talent Time member Beven Addinsall has a website – http://www.beven.com.au/Beven_Addinsall/beven.html (refer to previous footnote re the significant leap made here).
Beven hasn't updated his blog since playing the Palazzo Versace in October 2010. It was a Bond theme… I suspect it didn't go too well.
Which is more or less how I expect Nashville to run in the Emirates. Still, at the time of writing it's 40-1, so we'll have a crack at it.
Race 5. Momentum Energy Stakes (2000m)
11. Dolly Dolly ($20 each-way)
Dolly and Kenny swap facelift stories…
How do you follow-up Kenny Rogers, but with Dolly… twice.
Horrible photo-caption-joke aside, Dolly Parton is all sorts of wonderful.
Dolly isn't some pretender with country affectations just to make it in Nashville. She was born in Tennessee – to a dirt poor tobacco farmer no less.
As soon as she graduated from high school, she moved to Nashville and proceded to sell 100 million records!
That's not downloads kids, that's people getting in their car and driving to a store to buy her records… say nothing of her work in 9 to 5 or The Best Little Whorehouse in Texas.
Now if she could just sort out her Goddaughter, Miley Cyrus…
See you in February, Dolly.
Race 1. Maribyrnong Plate (1000m)
2. Alaska ($20 the win)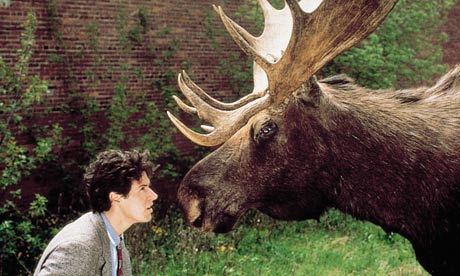 There's been a lot of talk recently about the "Golden Age" of television – Breaking Bad, The Sopranos, The Wire, Mad Men et al. But back in the early to mid-nineties, things weren't too bad. Consider the following:
The Larry Sanders Show
Roseanne
The Simpsons at its peak
Seinfeld
Picket Fences
X-Files
Cheers/Frasier
Saved by the Bell
And add to this list Northern Exposure.
A classic fish-outta-water tale. New York doctor, Dr. Joel Fleischman, is sent to practice in the town of Cicely, Alaska (don't Google search it, it's fictional). It was quirky4, it was poetic and it had Janine Turner in it.
And what more can be said about Janine Turner that hasn't already been said about the war in Iraq? It all went a bit, well… awful.
The last time Janine was seen on television was as a speaker at the 2012 Republican Party National Convention. Prior to this she was a  campaigner for Sarah Palin (which fits the Alaska motiff nicely) and made frequent appearances on Fox News.
Still, I'm tipping Alaska in a Cliffhanger.
***
Thursday: A $90.80 return on Black Cash and $20 back on the non-event at Warrnambool4
Carnival to date: -$123.70 ($700 outlay for a $576.30 return)
***
1. The Marvin Gaye bit I knew already, and is widely known – although, less so the fact he was shot with his Christmas gift.
2. The US People magazine, not the Australian People magazine – the one for those with masturbatory needs that extend to areas not covered by an internet connection.
3. "How Great Thou Art" was also the debut song for Beven Addinsall on Young Talent Time. This also represented a turning point in my dad's appreciation of the show. After what he deemed a commendable effort on the gospel tune, Bevan soon resorted to the standard colour-by-numbers pop that was the raison d'être of YTT. My dad never forgave YTT for what they did to Beven. Shit like this…
4. Simon Pegg said the show was one of the influences for his British sitcom, Spaced.
5. All but one race was abandoned due to a dirty big hole in the track
I'm just trying to make a difference in people's lives - get off my sack.