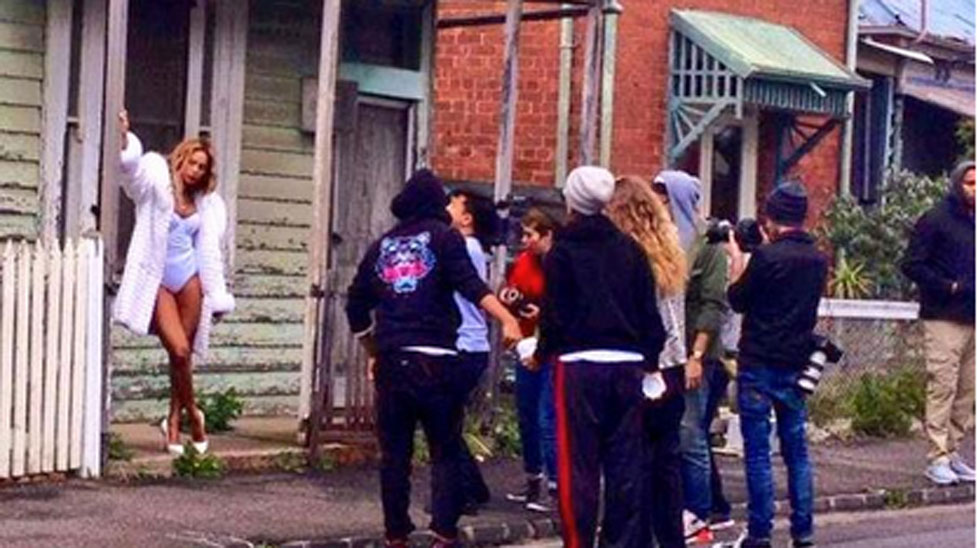 This column seemed a little to trivial to work in Lou Reed's passing as a theme (although this piece is not without a small tribute) and I was getting nothing from the respective Bloom-Kerr and Jonas Brothers splits in Saturday's field… and we're a good couple of years away from a Brunswick Beyoncé running at Flemington, so this week's tips are a bit of a mixed bag.
Less than $15 out of pocket from last week, which is hopefully a lot less than Robin Thicke will be once Marvin Gaye's children are done with him…
1. Carbine Club Stakes (1,600m)
6. I Am Titanium ($10 each-way)
If we're perfectly honest, the ARIA charts have been top-heavy with awful music for a long time (ref: Cyrus, Billy Ray; Lopez, Jenny; Ice, Vanilla; Steps). Therefore, it's not the easiest task to name a horse after a top ten tune and not have it stink up the field with all sorts of rubbishness. Take the current Top 10 for example. Outside of Katy Perry (an essay for another time), today's top ten is a massive sack of dicks, none limper than Imagine Dragons' On Top of the World. Seriously kids, what the actual fk. This song has no redeeming features. Not one.
Musically it is a circuitous, C-major saccharine jingle that sounds like it was ripped from a cheap tin jack-in-the-box — and this from a band that describes itself as 'alternative rock'… fking spare me.
And lyrically?
I've had the highest mountains
I've had the deepest rivers
You can have it all but life keeps moving
I take it in but don't look down
'Cause I'm on top of the world, 'ay
I'm on top of the world, 'ay
Waiting on this for a while now
Paying my dues to the dirt
I've been waiting to smile, 'ay
Been holding it in for a while, 'ay
Take you with me if I can
Been dreaming of this since a child
I'm on top of the world.
Incompetence is without question the current hallmark of this band. They have set the bar so low as to be meaningless.
Fking idiots.
David Guetta's I Am Titanium, however, is smart and clever pop. It's in E-flat Major for one, so at least the composers (including Australia's Sia Furler, who also contributes powerhouse vocals) bothered to play some of the black keys.
Lyrically, it's substantially more complex than I'm on top of the world, ay.
Cut me down
But it's you who'll have further to fall
Ghost town and haunted love
Raise your voice, sticks and stones may break my bones
I'm talking loud not saying much
So, being bulletproof, with nothing to lose, I'm going to fire away, fire away and have $10 each-way.
2. Wakeful Stakes (2,000m)
8. Every Faith ($10 each-way)
Is anyone able to tell me just who it is Madonna's praying to?
Raised Catholic, Madonna has for the best part of the last 20 years been diluting her children's orange juice with specially blessed Kabbalah1 water.
But a few weeks ago, it was reported that Madonna, whose current partner, Brahim Zaibat (25)2 is a Muslim, has begun investigating Islam.
She said: 'I am building schools for girls in Islamic countries and studying the Koran.
Say what you like about Madonna, just don't say that she's not ecumenical.
"As my friend Yaman always tells me, a good Muslim is a good Jew, and a good Jew is a good Christian, and so forth."
That said, she may want to back away from burning Islamic iconography in her next film clip.
4. Coolmore Stud Stakes (1,200m)

4. Divine Calling ($20 the win)
[Click here for the soundtrack to this tip, from the late, great Lou Reed]
From the divine to the ridiculous and back to the… Divine.
I have few claims to fame, although I can say that I was on Sunset Boulevard the night Hugh Grant was busted getting a "Brendon Goddard" in his BMW from Estella Marie Thompson (aka Divine Brown).
Allegedly, the whole thing could have been avoided if Hugh had the $100 on him that was Divine's charge for going to her hotel room. Turns out he was $40 short.
I'm not one to tell you how to spend your winnings, but if Divine Calling gets up, you won't have such a problem.
5. Mackinnon Stakes (2,000m)
3. Side Glance ($10 each-way)
I am shocked and appalled!
Or is 'bummed' a more appropriate turn of phrase?
It appears that Kim's Kardashian's 'bootylicious' selfie two weeks ago (and Kanye's reaction) was not spontaneous, but a well planned PR move.
The venerable Life & Style magazine in the US, recently reported that Kim wanted her post-baby body to look perfect, so she reportedly asked Kanye — who apparently has an eye for that sort of stuff — to help.
"She took so many pictures and deleted them before her and Kanye decided on the one she posted. He had the ultimate say about Kim putting up the picture and decided which one he liked best."
I feel dirty.
A win by Side Glance, at around the 18-1 mark, will help take this bad taste from my mouth.
6. Victoria Derby (2,500m)
16. Bring Something ($10 each-way)
So, while we're on butts…
"Every year, I sift through page after page looking for a decent butt shot and there are only a handful to be had. It's stupid. MOAR BUTTS PLEEZ. I don't care that you shot Kate Upton in Antarctica. Why are you spending $50,000 on that shoot when there's nary a bare asscheek to be had?" – Drew Magary on the Sports Illustrated Swimsuit Issue
From a social pages point of view, the Spring Carnival has been, well, getting a little stale (ref: Cartrell, Kim 2012).
Racing Victoria needed to 'bring something'.
Something brung…
Sports Illustrated cover girl, Kate Upton.
Last week: $85.50 collect on Go The Knuckle
Carnival to date: -$94.50 ($400 outlay for a $305.50 collect)
1. A mystical offshoot of Judaism.
2. Madonna, you fox!
I'm just trying to make a difference in people's lives - get off my sack.