It makes me sick to my butthole to know there are children in this world who believe Jaden Smith is the Karate Kid—Jenny Johnson
To quote the American hip-hop act P.M. Dawn, "reality used to be a friend of mine". That is to say I completely lost my fking mind expecting Miley Cyrus1 to pick me a winner last weekend. Time to stick to safer ground.
Friday 18 October: Cranbourne Race 8 TAB iPad App Showcase (1400m)
9 Baker Boy ($10 each-way)
The Fabulous Baker Boys2 is an entry into (a) Michelle Pfeiffer3 and perhaps more importantly (b) Jeff Bridges.
(a) Michelle Pfieffer
I would argue that 'Peak Michelle Pfeiffer' was Dangerous Minds and Batman Returns. In one she plays Louanne Johnson, an ex-marine hired as a teacher in a high-school in a poor area of the city, trying unconventional methods of teaching to reach her students to a Coolio soundtrack. In the other she wears black and sexy and tight and shiny latex4
(b) Jeff Bridges
Jeff Bridges' place in the Gen X pantheon can be summed up in three words – The Big Lebowski. Scratch that, it can be summed up in two. 'The Dude'.
So, so many great scenes — such as when a cab driver plays "Peaceful Easy Feeling," and Lebowski exclaims, "I hate the fking Eagles, man!" before being promptly ejected curbside (The Dude was more of a Creedence man).
Saturday 19 October: Race 10 Caulfield Cup (2400m)
18 Dear Demi ($20 each-way)
Let's take a moment to consider Demi Moore's pre-Cougar Ashton Kutcher contribution to popular culture. St Elmo's Fire5; About Last Night6; Ghost7; A Few Good Men8; Indecent Proposal; dating Bruce Willis at the height of his Die Hard (and Moonlighting) fame; her pregnant Vanity Fair cover9… outside of Ethiopia and its allusion to Live Aid10, there is no other horse in the Caulfield Cup field that comes close to Dear Demi's Gen X cred.
Saturday 19 October: Race 3 Sunrise Cup (1400m)
7 Melrose Place ($20 on the Heather Locklear nose-job) Didn't get a run… meh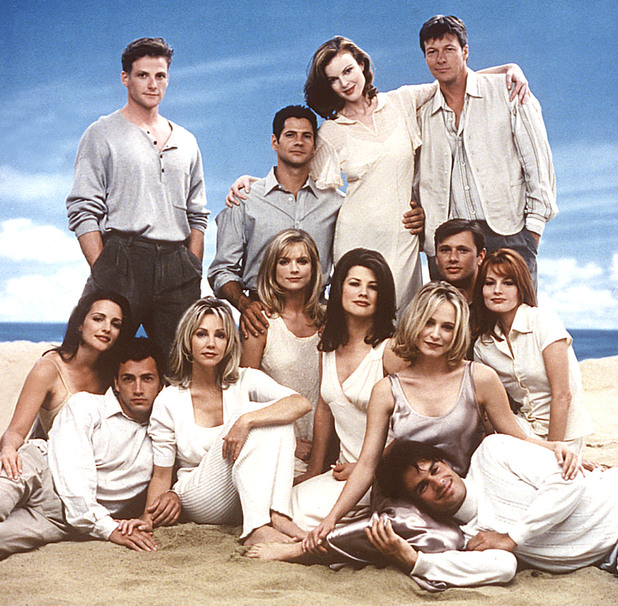 Melrose Place. Melrose Place. Melrose fking Place!
Melrose Place was an awkward spin-off of Beverley Hills 9021011 for the few short minutes it took to establish that Jane Mancini (Josie Bissett12) was way too good for the adulterous Dr Michale Mancini. From there on, it was required viewing (particularly during the halcyon Heather Locklear years and the seasons that featured Marcia Cross as the insane doctor-cum-demolitions-expert Kimberly Shaw) in the sense that a handful of us at the Old Collegians Football Club in Warrnambool would leave the track early to ensure that we were showered, changed and in the clubrooms in time for this.
Saturday 19 October: Race 9 Yellowglen Tristarc Stakes (1400m)
2 Xanadu ($10 each-way)
First up, it's the only horse running at Caulfield on Saturday that starts with X… so that's something.
I could make a further case for this horse by banging on about 'Peak Olivia Newton John' (1980-81: Xanadu and 'Physical'), but instead Xanadu's stronger link to Generation X is through the film's producer, Joel Silver.
Consider this for a Gen X resume: 48 Hours13; Brewster's Millions; Weird Science14; Lethal Weapon 1-4; Predator; Roadhouse; and Die Hard 1-2.
Futures: Saturday 2 November: AAMI Victorian Derby (2500m)
Complacent ($20 the win)

And it's a nice landing spot, this hammock of "good enough" that's sandwiched between the Boomers' "More, more, more!" and the Millennials' "Me, me, me!" (Perhaps you could think of our rally cry as "Meh, meh, meh.")—Whitney Collins, "Generation X's journey from jaded to sated", salon.com
1. Miley Cyrus had an unexpected advocate of sorts this week in Sufjan Stevens – although he did take her to task on her grammar.
2. Just so it's in the minutes, The Fabulous Baker Boys (1989) was a good year ahead of Pretty Woman (1990) in terms of glamorising prostitution the lead male falling in love with a 'working girl' leading lady.
3. Please, no "entry into Michelle Pfeiffer" jokes in the comments. 
4. Baby Boomers, spare me the Ertha Kitt bullshit. Michelle Pfeiffer. Every. Day. Of. The. Week.
5. Starring Gen X royalty Demi Moore, Rob Lowe, Andrew McCarthy, Emilio Estevez, Judd Nelson, Ally Sheedy… as well as the worst actress of our age, Andie MacDowell.
6. The film is being re-made next year with the remarkably unfunny Kevin Hart in the Rob Lowe role. Pass.
7. Sure it has its place in pop culture, but Ghost is a truly awful film that resurrected the awful 'Unchained Melody', returning the Righteous Brothers to the charts.
8. "You want the truth? You can't handle the truth!"
9. The photo was taken by Annie Leibovitz who sued Paramount Pictures over this parody.
10. I was fortunate enough to be in London for the sequel  'Live 8', and even more fortunate to be stuck in the queue and missing Coldplay's set.
11. Models Inc., a spin-off of a spin-off was a spin-off too far… despite it starring Australia's own Cameron Daddo.
12. At this point I should apologise as I only know the names of the actresses, not the actors. My chronological order of Melrose Place crushes goes: Josie Bissett; Courtney Thorne-Smith; Daphne Zuniga; Heather Locklear; Laura Leighton; back to Josie Bissett; back to Laura Leighton. Today, I'd probably settle on Courtney Thorne-Smith (on the proviso you overlook According to Jim and a recurring role in Two and a Half Men). Side note: Alyssa Milano doesn't count, despite her recurring role as Dr. Michael Mancini's sister, as she remains filed under Who's The Boss.
13. It's easy to forget just how huge Eddie Murphy was in the 80s. Huge. Grantland's Bill Simmons breaks down Eddie Murphy's career arc here. 48 Hours kicks off "Phase II: The Apex".
14. When you're 13-15 years old, you have your fair share of crushes… and then you have that one crush that just fks your shit right up. Kelly LeBrocka. Kelly LeBrock. Kelly LeBrock. 
a. I'm all for suspending belief at the cinema, but Gene Wilder with Kelly LeBrock in Woman in Red… COME ON!!?
 The Carnival to date: $200 outlay, $82 return, – $118 in the hole.
I'm just trying to make a difference in people's lives - get off my sack.