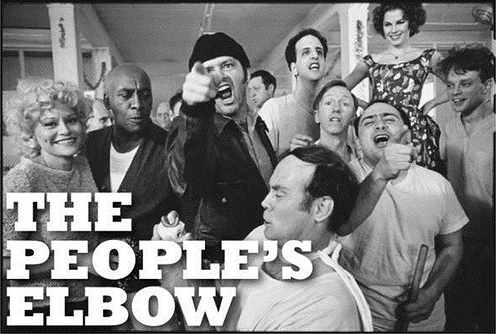 "Blessed are the forgetful, for they get the better even of their blunders"
—Kirsten Dunst quoting Nietzche in Eternal Sunshine of the Spotless Mind
THE CENTRAL IDEA of a 1983 paper in the Journal of Emergency Medical Services on trauma recovery is that people who survive a painful event should express their feelings soon after so the memory isn't "sealed over" and repressed, which could lead to post-traumatic stress disorder.
But as a treatment it misinterprets how memory works. It suggests that the way to get rid of a bad memory is to talk it out. After writing numerous People's Elbow articles in the wake of harrowing Carlton performances this year, I can confirm this does not work.
But far from making that error alone, this mistaken notion has been around for thousands of years. Plato compared our recollections to impressions in a wax tablet, and helped establish the idea that once a memory is formed, it will stay the same. This is why we trust our recollections.
Turns out Plato was full of shit.
Recently, scientists have come to realise that our memories are not passive packets of data and they don't remain constant.
Neuroscientists have discovered that when the brain wants to retain something, it relies on just a handful of chemicals. Even more astounding, an equally small number of compounds could turn out to be an eraser of history – and these chemicals could form the basis of a pill you could take whenever you wanted to forget anything.
Researchers have found one of these compounds, as has the Carlton Football Club.
The difference being neuroscientists are on the verge of creating a pill to make you forget painful memories, whereas the Carlton Football Club is already capable of producing performances that make you forget pleasant ones.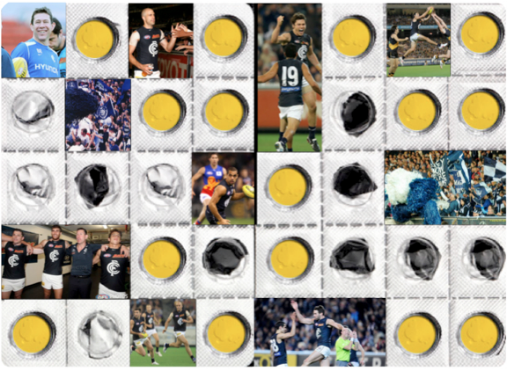 A bitter pill
By half-time on Friday night, I have little recollection of what happened the week before as Carlton was showing the reverse-killer instinct we've come to know over the past two months.
Yes, there was a half of football to go. But, putting aside last week – and I could barely remember a minute of it – anyone who's watched Carlton over the past two months knows this: the 2012 Carlton overcomes adversity like Mama Cass overcame hunger pangs.
Expecting Brett Ratten to make the appropriate halftime adjustments is no less reckless than having the cast of The Shire do your taxes.
The only adjustment so far had been to swap Jamison and Henderson on Petrie – who has already kicked five1.
So long as Ratten's was awake, somebody should have let him know that Jamison couldn't run… or jump… or make good decisions.
My suggestion was that Jamison and Henderson2 rename themselves Jasmine and Cinnamon and find a job across the road at a King Street tittybar for all the good they were doing.
And where in the name of Kenny Hunter was Nick Duigan?!
Full forward?!
Christ on a fucking bike?!3
I cannot say too much more about our backline setup as I'm in need of a new thesaurus to find fresh adjectives. One that has 'dogshit' in it.
The Carlton backline is not what Tom Wills had in mind.
The lights go out
Flickers of last Friday's game came back when Judd kicked two in three minutes.
Earlier, his 'chicken wing grapple' resurrected memories of that awful, awful final in Brisbane three years ago and the 'Stevel Seagal pressure points' incident4.
But a Lindsay Thomas 50-metre inside-out torp from the boundary defied physics for a goal and the lights went out on this Friday night, last Friday night… and on 2012.
A postscript and a pill
The only upside is that the rest of the year becomes a little more acceptable.
As Dylan said: "When you ain't got nothin', you got nothin' to lose."
What I wouldn't give for a pill to make this go away…5
1. With all due respect to Petrie, two or three of these were gifted by Justin Schmitt, who seemed to have woken from a wet dream threesome with Glenn Archer and the Kangaroo mascot.
2. I don't think Henderson is fit, and all things being equal, would not have been picked. But this is what happens when you have a man coaching for his future week by week.
3. The one thing I do remember from last week is a fear that Ratten would get sucked in by Duigan's three goals and play him up forward again.
4. "Pressure point! Pressure Point!" All of a sudden repressed memories of Brendan Fevola at the 2009 Brownlow come flooding back. Behind me I hear, sotto voce, "who's that guy rocking in the foetal position in Row E?"
5. Or a procedure from Dr. Mierzwiak in the film Eternal Sunshine of the Spotless Mind, which would also include a romp on the bed with a scantily-clad Kirsten Dunsta
a. I stumbled across Kirsten Dunst in Greenwich Village one early morning while holidaying in New York. When I turned round to confirm it was her, she was doing the same. So, in summary, I got a second-look from Kirsten Dunst… or at least that is what my memory tells me.
My heroes are all dead white males, mostly because that seems really attainable for me.