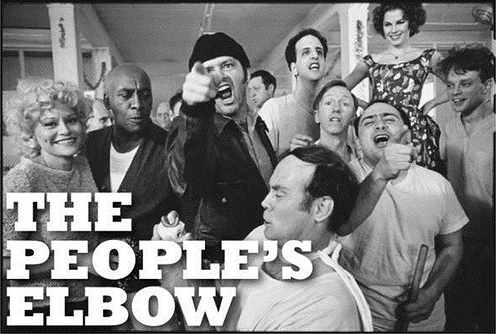 On Monday night, more than 2.1 million people tuned into My Kitchen Rules – a television show where teams of two hold a three-course dinner party in turn, in which those attending are encouraged to be as intensely ill-mannered about it as possible.
According to my exceptionally unscientific point of view, this is not a good thing.
While it may be captivating (and again, that it is being watched by more than 2 million people attests to this) it further erodes the social pact that tells us that when we're invited into someone's home, we don't immediately berate the beef burgundy and bitch at length about the hosts.
The show's solid ratings (to be more specific, 2,118,243 people watched it on Monday night) further encourages the program to continue to glorify the rude and obnoxious (and in a way that has forced the network to deny allegations of racism) and for other networks to replicate the model in its programming.
"The f*** is this shit…?"
I understand that complaining about the decline of civility predates television itself, but it if you look at the world today, that's what you see. You see a binary world of popular opinion, a decline in political debate (that has in turn lead to a decline in political participation) and how the high degree of anonymity afforded people on the Internet has made the online world a breeding ground for the mean-spirited and hateful (and yes, I'm aware my numerous tweets about the titanium ego of Hamish McLachlan could be viewed by some as lacking in civility – although I do find him more guilty of assentation than of being abhorrent. That said, I stand by my claim that for evil to triumph, all that is necessary is for good men to watch AFL Game Day just once1).
The civility which money will purchase, is rarely extended to those who have none
Charles Dickens
Today, civility stares at its shoes as incivility rates its arse off and shows such as My Kitchen Rules2 quickly become part of the pop-culture landscape.
My concern is that the Seven Network will try and replicate elements of the show's success across other programs on its roster – including its coverage of the AFL. Considered commentary will be crossed from the program notes in favour of simpleminded sledging.
Given how much television dollars call the shots at the AFL, I have a real fear that the AFL will continue to allow itself to become infected with empty-handed notions of trendiness, fashion and zeitgeist – so much so it'll soon be reduced to the absurdity of the Big Bash (ref: Warne v. Samuels 2013).
Worse still, the complexities that make the game great will be ignored in favour of a more dualistic interpretation of good and evil (not unlike that on The Footy Almanac following a Geelong loss to Fremantle). This is, after all, what makes good television – and to reiterate, a $1.253 billion television rights deal seemingly trumps football operations in terms of the pecking order at Jolimont (ref: McLachlan v Anderson 2012).
A TV show becomes a successful franchise because it offers the public one-dimensional characters that are easy to imitate. This flattening of characters into one-dimensional personalities (ref: McLachlan, Hamish) is what makes shows successful. It is why Arrested Development was cancelled3 while Two and a Half Men continues its abysmal run.
It is why every football fan should be at least a little fearful as the Seven Network looks to extract everything it can for its money.
The success of My Kitchen Rules already has me worried that my next dinner party guests will slag off my veal saltimbocca – I'd prefer not to worry that my good-natured email ribbing of Essendon supporters will be one day viewed as quaint when compared to the shouty heads on Seven Sport.
In the world of professional sport and big business, a billion dollar pay check trumps good manners.
1. In fairness I submitted more than one match report last year that was lacking in civility towards Brett Ratten and any number of Carlton players. I have also referred to more than one person as a 'cockdonkey'.
2. And any number of programs on the Southern Cross Media network (if incivility doesn't rate, explain the employment of Kyle Sandilands (for reference, also a 'cockdonkey').
3. Netflix has agreed to license new episodes and distribute them exclusively on its streaming video service in the US. Fourteen episodes will be released on the same day in May.
My heroes are all dead white males, mostly because that seems really attainable for me.