The twitter feed of S.K Warne (@warne888) is a galactic English language goat fuck, ranging from greeting card ontology, to indecipherable nonsense written in LOLCATS:) :) :) and quotidian inspirational quotes1.
But his latest Cri de Coeur has me seething – you cannot go raining firebombs on The Muppets.
So, after holding back a collective tidal wave of jism from the bumlicking minions who hang off his every tweet, here's why I'd prefer James Sutherland and Cricket Australia take the advice of Kermit the Frog ahead of S.K Warne (and the batshit insanity of its own marketing department).
Muppet Theory
Muppet Theory is a little-known philosophy that holds that every one of us can be classified according to one simple metric: We are either a Chaos Muppet or an Order Muppet.
Chaos Muppets are out-of-control, emotional, volatile. They tend toward the blue and fuzzy, or pale and plastic. They make their way through life through swirling, self-inflicting turmoil. Cookie Monster, Gonzo and this guy are all Chaos Muppets.
Shane Warne is a Chaos Muppet.
Order Muppets, conversely, tend to be disciplined. While sometimes resenting the responsibility of the world weighing on their shoulders, they secretly revel in the knowledge that they keep the show running. Kermit the Frog is an Order Muppet.
Kermit is no cynical ringleader of the great unwashed; he is an intellectual and a raconteur, advocating a philosophy of all that is important and good in the metaphorical swamp. He is on a higher intellectual plane than S.K Warne and incalculably more eloquent (in 1994 he addressed the Oxford Union, attracting more people than Ronald Reagan two years prior).
Embracing the ordinary: Cricket and self-acceptance
Despite a blockbuster-level of success that shades that of the narcissistic S.K Warne, Kermit is still a frog unafraid to admit his faults.
And unlike S.K Warne, there is also a compelling charm in his struggle, immortalised in the anthem It's Not Easy being Green.  Lamenting his ordinary greenness, Kermit eventually realises he can embrace it:
"I am green and it'll do fine, it's beautiful
And I think it's what I want to be."
His self-acceptance is something we all strive for and something I doubt S.K Warne will ever obtain2.
It is something cricket should strive for – accept what it is, and embrace it.
Unfortunately, cricket today resembles a sport removed from itself, succumbing to hair replacement treatment and a jab of Botox before flirting with every other form of entertainment by way of a gauchely worded SMS.
Time to put the muppet in charge.
1.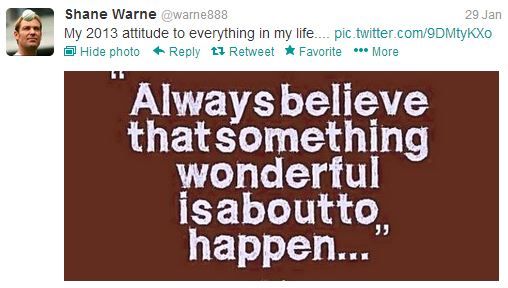 2.
My heroes are all dead white males, mostly because that seems really attainable for me.