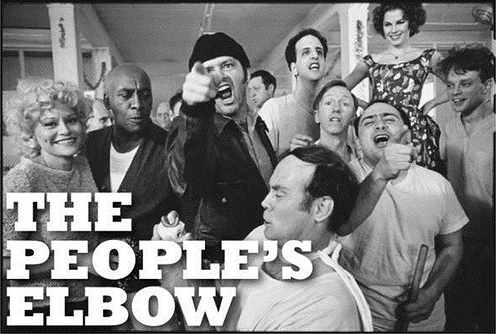 "And while we're on gene-carrying duffle bags, Bryce Gibbs finally emerged from a seven-year cocoon as a butterfly with a big set of hairy testicles." The People's Elbow, September 9, 2014
NINETY-TWO YEARS ago, the Fort-Worth Star Telegram reported on "an aged millionaire who is alleged to have paid $100,000 for a pair of stolen glands, on the eve of his marriage to a woman, 25, he being 68 and badly wasted as to health and vitality."
It was what appeared to be the start of something of a trend, in which poor young men were selling their balls so they could be grafted onto the scrota of rich old men.
Bryce Gibbs is not a poor young man, but the only way to explain his lack of what would otherwise resemble an effort last night against Richmond is that at some stage during the pre-season, he sold his junk to Dr. Geoffrey Edelsten (who may have had a question or two in regards to his virility following his divorce to wife Brynne).
Were this theory to be true (and it wouldn't be the first decision made at the club at the behest of its various sugar daddies), Bryce's career at Carlton and Edelsten's recent declaration of bankruptcy would suggest he paid massive overs.
In many ways, I hope this absurd theory is true. The least not being that if Bryce Gibbs' continues to play the way he did on Thursday night, his value as a free agent is likely to fall to the extent that he may not be able to maintain a fashion mogul lifestyle on a park footballer's salary.
Until then, he will remain Carlton's greatest living scapegoat.
To suggest that Carlton's problems begin and end with Bryce Gibbs, however, is somewhat a misnomer.
It was mentioned on the pages of the Almanac earlier this week, that David Parkin is donating his brain to science. It would've been nice if he'd have donated it to Mitch Robinson.
It is not beyond the realms of possibility that Mitch is the young man who posted pictures of his three testicles on the social networking service Reddit earlier this week. But while he may be blessed with a little more than the rest of us in terms of courage, it comes at the expense of anything approaching a footballing IQ that exceeds room temperature (an IQ similar to those sucked in by Tyrone Vickery's four goals last night).
These are two of the three main attractions in your Carlton Football Club Menagerie. Over here, we have the half-back-flankers, represented by a bunch of neutered cats playing on a picnic rug. And over here we have your crash-and-bash midfielders, represented by a backyard full of rabid dogs. And over here we have a forward line represented by a stable of cross-eyed mules who cannot kick straight. Now, if you're watching this at home on Animal Planet, you will note that three don't make for pleasant viewing. Which last night was most certainly not.
It is only round two, but it was three players each playing only their second game for the club that lend the greatest weight to a further list overhaul — Dylan Buckley, Daisy Thomas and Andrejs Everitt.
Unfortunately, ten years of malfeasance in the capacious boardroom at Royal Parade suggests that the club doesn't have the balls for it.
I'm just trying to make a difference in people's lives - get off my sack.