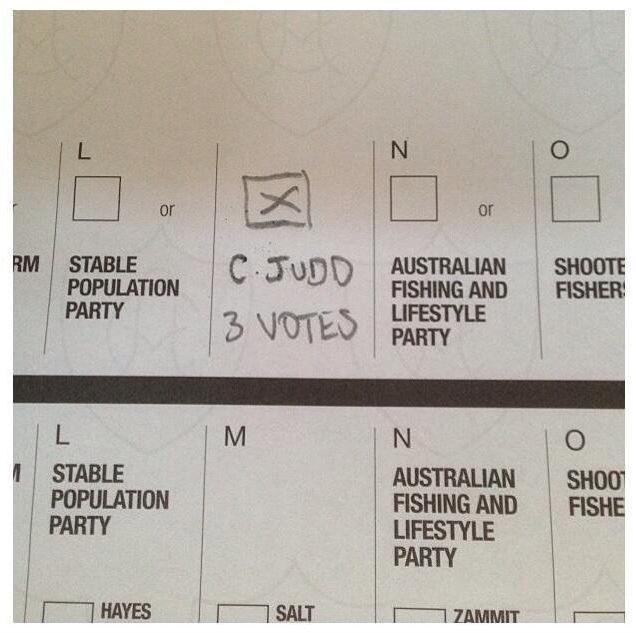 POSTSCRIPT AS PROLOGUE: UNHINGED LUNACY
While there's life, there's hope.
Marcus Cicero
If you believe in yourself anything is possible.
Miley Cyrus
Lordy…
Carlton is the cockroach that refuses to die already.
In the shadows of the final quarter, after Jeff Garlett heaps another shovel of insanity over the corpse of Richmond, and after the yellow and black make for the exit1; I cannot help but be reminded of a quote from the American humourist, Jack Handey.
"It takes a big man to cry, but it takes a bigger man to laugh at that man."
Even as someone given to tilting the most mundane of events into a Viking epic, this is unhinged lunacy, if not larceny.
I am all but dry-humping complete strangers in the stands.
1: THE JAZZ HANDS GAME PLAN
Only after disaster can we be resurrected.
Chuck Palahniuk, 'Fight Club'
The queue at Gate 2 is colossal. If it wasn't the MCC gate, the now member for Lindsay, Fiona Scott, would put it down to a handful of Indonesian fishing boats.
From the very beginning we are outnumbered. Yellow and black everywhere. EVERYWHERE. Fans in tiger-skin hats, tiger face-paint and tiger trinkets. Why so enthused? WHAT PAST TRAUMAS ARE YOU HIDING!?
Carlton runs out to what Mick Malthouse would later describe an atmosphere akin to playing at Subiaco with just a busload of supporters. I feel so lonely. So painfully un-Tiger.
The first half however is nothing but Tiger. Whatever spark of enthusiasm Carlton had from last week's miracle at West Lakes has long since been extinguished.
Richmond is like a wrestling dwarf at Bells Hotel. That is to say 'on fire'2
The only way the first-half could have been worse was if Carlton was coached by Baz Luhrmann and our game plan was plied with a liberal dose of 'jazz hands'.
Across Carlton's half-forward line, Chris Yarran appears to pull out of a contest, a voice to my right me yells 'SQUIB!'. On my right, Julian Burnside AO QC yells 'HEROIC!'
I don't care for Dustin Martin. I don't care for Tyrone Vickery. I don't care for Brett Deledio. So I'm not in the tank here when I say this game is fucking awful. I think we all would've been much happier if Carlton weren't bumped into the eight and we could be busy not giving a shit about football.
Instead, it is the collective I-don't-give-a-fuckness of those wearing navy that is a key component of my irrational, irrepressible anger.
When Aaron Edwards goals less than three-minutes into the third Carlton is five-goals-with-interest down.
And then Chris Judd happened.
3: A BUTTERFLY WITH A BIG SET OF HAIRY TESTICLES
Three votes. C… Judd
Andrew Demetriou
It is almost as if Edwards' goal led to Chris Judd to mutter to himself:
"Fuck me, do I have to do this on my own… again?"
It cannot be understated how ballsy Judd's third quarter was, so I'll say it in caps-lock.
BALLSY!
And while we're on gene-carrying duffle bags, Bryce Gibbs finally emerged from a seven-year cocoon as a butterfly with a big set of hairy testicles.
12 clearances. 18 contested possessions.
Carlton has winners everywhere.
Jarrod Waite, Eddie Betts and Nick Duigan — sorry, NICK FUCKING DUIGAN!!! — are having huge quarters. Maybe if Jack Reiwoldt wasn't too busy planning his next shitfit, he could've taken notes.
We've got this!
And then… three minutes into the last Carlton is half a goal down when Mitch Robinson — hardly the over-educated man's footballer — concedes a goal to Ivan Maric. I have a Reiwoldt-level shitfit.
Eddie Betts pulls it back two minutes later, and then…
ROBINSON!!
The 'coach-tester' marks fifteen out and puts Carlton in front.
Whoa, hey, what the fuck just happened?
Carlton. Is. In. Front.
In. Fro… JUDDDDYYYY!!
The Blues are ten points up and it's a hard thing for a lot of Richmond people to accept why God would allow the as-of-last-week-hobbled Chris Judd to go running through their yard, spinning around and kicking goals.
The malfeasance of Maric momentarily hits mute on the party mix before Jarrad Waite and Nick Duigan both kick their fourth.
Let me type this again, slowly, so you can let it sink in and savour it.
Nick Duigan kicks his fourth.
When Henderson takes a courageous mark with only three-and-a-bit minutes left the Carlton canaries that twitter around #AFLfinals appear to be singing to the tune of 'Lily of Laguna'.
BA BA DA BA DA!!
At least one of Malcolm's teams had a good weekend…
RICHMOND   3.5   10.7  12.10  14.12  (96)                  
CARLTON     2.3    6.5  12.7  18.8 (116)          
GOALS
Richmond: Vickery 2, Cotchin 2, Edwards 2, Maric 2, Riewoldt, Grimes, Newman, Martin, Tuck, Ellis,
Carlton: Waite 4, Duigan 4, Betts 3, Garlett 2, Robinson 2, Warnock, Scotland, Judd
BEST 
Richmond: Deledio, Cotchin, Martin, Rance, Newman,
Carlton: Judd, Duigan, Gibbs, Murphy, Curnow, Betts, Waite
Umpires: Farmer, Nicholls, Meredith
CROWD: 94,690
OUR VOTES
Judd (Carl) 3, 
DUIGAN!! (Carl) 2, 
Australian Motoring Enthusiast Party Gibbs (Carl) 1
 1. Chances are, few Richmond supporters (or Carlton haters) will care enough about this article to read it, so I'll shamelessly pepper it here with search-engine-friendly phrases such as "Scarlett Johansson Nude" and "Harry Styles New Haircut".
2. A milestone. My 400th St Kilda dwarf joke. I shall now retire it.
I'm just trying to make a difference in people's lives - get off my sack.