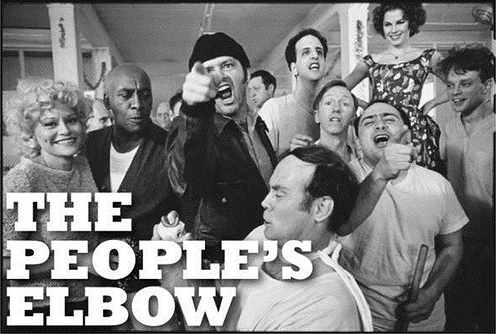 THE Nine network says it will have some say in team selection and scheduling as part of its new broadcasting deal with Cricket Australia.
Nine Network's managing director Jeffrey Browne said the rotation policy that rested Australian team members from certain matches was a "real worry" in Nine's strong relationship with Cricket Australia.
"I understand why sports want to do that but people at home want to see the best players playing and we urge Cricket Australia to pick the best players every time."
"I think we've got a better understanding on that," he said. "Last year that balance was skewed too much in favour of resting some players so from now on there will be a lot more discussion between CA and the broadcaster about that."   
The Australian 18 June 2013
Jeffrey? Hello? Jeffrey? Over here!
That's right — pull your head out of your arse, just for a moment, would you?
Readers of The Almanac, let these words sink in nice and slow. Savour them. Preserve them for the day when your grandkids ask where you were on the day Channel Nine threw up on the shoes of Australian cricket .
It's all I can do to tear my eyes away from this news and focus on the keyboard to pump out another get-off-my-lawn churl.
Let me break it down for you — according to the Nine Network's [Almanac lawyers have removed all adjectives here and released the following statement - "you can't use the term 'whorish' except in the confessional or the privacy of your own home when the cat is not in earshot. It is uncharitable and unfair to whores everywhere.") Jeffrey Browne, the network that gave us Hamish and Andy's Gap Year wants to have its say on the selection of the Australian cricket team.
Having paid overs for the rights, courtesy of Channel Ten, Channel Nine simply cannot help itself in terms of getting what they perceive to be value for their investment. Expect to see Jeffrey Browne in a suit with rubber pockets, stealing soup at the 2013-14 season launch.
Forget the "everyone's a winner" bullshit we're in the middle of right now -- this is a decision where anyone left caring about cricket in this country is the loser.
It is not enough that Nine has already injected it's cricket coverage with lethal doses of banalities, inanities and generalisations, these intellectual impostors now want to select the team.
To borrow a term of art from the philosopher Harry Frankfurt, this is bullshit.
So, once again, a tip of the cap to Jeffrey Browne and his [another adjective] colleagues for continuing to devour cricket's fanbase.
And finally, what about the children? Dear Jesus, people — what about the fking children!